CLAT 2016 Topper Interview: Taking mock tests is imperative, says Sreeja Pal, AIR 9

Sreeja Pal cracked Common Law Admission Test (CLAT) 2016 with an All India Rank (AIR) 9. From an AIR of 1111 last year, this 18 year old Kolkata girl has escalated to this year in the law entrance exam. With sheer determination and perseverance, her dream of pursuing law from the top law college-NLSIU Bangalore has come true. According to Sreeja, consistent preparation of General Knowledge and Current Affairs played a vital role in her success.

Related Post
CLAT 2018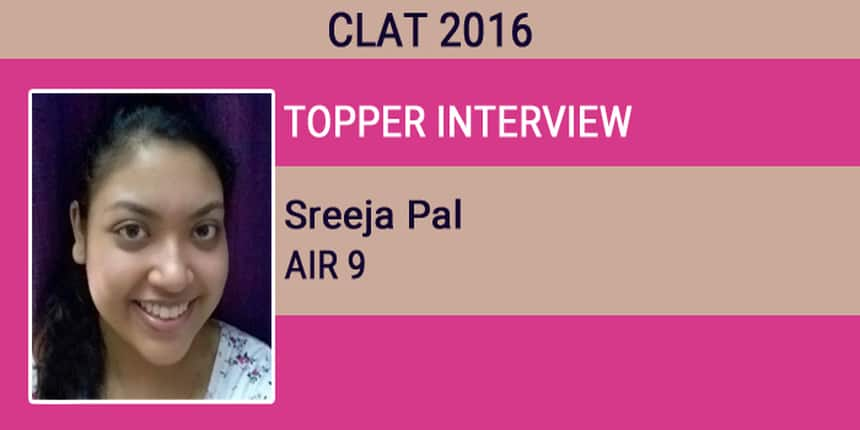 In her interview with Careers360, the young champion shares her wish to explore different fields in law programmes. Her heart yearns to help those in distress with her legal knowledge. Read on to know more about the success journey of Sreeja Pal, the CLAT 2016 Topper.

[Click here to know which NLU / law college you will get based on your CLAT 2016 Rank or Call 011-40360360]


Careers360: Congratulations! How are you celebrating your success?
Sreeja Pal: Thank you so much for your wishes. The feeling is yet to sink in, as the result is beyond my expectations. I am celebrating the success with my family.


Careers360: What was your CLAT 2016 score? Was it your first attempt?
Sreeja Pal: I scored 170.25 marks in CLAT 2016.
This was my second attempt. Though with AIR 1111 in CLAT last year I was allotted a seat at NLU-O, but couldn't continue my studies at the institute due to severe health issues. During that time, I was very disheartened but my family supported me and I thought of giving it another try this year.


Careers360: What preparation strategy did you devise for cracking CLAT 2016?
Sreeja Pal: My preparation strategy was based on conceptual clarity. I focussed on clarifying the basic concepts of different sections including Legal Knowledge and Legal Reasoning.
Since I had appeared in CLAT last year too, it was an added advantage. I began my preparation with General Knowledge & Current Affairs sections, which were my weak areas.
I also went through different monthly magazines, online GK sites and revised static GK from Pearson's Manual. I would also follow newspapers like The Hindu and The Indian Express to keep myself abreast with the recent updates.
To practise numerical ability questions, I went back to NCERT text books of class 9th and 10th. Since my basic grammar portion for English section was good, I concentrated more on solving questions from the past years' GMAT and LSAT question papers.
For Legal Aptitude section, I practiced previous years' question papers of law entrance exams, while mastering my basics of legal knowledge by working on constitutional rights, general Indian Penal Codes (IPCs), etc.
My preparation strategy would revolve around revision and taking mock tests regularly.
I would also like to attribute my sucess to Rajneesh Singh, the CLAT mentor (Founder Do-Zen and CLAT Essentials), who guided me all through the year for CLAT preparation.


Careers360: In your view, are mock tests helpful in cracking law exams?
Sreeja Pal: In last 3 months, from January 2016 onwards, I have taken as many as 50-60 mock tests. In my understanding, mock tests are very helpful as they are the real evaluative tools for analysing your preparation level. You need to take a variety of mock tests on a regular basis, beginning from mini-tests to assessment and sectional tests to full length mocks. Moreover, one needs to take mock tests based on different paper patterns including GMAT, LSAT-India, CLAT and AILET, since CLAT is pretty unpredictable.
It's imperative that a law aspirant analyses his/her mock tests score and work towards improvement of the weak areas.


Careers360: Would you like to share about your hobbies with us and how did you de-stress yourself during the hectic preparation schedule?
Sreeja Pal: My hobbies include listening Rabindra Sangeet, playing different musical tunes on keyboard and reading a variety of books. After continuous study of 6-8 hours, I would de-stress myself by watching English TV series – Supernatural and Suits.


Careers360: Are you a movie buff? Have you seen any movie in the recent past?
Sreeja Pal: Just a week before my CLAT 2016 paper, I went to see 'Jungle Book' with my family. It was an interesting movie and I enjoyed it.


Careers360: Any suggestions for CLAT 2017 aspirants? What books would you refer to the candidates?
Sreeja Pal: I would just share some basic tips–
Be confident; there will be times when you feel dubious, listen to your inner-self and carry on your thorough preparation

Always remember that there is no shortcut to success

Prepare analytically and analyse every mistake of yours

Practice with different set of question papers like GMAT and LSAT

Analyse your preparation level through mock tests and take them seriously
I would like to refer the following books to law aspirants–
Legal Aptitude – Practice previous years' papers of different exams

Legal Reasoning – CLAT Essentials by Rajneesh Singh

Logical Reasoning – Logical Reasoning by M.K. Pandey

Critical Reasoning – LSAT and GMAT question papers

English – Wren and Martin and Word power made easy

Mathematics – NCERT text books (9th and 10th)

General Knowledge and Current Affairs – The Hindu and the Indian Express, Jagran josh website, any monthly magazine
CLAT is Common Law Admission Test conducted by the NLUs. This year RGNUL Patiala conducted the law exam for admissions to as many as 2252 five-year integrated law programmes. As many as 37,176 candidates had appeared in CLAT out of a total of 39,415 registered for the law exam.

Also Read -
CLAT 2016 Cutoff
CLAT 2016 Counselling


Stay tuned to law.careers360.com for more news and feature articles on CLAT Toppers
Questions related to CLAT
Showing 6928 out of 6928 Questions