AIBE 17 Result 2023 - The Bar Council of India (BCI) will start the AIBE 17 second phase of OMR sheet rechecking will start from June 5, 2023. BCI released the AIBE XVII result for candidates who submitted their enrolment certificate till May 15 in online mode on May 20, 2023. AIBE has closed the AIBE 17 result rechecking window on May 15, 2023. Candidates could apply for rechecking of OMR answer sheets of AIBE 17, 2023 in online mode. The revised AIBE result will be announced very soon. Earlier, BCI announced AIBE XVII (17) 2023 result on April 29. Candidates can download their AIBE scorecard online from allindiabarexamination.com. The direct link to download the result of AIBE XVII (17) 2023 is given below. The result mentions marks obtained by the candidates in All India Bar Examination, their qualifying status and various other details. Successful candidates will get AIBE Certificate of Practice through speed post a few days after the declaration of the result.
Important: AIBE 17 second phase of OMR sheet rechecking to begin from June 5, 2023.
Latest: AIBE XVII (17) result 2023 declared, to check your passing status - Click Here
AIBE Cut-Offs revised as two questions have been dropped!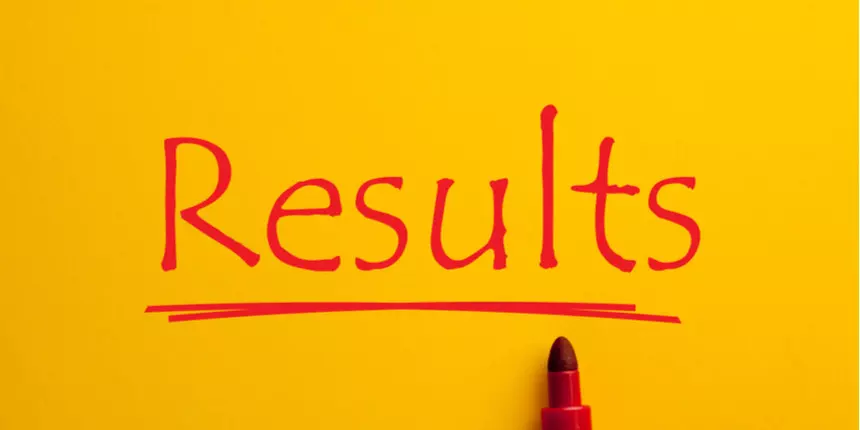 AIBE XVII (17) Result 2023 (Out) - Withheld Results (Soon)
AIBE XVII(17) 2023 exam was conducted on February 05, 2023, in offline mode. The provisional and final answer keys have already been published. In the revised answer key, two questions were dropped, whereas one answer was revised.
AIBE XVII (17) result 2023 dates
| | |
| --- | --- |
| Event | Dates |
| AIBE XVII examination | February 5, 2023 |
| AIBE answer key | February 05, 2023 |
| Last date to submit objections | February 20, 2023 |
| Final answer key | April 14, 2023 |
| AIBE result date 2023 | April 28, 2023 |
| Answer sheet rechecking dates | May 5 - May 15, 2023 |
| CoP release date | To be notified |
AIBE XVII (17) 2023 Result: Latest Updates
AIBE 17 second phase rechecking of OMR sheets to start from June 5
The Bar Council of India will open the rechecking window again from June 5, 2023. BCI released an official notification on its website stating that it will start the second phase of OMR sheet rechecking from June 5 in online mode.
Can I get my AIBE 17 result rechecked?
Yes, BCI opened the rechecking window of AIBE 17 on May 5. Candidates could get their AIBE result rechecked through this facility till May 15. Candidates could also request for answer sheet rechecking by visiting the office of BCI, or by sending email with their name, AIBE application number, AIBE roll number, Question Paper set code, language, and enrollment number.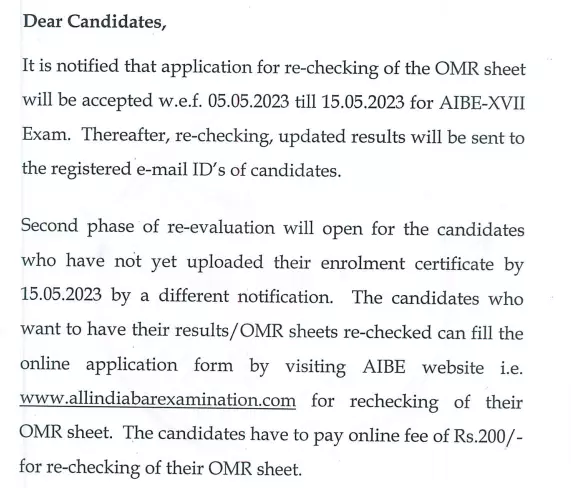 Update on Candidates whose AIBE result withheld due to Enrollment Certificate
Candidates whose AIBE result 2023 has not been declared for not uploading Enrollment Certificate will be able to check their result on May 20, 2023. The AIBE 17 result for such candidates will only be declared if they upload their Enrollment Certificate before May 15, 2023. Candidates who will upload their enrollment certificate before May 25 can check their AIBE result on May 30, 2023.
Rajkot city candidates' AIBE results withheld
BCI has withheld the results of Rajkot city candidates. The Monitoring Committee has withheld the results of the candidates on account of a report of mass usage of unfair means.
AIBE 17 result rejected for some candidates
The result of candidates who have not filled or doubly filled or incorrectly filled their Question Booklet set code has been rejected.
AIBE Results withheld for candidates who did not upload enrolment certificate
The BCI has withheld the result of candidates who did not upload their enrolment certificate during the specified period.
How to check AIBE XVII (17) result
2023

?

Candidates may follow the steps mentioned below to access the All India Bar Examination results.
Visit the official website AIBE XVII result portal

Click on the result link given in the notification section

Login using roll number/registration number/mobile number and date of birth

The AIBE 17 exam result will be displayed on the screen

Save and download the AIBE results 2023 for future reference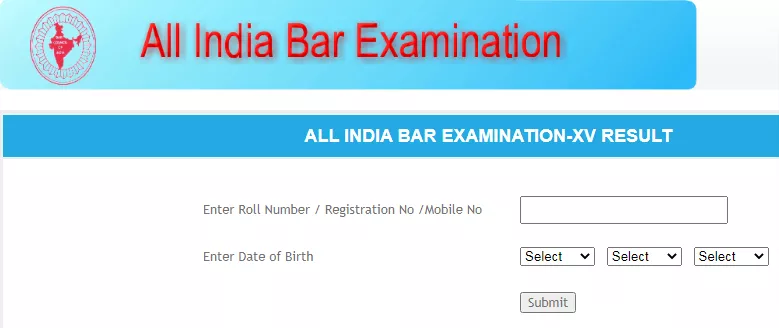 Details mentioned in AIBE XVII (17) result
2023
Name of the candidate

Enrollment number

Result status (pass /qualified or fail)

Name of father/husband

Candidate's roll number

Photograph and signature of the candidate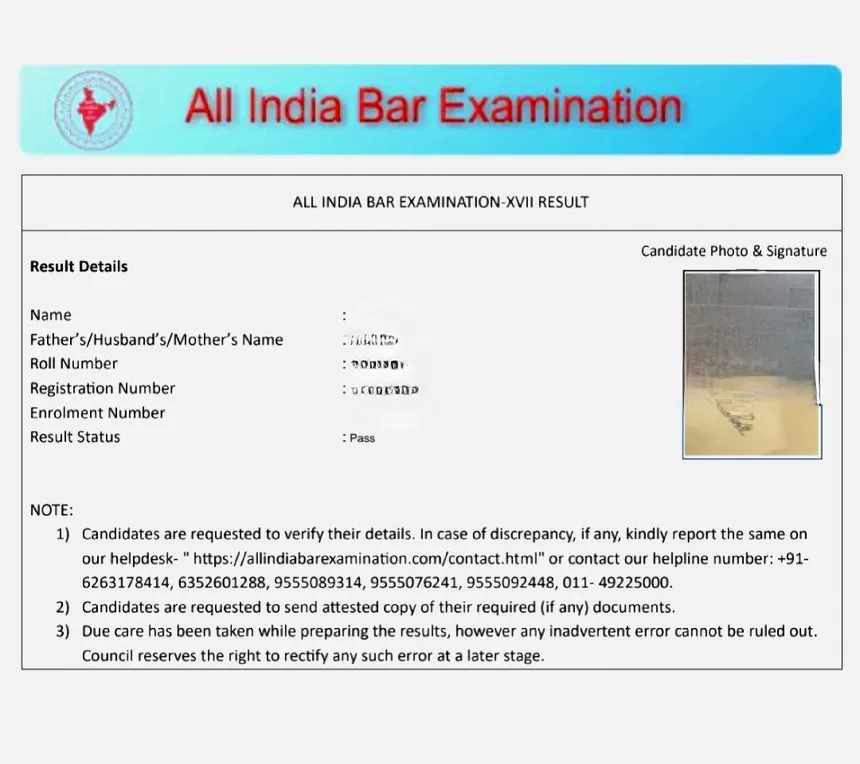 AIBE 17 Expected Cutoff
The Bar Council of India in its revised final answer key removed two questions from the answer key. This means that there will also be a change in the AIBE 17 cutoff 2023. The qualifying marks will now be calculated on the basis of 98 marks. The expected cutoff for AIBE 17 has been given below:
| | | |
| --- | --- | --- |
| Category | Minimum passing percentage | Cutoff (Out of 98 marks) |
| General | 40% | 39 marks |
| OBC | 40% | 39 marks |
| SC/ST | 35% | 34 marks |
Top Law Entrance Exams
The E-book brings a compilation of top 10 law entrance exams through which you can find a way to some of the top law colleges in India.
Check Now
Popular Online Law Courses and Certifications:
Online rechecking of AIBE XViI (17) answer sheet
The council provides a link for candidates who wish to apply for online rechecking of AIBE answer sheet. However, only candidates whose result status shows "Fail" could apply for rechecking process.

The online rechecking process of AIBE answer sheet is given below.
Candidates have to fill the online application for AIBE rechecking of answer sheets.
Rechekcing fees will be Rs 200.
Candidates could check their AIBE 17 2023 answer sheets themselves by booking a time slot in online mode.
Such candidates had to visit the BCI office as per the allotted schedule. The schedule for rechecking is informed to the candidates after the council receives their applications.
Candidates will not be given the xerox of the answer sheets and answer key under any circumstances.
The candidates are informed about their re-checking results within 7 working days after the request for re-evaluation is registered.
Offline rechecking of AIBE XVII (17)
2023
The BCI releases the rechecking form on its official website. In online mode, candidates have to send the filled-in re-checking application form in the attached format along with a demand draft amounting to Rs. 200, in favour of the Bar Council of India payable at New Delhi.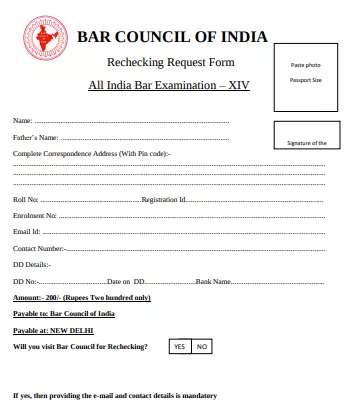 Browse Law Colleges by Locations:
Can I retake the AIBE exam if I fail to qualify AIBE XVII
2023

?

The AIBE exam is typically conducted twice every year. A candidate is allowed to appear in the AIBE exam as many times as required to qualify. So, if you failed to qualify for AIBE 2023, don't fret. The best thing to do will be to sit down and analyze the reasons for your failure. After loopholes are identified, make a plan to work on these areas. Also, ensure you have the best collection of books because unless the reference material is up to the mark, you will struggle to get the desired result.
Why is AIBE XVII(17)
2023

result important?

For practising law in India, clearing AIBE is very important. Successful candidates will be issued the Certificate of Practice (COP) which is a prerequisite for practising law. As per the BCI rules, those completing law graduation after 2009-10 must pass the AIBE for practising law in any court of law established in India. The Certificate of Practice thus sets the minimum standard for lawyers. The Bar Council of India sends the COP to all successful candidates by post.

Top Law University In India
What after AIBE XVII(17) result?
All the applicants who score more than the AIBE 17 cutoff marks will be issued a Certificate of Practice (COP) from Bar Council of India which is valid for a lifetime. BCI will also release the list of candidates who have cleared the AIBE exam 2023 in the form of a merit list. Candidates who fail to secure the minimum cutoff marks for AIBE XVII(17) will be required to appear in the next AIBE exam to obtain their Certificate of Practice (COP).
What if I do not receive my Certificate of Practice (COP)?
If you do not receive the COP even after the result declaration, you can contact the authorities and raise your concern. In the meantime, you can use the AIBE result XVII(17) 2023 as a provisional certificate for practising law.
AIBE XVII (17)
2023

Helpdesk

Bar Council of India
21 Rouse Avenue Institutional Area ITO,
Near Bal Bhawan
New Delhi - 110002

AIBE new contact details for any query related to All India Bar Examination
6263178414
6352601288
9555089314
9555076241
9555092448
01149225022
01149225023
01149225017
email id - bci.helpdesk@cbtexams.in, councilaibe@gmail.com