AILET 2018 Topper Interview: A consistent preparation with perseverance brings success, says Anmol Gupta, AIR 3
AILET 2018 Topper Interview - Anmol Gupta, an AILET 2018 taker did not believe his eyes, when he checked AILET 2018 Results on May 24. The Jaipur boy secured AIR 3 in the All India Law Entrance Test with a score of 83.75. Anmol shares with Careers360 that despite belonging to business-oriented family, he was encouraged to choose his own career path. A 2016-17 batch student of Rukmani Birla Modern High School says that he took a drop year and practiced well for the All India Law Entrance Test and Common Law Admission Test (CLAT). The AILET 2018 topper who apparently is an avid book reader, credits the success to his consistent preparation and 'never give-up' attitude.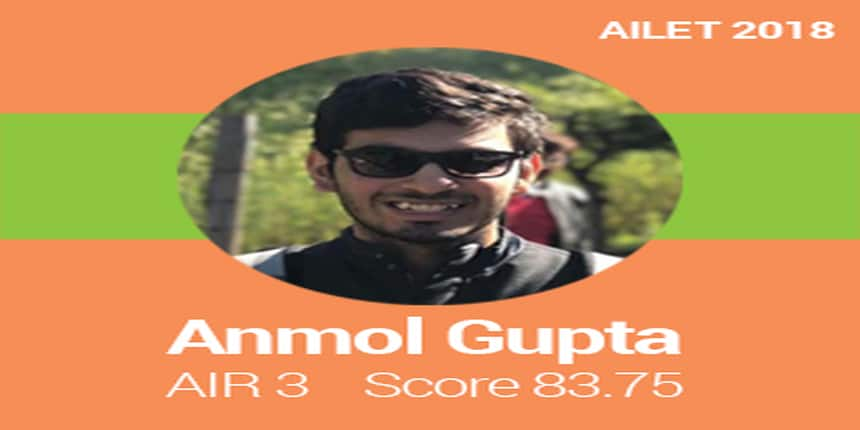 Read this exclusive interview of Anmol Gupta, AILET 2018, AIR 3 with Careers360 where he shares his success mantra to crack AILET 2018.
Excerpts of Interview
Careers360: Wow! An AIR 3! What were your expectations from AILET 2018?
Anmol Gupta: Yes, indeed it's a 'wow' moment for me. Thank you so much. Honestly, I was expecting to crack AILET 2018 but AIR 3, was not in mind. It's just euphoric. I did work hard for this and I am enjoying my pleasure. I am going on a trip to enjoy this.
Careers360: Tell us something about your family. How did they support you during your law exam preparation?
Anmol Gupta: I belong to a family of four, which is a business-oriented one. My elder brother also joined my family business of jewellery, after finishing his schooling. My mother is a book lover and she practices 'vastu' as an occupation.
I am lucky to have this family. Despite a business-oriented family, everyone encouraged me to choose the career which interested me. They never stopped me from getting the education, I ever wanted.
Careers360: What made you chose law as a career option?
Anmol Gupta: Since my early days, I loved reading, writing and debating. However, until Class 12th, I was not sure about what to do next. I discussed it with my seniors, who after knowing my interest areas, suggested me to choose law as a career option. When I knew this, I made up my mind to go for this career path and devoted one complete year for the exam preparation.
Careers360: What was your AILET preparation strategy?
Anmol Gupta: While I was in Class 12th, I would take a crash course, where I scored only 75 marks. I decided to go for a year drop. I utilised the year, every month and each day of it. During the preparation, my strategy would be completing every topic of each section, revise the basics over and again before appearing for a test to analyse my preparation level.
I would also make sticky notes and complete my everyday goals as per the schedule. I never missed a single section from my everyday preparation schedule. I believed in the mantra called 'Consistency'.
Careers360: How did you prepare for each section?
Anmol Gupta: I would divide time for preparation of each section. For Mathematics section, I would practice 20-40 questions every day from various books. The Reasoning questions were practiced by me from RS Aggarwal's Analytical Reasoning book on a daily basis.
For English, I majorly concentrated on Reading Comprehension section as I knew that an easy and fast reading will help you in attempting this section perfectly. Second important strategy which I applied specifically for English was that I read novels with a dictionary beside me. I would search for the new words, I came across, prepare a list of them and make new sentences out of them.
General Knowledge was a sea for me. But I concentrated mainly on Current Affairs section and went through the monthly magazines including Competition Success Review and Pratiyogita Darpan.
Legal Aptitude, which was obviously a new paper for me; I took help from my coaching institute and solved last years' question papers to understand the question pattern.
Careers360: What other exams did you appear besides AILET 2018?
Anmol Gupta: Besides AILET 2018, I also appeared for CLAT 2018. As per the answer key of CLAT 2018, I think I am to score 157.25 in the online national level-law exam. Fingers crossed for May 31, 2018.
Careers360: Were you aware of the AILET introducing negative marking this year? How did you deal with this?
Anmol Gupta: Yes, I was aware of the fact that NLU Delhi is introducing negative marking in AILET 2018. I didn't take it as a problem because anyway I was preparing for CLAT too. Therefore, I ensured not to attempt the questions for which I was not sure about.
Careers360: The year would have been very hectic for you. How did you de-stress yourself?
Anmol Gupta: As I shared earlier, I am fond of reading books, writing and chit-chatting with people, I finished 16 novels in the year. However, I abstained from reading after February and mostly concentrated on the law exam preparations only.
Post February onward, my stress buster was good music, which I continued till the exam day. It helped me in boosting my energy level.
Careers360: Do you think coaching guidance is utmost important? How did mock tests help you in AILET preparation?
Anmol Gupta: Yes, I took coaching. Frankly, speaking coaching just provides you guidance for some of your papers. The rest, in fact, the most of it is to be worked out by the law aspirants themselves.
A lot of hard work, consistent preparation and perseverance helped me in reaching this success. Having said this, I still know without the help of my coaching experts, I would not have been able to understand subjects like Legal Aptitude and Legal Reasoning.
Mock tests are the most important stage of proper preparation. These tests help law aspirants in analysis their preparation level and improve on the weaker sections. Without taking mock tests, I would not have been able to analyse what sections needed more focus and where I was going.
Careers360: When did you begin taking mock tests? How many mock tests did you appear before taking the actual test?
Anmol Gupta: I began taking mock tests from July onward. I would have taken as many as 120 mock tests till the time I appeared for the exam. During my last preparation phase, I would give more mock tests, mostly the full tests as they gave me real analysis of where I stood.
Mock tests boosted my confidence. The tests also gave me an overview of the exam and attempting style. They gave me the actual feel of an examination and when I sat for the exam, I was surprised to solve almost similar question pattern.
Careers360: Would you like to suggest a few pointers to your juniors who will be taking AILET next year?
Anmol Gupta: Prepare with all your might, belief and confidence. AILET is one of the papers which will surprise you, but it's the beauty of the test. Take it as a challenge and crack the paper with your consistent preparation.
Further, discuss your problems with a mentor who can guide you through your preparation phase.
All the best!
Questions related to AILET
Showing 290 out of 290 Questions