AILET 2018 Topper Interview: Time management and prioritizing sections helped me in achieving success, says Devansh Kaushik, AIR 1

AILET 2018 Topper Interview: The Jaipur boy, Devansh Kaushik achieved the badge of AIR 1 by scoring 98.25 in AILET 2018. Hailing from an education-oriented family, Devansh feels lucky that his parents supported him when he wanted to walk on his sister's footstep, who currently is an NLSIU Bangalore student. In an exclusive interview with Careers360, the AILET 2018 AIR 1 shares his success mantra for cracking the All India Law Entrance Test.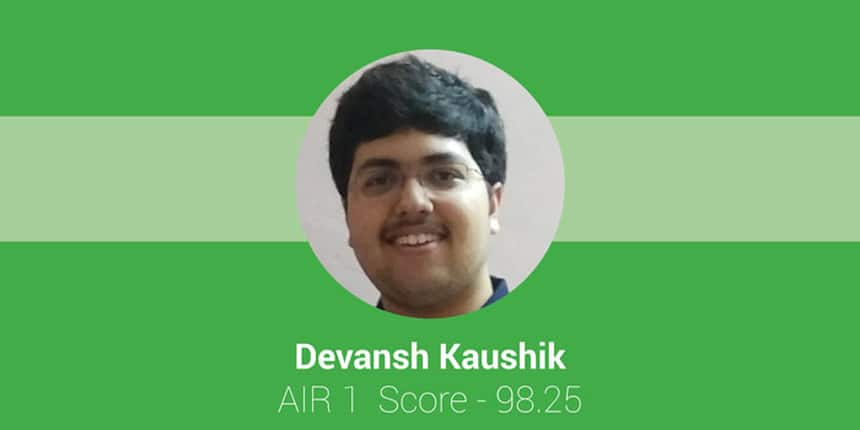 Read this interview of AILET 2018 Topper, where the AIR 1 talks about his exam day strategy which helped him in maintaining the pressure on the exam day, thus helping him to achieve the goal.
Devansh, an aspiring lawyer shares that he loves to play chess as the game aids him with the ability to think and take fast decisions. The AILET 2018 topper also speaks on how to balance the law entrance exam and board preparations.
Excerpts of Interview
Careers360: Congratulations on qualifying AILET 2018 with flying colours! Were you expecting this?
Devansh: Thank you so much! I was expecting a good score but AIR 1 was not in my mind, ever. I can now relax until I join the NLU. I can't relate this feeling in words.
Careers360: Tell me something about your parents?
Devansh: My father is a Principal and my mother a Lecturer in a Government School. My parents have always supported in my decision to pursue law. Since my sister already pursuing her law programme from NLSIU Bangalore, it had helped me a lot during my law exam preparation.
Careers360: What motivated you to pursue law?
Devansh: As I told earlier that my sister is a student of NLSIU Bangalore, she played a major source of motivation. Moreover, I wanted to join Indian Judiciary and Indian Administrative Services, therefore I think pursuing a law degree will help me in this long run.
Careers360: Apart from AILET 2018, which other Law entrance exams did you take? Howe was your performance in those exams?
Devansh: Beside AILET, I appeared for CLAT only. The Common Law Admission Test went very well and I am expecting a score of 155.25 according to the provisional answer key of CLAT.
Careers360: When did you start preparing for the law entrance exams and what was your section wise strategy?
Devansh: I started my AILET 2018 preparation as soon as I entered class 12th. The main strategy which I followed was prioritizing my work as I had less time.
My General knowledge and English were already strong even as I consistently worked upon these sections for next two years. Once I was done with Static GK, I would work on Current Affairs and Legal Aptitude sections.
Careers360: I think being a topper you were not afraid of any subject.
Devansh: No, I was afraid of Mathematics paper. However, I referred RS Aggarwal and NCERT, while preparing for the law entrance exam. The only think which I did was practice, and practice from lots and lots of question papers and practice books.
Careers360: What was your exam day experience? 
Devansh: My experience was very different as compared to others. The paper level was comparatively high if compared to this year's AILET. Initially, I realized that it would not be possible for me to attempt complete paper. Thence, I decided to leave almost 10 questions due to shortage of time and difficulty level of the paper.
However, within the time-frame, I prioritized my sections and attempted only those sections of which I was completely sure. I was able to cover all questions of GK and Legal sections.
Careers360: This was the first time AILET introduced negative marking. Were you aware of this? How did you tackle the paper?
Devansh: Yes, I was aware about this. Frankly, it was good news for me. Negative marking means that candidates will not attempt questions which they are not sure of. So that was again good decision which also increased my confidence level in the exam.
Careers360: How did you balance the board exam preparations with the law entrance tests?
Devansh: I prioritized law preparation and kept board preparation on the back-foot as my main target was to achieve higher rank than a higher percentage in boards.
However, in the month of January and February, I divided my time and prepared for board. Apart from that, throughout the year I kept my focus on law entrance preparation and as soon as board got over, I was on to the final preparation.
Careers360: It might have been very hectic for you. How did you de-stress yourself during this preparation phase?
Devansh: I love reading books and playing chess. While, reading good books help in improving my vocabulary and grammar, the chess helps me in taking right decisions and act fast. I de-stressed myself with reading books and playing chess.
Careers360: Did you take up any coaching? How important is coaching qualifying a law entrance?
Devansh: Yes, I took coaching from CLATPrep. The coaching guidance helped me a lot. Yes, I believe that, in order to achieve a good rank, coaching is very important. Especially when you have doubt in certain areas like Legal Aptitude and Legal Reasoning, you need a right guidance. The coaching guidance helps you in focusing on the relevant topics.
Having said this, I would also like to say that ultimately a candidate has to work upon different aspects to achieve the goal.
Careers360: How many mock tests did you take before the law exam? How helpful are these tests?
Devansh: I started taking mock tests from the month of June, after I was done with my basic preparation. Moreover, I attempted most of the mock test in the months of November and December and later in April. I took up over 90 mock tests in total.
The mock tests help a candidate in analysing the self-preparation. When one attempts a mock test, the SWOT analysis can be done, which helps in further improvement. Moreover, the mock tests also help in giving an overall idea of the exam, which eases your exam pressure.
Careers360: What are your suggestions for the next AILET aspirants?
Devansh: I would like suggest them to work on Legal Knowledge and events related to current legal scenerio. These are two important topics that can get you good score and get a higher rank. Rest, believe in your hard work and make a consistent preparation, towards achieving your goal.
Questions related to AILET
Showing 290 out of 290 Questions