AILET 2018 Topper Interview: Take mock tests regularly to devise exam taking strategy, says Harshita Gupta, AIR 2
AILET 2018 Topper Interview: Jabalpur girl Harshita Gupta aced AILET 2018 by securing AIR 2 and scoring 84 out of 150. An aspiring lawyer aiming to join NLU Delhi, Harshita had decided to pursue legal studies in Class 10 itself. She credits regular mock tests and sectional preparation from the right books for her success.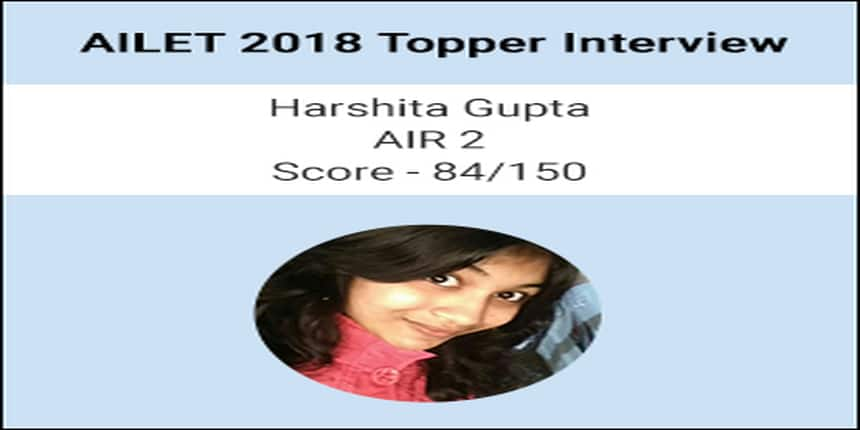 According to Harshita, having confidence and motivation is of utmost importance along with the right preparation strategy. To the AILET aspirants, she suggests that taking the test with the belief that is is your day and you aregoing to ace that, will definitely lead them to success. Careers360 brings the exclusive interview of AILET 2018 AIR 2 Harshita Gupta.
Excerpts from the interview:
Careers360: Congratulations on qualifying AILET 2018 with such good scores! How do you feel being among the top 10?
Harshita: Thank you so much!The feeling is yet to sync. I never expected this rank, especially in AILET.I am pleasantly surprised.
Careers360: Tell us something about yourself and your family. How did your family support you?
Harshita: I hail from Jabalpur, Madhya Pradesh. My father is a businessman and mother is a home maker. After class 10th results, I had this pressure to take up Physics Chemistry and Maths (PCM) but I had figured out my fascination for law as a careeroption in Class 10 itself.My parents were very supportive and never pressurised me for taking up PCM.
Careers360: What motivated you to pursue law?
Harshita: I've a great interest in social sciences.The curriculum of law school is just perfect as we can study a wide
range of subjects in those 5 years. And since I want to prepare for UPSC, law will be of great help.
Careers360: Apart from AILET 2018, which other Law entrance exams did you take? Howe was your performance in those exams?
Harshita: Apart from AILET,I took CLAT and SET Law. I scored 144 and 123 in them respectively.
Careers360: When did you start preparing for the law entrance exams and what was your section wise strategy?
Harshita: I started preparing after my Class 10 board exam itself but I was not focused in Class 11. I started preparing seriously from Class 12.

In terms of sections, English was my weakest point. I referred to 'Word Power Made Easy' by Norman Lewis and did some grammar rules from different books. For Reading Comprehension, I prepared through mock tests. I also prepared Maths section through mock tests. ForLogical Reasoning, I referred to MK Pandey for Critical Reasoning.I was good at analytical so again, mocks sufficed. GK was another weak area so I referred to various compendiums. For Legal GK I referred to Lucent, Universal, Lexis Nexis, Career Launcher material and mock tests.

Careers360: What was your exam day experience?
Harshita: To be honest, it was not a pleasant experience owing to the hot weather. Also, there were various other disturbances like loud noise etc. which made it difficult to focus. However, I maintained composure and focused on the test itself which made all the difference.
Careers360: This was the first time AILET introduced negative marking. Were you aware of this? How did you tackle the paper?
Harshita: Since we were used to taking mocks in CLAT pattern, negative marking was not a big problem. But I will admit that in AILET the questions are so tough that we can never be 100 percent sure about an answer so I tried to keep my attempts high, as in AILET it's do or die situation. Either you're in top 100 or nothing (NLU Delhi or nothing). So taking educated guesses is a must.
Careers360: How did you balance the board exam preparations with AILET and other law entrance tests?
Harshita: I was not too confident about my Boards preparation and was feeling nervous in the month of March. However, I managed to get a good score. I would suggest aspirants not to take Board exams lightly as it would be necessary to get a good score in Board exam if you would like to apply for LLM or CAT in future.
Careers360: Did you take up any coaching? How important was coaching for you?
Harshita: I took two years classroom coaching at Skolars, Jabalpur.I feel that if your concepts are not clear then you will definitelyneed a teacher and for legal section, a mentor is essential.
Careers360: When did you begin taking mock tests? How may mock tests did you take before taking the exam? How did mock test help you in law exams?
Harshita: Ibegan taking mocks in my 11th class itself. I think the best part about my preparation was taking mock tests.I took 87 mocks in my 12th classand 100+ in 2 yearscombined.But for AILET, I took only three mocks as I was running short of time. I could really benefit from the mock test in terms of devising test taking strategy like time management, choosing right questions etc.
Careers360: What are your suggestions for AILET aspirants who will appear for the test next year?
Harshita: Have confidence that you have given your best andany rank or result cannot justify your preparation.Don't worry if you are not able to complete the full syllabus. Take the exam with this belief that is is your day and you aregoing to ace that.Be very calm and take all your mocks without AC or cooler at hometo be prepared for any situation at the centre.
Also Read
Questions related to AILET
Showing 290 out of 290 Questions