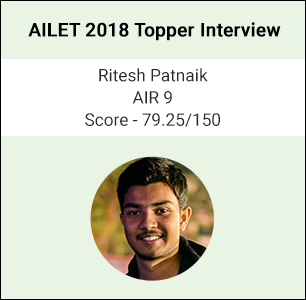 AILET 2018 Topper Interview – "I've always had a niche for the political issues and the happenings in the country and I feel that law would give me a better perspective towards achieving those goals" says Class 12 student Ritesh Patnaik who secured an AIR 9 in AILET 2018. A student of D.A.V Public School Bhubaneshwar, Ritesh, had a clear idea of what he wanted to do in life started preparing for the different law examinations including All India Law Entrance Test from September, 2016 itself.
AILET Sample Paper
Download Free Sample Paper for AILET
Download Now
Coming from a family of four, Ritesh owes his success at AILET 2018 to his family who supported and motivated him whenever he was in dire need of it. Apart from AILET, Ritesh also appeared for Symbiosis Law Entrance Exam and CLAT (Common Law Admission Test).
In this interview with Careers360, Ritesh talks about his strategies while preparing for the examination, insights for AILET 2019 aspirants and his exam day experience.
Read below to find out more about Ritesh and his journey towards AILET 2018 AIR 9.
Careers360: Congratulations on bagging AIR 9 in AILET! How do you feel being among the top 10?
Ritesh: It is an overwhelming experience. I worked hard with an aim to secure a Top 50 rank in the examination but a single digit rank came as a pleasant surprise. It feels satisfying to rise up to the expectations of my parents, family, friends and surpass those expectations.
Careers360: Tell us something about yourself and your family.
Ritesh: I live with my parents and sister. My father is an Income Tax officer and my mother is a teacher in a private school. My sister is in sixth grade. They were always there to provide support and motivation as and when I required it. My extended family also played a very important role, especially my elder cousin who constantly backed my decisions and guided me.
Careers360: What motivated you to pursue law?
Ritesh: Law was something that came naturally to me. It was something I felt I could be genuinely good at. I've always had a niche for the political issues and the happenings in the country and I feel that law would give me a better perspective towards achieving those goals. I love the practicality of it and provide a sense of power to make a change in a society riddled with problems, whose solutions are within reach. We all know that these problems exist but the knowledge and practice of law empowers us to actually make an effort and strive towards solving the problem.
Careers360: Apart from AILET 2018, which other Law entrance exams did you take? How was your performance in those exams?
Ritesh: Apart from AILET I appeared for Symbiosis Law Entrance and obviously, Common Law Admission Test. Symbiosis went well.I scored 125 in the first round and I was fairly satisfied with my performance in that exam. On the other hand, I had a very disappointing experience of CLAT test where I secured 127.5 marks.
Careers360: When did you start preparing for the law entrance exams and what was your section wise strategy?
Ritesh: I started preparing somewhere around September or October in 2016. I had one and a half year to prepare but a lot of time got devoted towards the annual exams and the boards preparation since I was struggling for my boards. My section wise strategy was to begin with GK, followed by mathematics and logical reasoning section. Then, depending on the number of RCs in the English section, I chose between English and Legal.
Careers360: Which were your strong and weak sections and how did you prepare for them?
Ritesh: Coming to the section wise strategy, English was my weak area and I worked on Reading Comprehensions and Grammar. Due to paucity of time, I made peace with the fact that I'd never be good at vocabulary. I worked on idioms & phrases and a bit of foreign words which helped me. I was strong in Maths and Analytical reasoning which helped me. For General knowledge, I had to work hard a lot towards the end with Current Affairs. For legal, I ensured from the beginning that my reasoning concepts were strong and tried to cover legal knowledge as much as possible towards the end.
Careers360: What was your exam day experience? What strategy did you follow?
Ritesh: Since AILET was scheduled at 3pm, I wanted to sleep as late as possible. I slept at around 3am and ensured that I wake up around 10am to 11am. I did not study on the day of the examination and tried to remain as calm as possible. I played music to calm myself. I find it very hard not get stressed up so my main focus was to stay calm.
Careers360: This was the first time AILET introduced negative marking. Were you aware of this? How did you tackle the paper?
Ritesh: I was very well aware of the introduction of negative marking. In a lot of ways, AILET became a lot more challenging than CLAT since the time is already too less for comfort and the negative marking ensured that you cannot whip in the dark. From a personal point of view, I am very aggressive with my attempts and I backed myself on that. That compromises my accuracy rate but as long as the final reading is fine, I focussed on that.
Careers360: How did you balance the board exam preparations with AILET and other law entrance tests?
Ritesh: I prepared for the law entrances during the summer vacations. But from September (during the time of half yearly examinations), I had a hard time with the board exams. I had to look after my board's percentage and that really punctured my law preparations. I had to put in extra amount of hours once the boards got over to compensate for the lost hours.
Careers360: Did you take up any coaching? How important was coaching for you?
Ritesh: I took up a two year programme at 'Career Launcher', Bhubaneswar and a one year programme at 'CLAT Possible'. Coaching at 'Career Launcher' was very important for me because it helped me provide a systematic approach for my preparations and the faculty there helped me go about the process. It also helped me to realise where I stand at the national level through the mocks. 'CLAT Possible' was helpful as well; especially the proctored mocks at the centre helped me for the day when it all matters.
Careers360: When did you begin taking mock tests? How may mock tests did you take before taking the exam? How did mock test help you in law exams?
Ritesh: I started taking mocks at the end of 2016, but I started taking them regularly from June 2017. Then again, all of these things were halted when I had the bad phase with boards preparation. But once boards got over, I started giving mock tests regularly. I took about 20 – 30 mocks in total. I always felt analysis and realisation is more important than mocks and backed myself on that. Mocks helped me avoid complacency as and when I felt I knew everything. In a sense, it developed humility and awareness within me.
Careers360: Tell us something about your hobbies. Did you get time for them during the preparation phase?
Ritesh: I like reading books and listening to music. I love playing cricket and watching sports. I am a big fan of Yuvraj Singh and Roger Federer. I got no time for books and cricket once Class XII started. I turned to music when I felt the pressure got to me or when I wanted to take time off studies. I always felt it is important to find the right balance and take the appropriate amount of stress. Hobbies are important to keep tension away and to ensure that we are focussed waking up the next day.
Careers360: What are your suggestions for AILET aspirants who will appear for the test next year?
Ritesh: I would suggest all AILET aspirants should start solving previous year papers within the time frame and be honest in your approach. It is important to be sincere and truthful in your preparation. Analysis is as important as a mock. Each section in the test matters and each mark makes a huge difference in rank. I would just urge all aspirants to remember that for every moment that you waste, remember that there is someone else working hard. At the same time remember that a multiple choice exam with a few ambiguous answers do not decide anybody's future. A fine balance between both these things can do a world of good.
Questions related to AILET