AILET 2019 Topper Interview: Agam Aggarwal (AIR 5) "Coaching is helpful but not necessary"
AILET 2019 Topper Interview: Coaching is helpful but not necessary, says Agam Aggarwal, AIR - 5 - It's not so much the destination as it is the journey! Preparation for AILET 2019 is also a journey in itself. For a few, the journey ends in the National Law University of Delhi. This year the All India Law Entrance Test was conducted on May 5 and the result of AILET was declared on May 27. The AILET topper 2019 list includes the name of Agam Aggarwal. Securing the fifth position in India, Agam Aggarwal bagged a seat for himself among the toppers of AILET 2019. Agam draws inspiration from his father and wants to benefit the masses. When asked about his preparation strategy, Agam gave some valuable pointers for all the law aspirants. The Manchester United fan shares his AILET 2019 journey in an exclusive interview with Careers360. To know what Agam had to say in the AILET 2019 Topper Interview, read the complete article.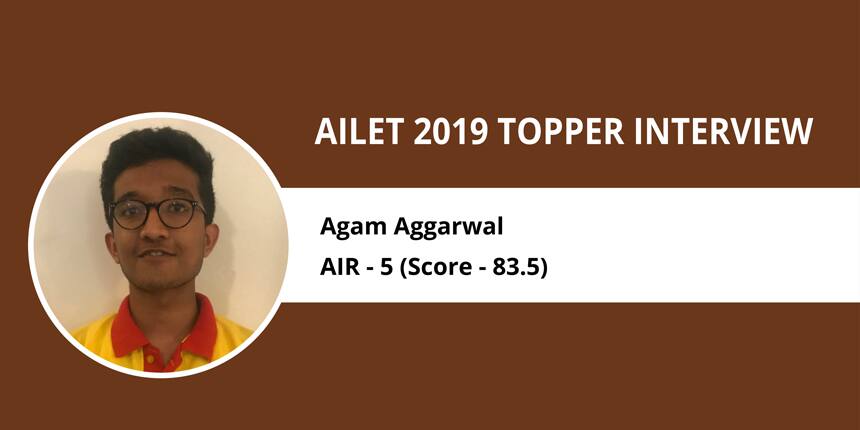 AILET 2019 Topper Interview with Agam Aggarwal -
Careers360: Congratulations! How are you feeling? How are you celebrating your success?
Agam Aggarwal: I am very happy. It feels amazing when your hard work pays off in this way. I celebrated with my family here and my parents are proud of me.
Careers360: What made you choose a career in law?
Agam Aggarwal: My dad is a judicial officer and I take a lot of inspiration from him. He inspired me to pursue something in this field. Moreover, I feel that this is one field where you can do something for the society as a whole. There are many people who are not able to get justice and they spend their whole life waiting for the same. I want to do something for them, to benefit them.
Careers360: When did you start preparing for AILET?
Agam Aggarwal: I started preparing for AILET after my Class X boards. I took test series but I mostly did self study.
Careers360: Is this your first attempt?
Agam Aggarwal: Yes, this is my first attempt at AILET. I recently passed my 10+2.
Careers360: How was your performance in Class XII boards?
Agam Aggarwal: I got a 95.6% in my Class XII boards.
Careers360: Apart from AILET which other exams did you take this year? How was your performance in those?
Agam Aggarwal: I sat for CLAT 2019. The results are not out yet. But I do feel that my performance was decent.
Careers360: Can you share your preparation strategy with us?
Agam Aggarwal: There are five sections - logical reasoning, English, Mathematics, general knowledge and legal aptitude. The most important thing is to keep yourself updated with the current affairs. For this, the newspapers are very important especially "The Hindu". They keep you updated with the current affairs and the happenings around the world, national and international updates. All this is very important for AILET, because it takes a keen interest in international events too. Also, current affairs compendiums were extremely helpful because they are pretty concise and have almost all the important happenings of the month. It is hardly a 30-40 page document which is why it was very helpful for me.
Careers360: What was your preparation strategy for English?
Agam Aggarwal: I feel that I had a pretty decent grip on English and it was pretty much my strong hold. So I usually followed my intuition, but then again there are a couple of books that I referred to. Also, CLAT prep booklets are very helpful because they feature very small objective type questions which are relevant to AILET preparation. So practicing these questions is fundamental to performing well in English.
Careers360: Every student fears the Mathematics section. How did you deal with this section?
Agam Aggarwal: I know. I've seen many people who do not even attempt this section. But I would recommend that mathematics is one subject which you should never neglect. If you want to get a good result and get yourself in a different league altogether, this is one section which can help you do that. For this section I would recommend picking up R.S. Agarwal or any of the CLAT prep notes. Solve as many objective types questions that you can, because that's what happens in AILET, you need to do those questions! You may not be able to solve all the questions but you need to be effective at eliminating the options and arriving at the right conclusion.
Careers360: What are your hobbies?
Agam Aggarwal: My hobbies include watching football, and I play football too. I love reading, both nonfiction and fiction. I also do gaming honestly. I didn't give up gaming for AILET preparations. You need to have something to look forward to in the end of the day and after studying for the requisite number of hours. The overall moral you have is important for the preparation.
Careers360: What role did mock tests play in your success?
Agam Aggarwal: Mocks were extremely helpful. I cannot stress enough on how important mocks were, because had it not been for mocks a person would be very overwhelmed by the entire exam. AILET is an extremely tough examination. The cutoff for AILET was 72.25 for an exam of 150 marks! But the kids who were regular in taking up mock tests would be mentally prepared because mock test gives you a variety of questions, varying from easy to moderate to very difficult too. These prepare you for any scenario. Also you encounter a wide array of questions which is always beneficial for you.
Careers360: What is your take on social media?
Agam Aggarwal: I didn't give up on social media. I sure was less active, but I think as long as you keep your social media habits in check its fine. But it should not dominate your time or distract you all the time. Basically it shouldn't affect your studying hours and the time that you devote for studies should go for studies and that too productive studies or smart studies. You should have your recreational activities too.
Careers360: Do you think coaching is necessary for AILET?
Agam Aggarwal: Coaching sure is helpful, but I wouldn't call it necessary. Because after all this is an aptitude test, you don't need formulas per se . All you need is a good aptitude which I feel you can build better if you do self study. Give mock tests, get to know your weak areas, get to know where you struggle and where you can improve. At the end you are the best person to micro manage yourself.
Careers360: Legal Aptitude, what is your take on this section of AILET 2019? And how did you prepare for it?
Agam Aggarwal: The legal aptitude section was really tricky this year. It comprises of 35 questions and most of the time 25-30 questions were from legal reasoning and 5-10 questions from legal knowledge. What really stumped us this time was the lack of legal reasoning questions and the abundance of legal knowledge questions. There were 22 legal knowledge questions and only 13 legal reasoning questions. And most of the legal knowledge questions were from the current legal knowledge. As we all know that the Supreme Court was extremely active this year, we had a lot of important judgments, lot of bills and ordinances in the Parliament and all of them featured in the exam! All of these questions were tricky but then again you should keep yourself updated by reading the newspaper. Keep in touch with this kind of news particularly for AILET. You need to know the specifics too for AILET, just knowing the headlines or outlines is not enough. Because the exam features questions which will give five statements and ask you to state which of them are true regarding this ordinance. To solve such questions you need to have an in depth knowledge of what happened and what are the important features.
Careers360: How did you deal with the Logical Reasoning section?
Agam Aggarwal: It was one of the easiest sections of the exam. It had around 10 questions on analytical reasoning which were manageable but they were time consuming. There were questions on puzzles which is basically a group of questions but is counted as one. Then there was one puzzle for 7-8 questions. The next 10 marks were critical reasoning which I feel was the key area where you could have made a difference. Critical reasoning is very important for AILET.
Careers360: What is your advice to the future AILET aspirants?
Agam Aggarwal: Keep updating yourself with news, legal news specifically. Anything remotely related to the Parliament, with the Supreme Court, High Courts, make sure you go through all of them in depth.
For English, try improving your grammar, punctuations and all those small things that you neglect. Figures of speech and poetic devices are often asked in AILET.
For legal aptitude, make sure you are accustomed to facing very long legal reasoning questions, because most of the times they have one question on the entire page.
And lastly, for AILET the reading speed is very important. Work on that and read a lot.
Questions related to AILET
Showing 290 out of 290 Questions