AILET 2019 Topper Interview: Naomi Manoj, AIR - 7 " law is my passion"
AILET 2019 Topper Interview: Naomi Manoj, AIR - 7 says law is my passion - No one can understand the preparation of an examination better than someone who aced it! The All India Law Entrance Test is one of the most difficult entrance tests in the country. AILET 2019 was held on May 5, 2019. Careers360 scheduled an AILET 2019 topper interview with Naomi Manoj, one of the toppers of AILET 2019. Naomi managed to score 81.5 marks in the examination and secured a seat for herself in the National Law University of Delhi. In the AILET Topper Interview 2019, Naomi Manoj shares tips and tricks for AILET. Read the complete article to find out what the AILET topper 2019 has to say.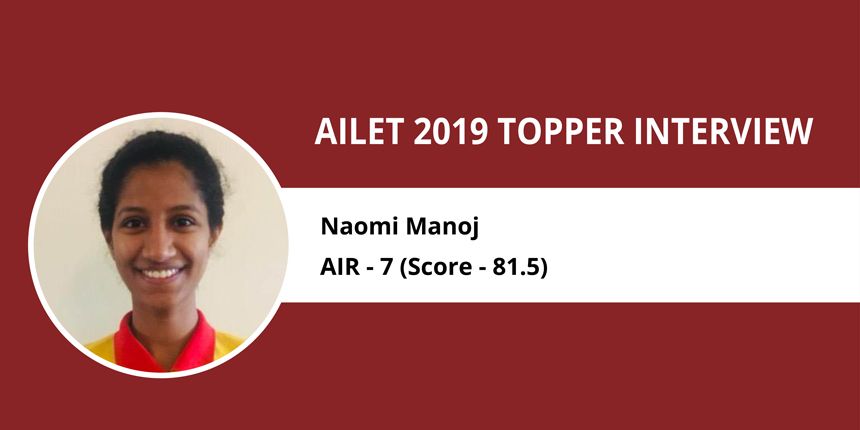 AILET 2019 Topper Interview with Naomi Manoj
Careers360: Congratulations! How are you feeling and how are you celebrating?
Naomi Manoj: Thank you, I am so happy. I really did not expect it at all and it came as a pleasant surprise. I am so grateful for everything and I have my parents, my teachers and my friends to thank for it.
Careers360: That's nice. Can you tell us a little bit about your family.
Naomi Manoj: My dad's an engineer and works in ONGC. My mother is a doctor. I also have a sister, she is a third-year medical student.
Careers360: What made you choose a career in law?
Naomi Manoj: I was really confused as to what to do when I grow up. And sometime towards the end of Class XII, I read an article about law and the philosophy behind it. I found it very interesting and I realised that this is what I wanted to do. My cousin is also pursuing law so I borrowed a couple of book from her. I couldn't stop reading till I finished the book and it felt like I found my passion!
Careers360: Who is your inspiration?
Naomi Manoj: It would definitely be my mother. She is a very strong woman, she is a working mother and is very hardworking lady. She has always tried to keep us happy and give us the best. She has done what she always wanted to do and became a doctor. So yes, She is my inspiration.
Careers360: So when did you start preparing for AILET?
Naomi Manoj: I started my preparation last year, when I was in Class 12. I went for a crash course but I didn't have much time. So I thought maybe if I drop a year and work hard I could do better, which is what I did. This year I started my preparation around August 2018. I took a coaching, and went there everyday. It was very helpful.
Careers360: Can you share your preparation strategy with us?
Naomi Manoj: There is no fixed syllabus for AILET, so it can be a bit difficult when you step into it. So for that I joined the coaching institute to get the guidance. A coaching institute tells you where to start from and how to begin. AILET is a tough exam! The time is limited and you have to attempt 150 questions in 90 minutes, thus, speed is a crucial factor. In order to achieve the required speed one must practice and take as many mock tests as possible. Being well versed in english will help, and stay in touch with current affairs. I found Mathematics a bit difficult, personally, in spite of the fact that I took mathematics in Class XI and Class XII. I used to watch a lot of YouTube videos to strengthen this section.
Careers360: Which other exams have you taken apart from AILET 2019? How was your performance in those?
Naomi Manoj: Apart from AILET, I wrote CLAT 2019 and SLAT 2019. In Symbiosis law Entrance Test, I scored 128 marks . CLAT results are yet to come, but I think I did much better than I expected, so I am happy about that. I think I am getting around 160 but its too soon to tell.
Careers360: What was your preparation strategy for the general knowledge section?
Naomi Manoj: For general knowledge I did not rely on a single source, I tried to expand my sources as much as possible. I used to read GK Today daily, and if not daily I used to read it in bulk at the end of the month. Then I used to follow Study IQ videos on YouTube. I got notes from my coaching.
Careers360: How did you prepare for Mathematics section?
Naomi Manoj: For Mathematics, I mainly depended on YouTube video and I noticed that there were a set of questions from which the questions in AILET are asked. There is a certain type of questions that they usually ask. And I tried my best to make myself familiar with those types.
Careers360: What was your strategy for the legal aptitude section?
Naomi Manoj: I found this section a bit tricky because in various guide books the answers would be different. So, I would just stick to what I felt was right, and in the end I used to eliminate the options. That way the answer would be correct. I used the Universal's Guide, it is an excellent book and has many questions for legal section. I also referred to Pearson general knowledge manual. For legal aptitude section, I would suggest to not expand the sources, as it could lead to confusion.
Careers360: Can you share your preparation strategy for the reasoning section?
Naomi Manoj: I found this section easy, so I didn't really focus much on it. But, I did solve the Universal's Guide and Legal Awareness and Legal Aptitude by A.P. Bhardwaj for this section.
Careers360: What role have mock tests played in your success?
Naomi Manoj: Mock tests have played a huge role! Like I said before, it really helps you in managing your time and getting an idea on where to focus on. Mock tests also help you in determining which areas are you weak in. Mock tests really help in getting an overall idea of the examination and how to get into the right track for it.
Careers360: How active were you on social media during your preparatory phase?
Naomi Manoj: I was quite active on social media. It didn't affect my studies in any way. I used to in fact even check out a few educational portals on social media. It was fine for me and I don't think it affected my studies in any way. I could manage both social media and my studies.
Careers360: What did you do to destress yourself?
Naomi Manoj: I have a really supportive family, friends and teachers. I used to just call someone up to destress. But, the best method to destress according to me, is to read a book. It transports you to a totally different world and you can let go of your worries and fear.
Careers360: You emphasize on how the coaching has helped you, so do you think coaching is a must for AILET?
Naomi Manoj: Not really. I think coaching is necessary at the beginning or the foundation stage. After that people have to work hard on their own. There is no fixed syllabus for AILET, so there is a limit to how much a coaching can help.
Careers360: Did you face any difficulty during the examination?
Naomi Manoj: Not really, I was calm during the exam. Except towards the end, I panicked a bit but it went fine without any other issues.
Careers360: What is your advice to the future AILET aspirants ?
Naomi Manoj: Just know that everything is within your reach and stay positive. Work hard and you will achieve what you want.
Questions related to AILET
Showing 278 out of 278 Questions