Campus Life at Gujarat Maritime University - Gauri Joshi Speaks about her Experience
Campus Life at Gujarat Maritime University - Maritim law is a fast-growing area of law. Among law aspirants, there is a growing interest in the field of maritime law and international law. But, there are only a few universities or institutes that offer specialisation in Maritime law and if you are a law aspirant looking for specialisation in some unconventional field such as Maritime law, it is important to know how good a university is in terms of education quality, academic pattern and other such parameters. And, only an insider can tell us the truth.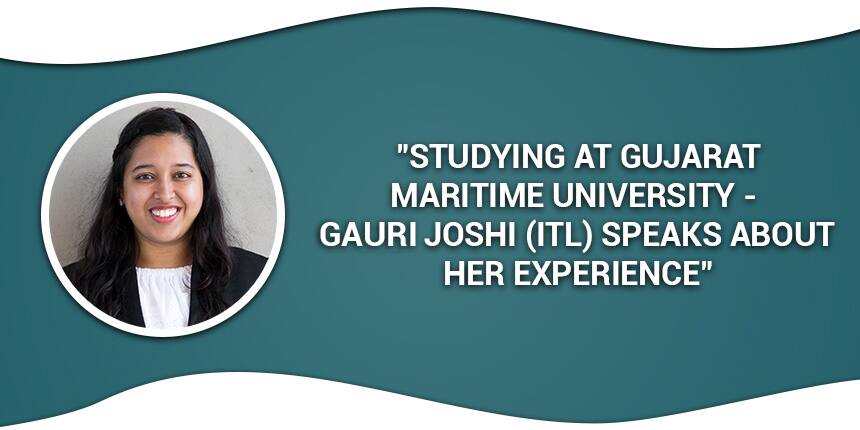 Gauri Joshi, a student at Gujrat Maritime University shares her experience while studying LLM in International Trade Law in the university. The account of Gauri Joshi includes her experience from the beginning, the classroom atmosphere, thoughts on faculty, internship facilities and others.
Campus Life at Gujarat Maritime University - Gauri Joshi Speaks about her Experience
When I joined law school way back in 2014, I didn't know the crucks to establish GMU was being initiated somewhere. As I was on the verge of completing law school, I started looking for various options to pursue higher studies. I was very sure that I didn't want to opt for an LL.M in a conventional subject therefor I started considering abroad options. But to my disappointment things didn't work, that's when I came across Gujarat Maritime University, offering masters in unconventional subjects like Maritime Law and International Trade Law. So took the plunge!
Every single day at GMU is enriching. We have vibrant young faculties and helping administration. We students have been to two port visits in the past four months. The first port visit at Adani Mundra was like an introduction into the world and the laws of the sea, it was a spectacular experience because we haven't been to a port before. Here, we understood the working of a large-scale commercial port for the first time. The second port visit was at Dahej, by this time we were aware of the various maritime terminologies and regulations of trade. It was a valuable addition to our existing knowledge. My point is that studying here is fun! We get to apply the theories/laws taught in the classroom in the practical world. It's not monotonous. Our faculties in every lecture push us to think out of the box and come with practically applicable solutions. The intense classroom discussions, constructive arguments, mock moots, case presentations make the classrooms lively and not only enhance our knowledge but also develop our personalities.
Also read -
Campus Life at Gujarat Maritime University: Nimish Arjaria Speaks About his Experience
Since the beginning of our semester, we have been kept engaged in various guest lectures. The very first guest lecture was on "European Law" by Dr Krystian Antoni Complak from the University of Wroclaw, Poland where we learned about the basic structure of the European Constitution and its effects of the Brexits. Another was with Prof. Tomer Broude Herbrew from the University of Jerusalem on International Regulations of Trade and Investment.
During the mid of the semester, the University had organized an Image Consultancy Workshop for grooming our professional personalities and teaching us the importance of soft-skills at work-place. On the last Saturday of this session, we were taught dining etiquettes for formal occasions and to our surprise, our classroom was transformed into a five-star restaurant dining! Though one- year LL. M may be seeming hectic for some since time is less and study is more, it only depends on how well one is at managing time. But it's worth giving a shot because the University makes it a pleasant learning experience.
Though we are a batch of 32 but the University has pitched in great efforts for our internships and the results were fruitful because we interned with big names in the industry like Maersk, APMT, DG-Shipping, DGTR, Singhania etc and made sure we left with a mark. After a month-long internship, we are fully charged up to commence our final semester to study specialization subjects like International Investment Law, International Law of Carriage, International Commercial Arbitration, Laws of Shipping, Marine Environment and Insurance etc, and take an international study tour at Erasmus University, Rotterdam.
Gujarat Maritime University, Gandhinagar Updates and Articles
Campus Life at Gujarat Maritime University: Adv. Haizel Varghe...
04 Jun 2020
Campus Life at Gujarat Maritime University: Nimish Arjaria Spe...
02 Jun 2020