Campus Life at Symbiosis Law School Hyderabad: Rushita Avula speaks about her experience
Symbiosis Law School Hyderabad is one of the most prominent law schools in south India and is affiliated to the Symbiosis International University. The law school offers BA LLB and BBA LLB courses at the undergraduate level. Law aspirants of SLS who are looking forward to appearing in Symbiosis Law Admission Test (SLAT) 2020 must be curious to know about how the SLS Schools are in terms of quality of education and infrastructure, placement and internship opportunities, hostel and other parameters. And, we know, only an insider will be in the best position to talk about how the law school is, so we had an interview with Rushita Avula, a BA LLB student of SLS Hyderabad who gives an important insight into the college.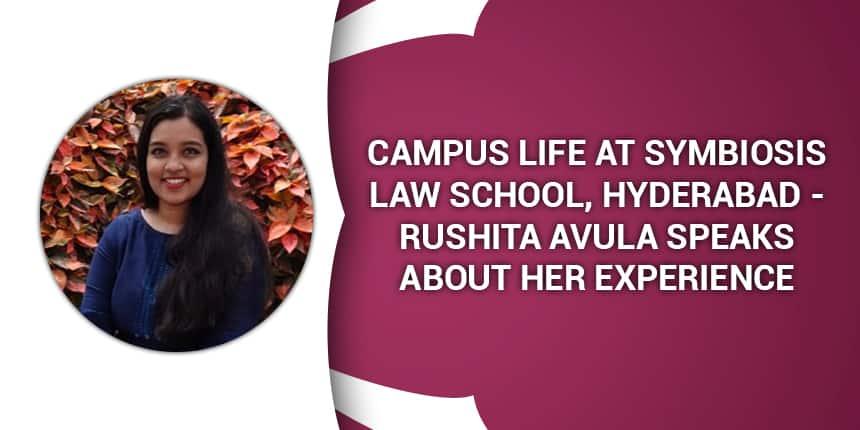 Campus life - Rushita Avula (Symbiosis Law School, Hyderabad) speaks about her experience
Question - Give us a brief introduction of yourself - your name, the college you are studying in, course and semester?
Ans - I'm Rushita Avula from Symbiosis Law School Hyderabad. I have completed my 3rd yr BA LLB (6th Sem).
Question - How did you first acclimatize to the institute after you joined? What difficulties did you face and how did you overcome them?
Ans - I did not take me much time to adjust to the college environment as I'm a localite of Hyderabad itself. But there are a lot of students that have come from other states (in fact from almost every state of the country) that took quite some time to adjust.
The campus is situated in a remote area, pretty far from the city. Health emergencies and daily supplies were a serious problem when I joined law school. In fact even now, but definitely not as worst as it was in my first year.
We had some water problems initially. It has been rectified now as the population on campus increased and there were also several administration changes made.
Coming to academics, initially, we did face some problems as the college was new but now the teaching standards have improved. The current batches are getting good faculty and the standards of education have improved significantly.
Question - Describe a typical day at your institute – what do you do from the time you wake up till you go to sleep?
Ans - College starts at 9:30 am. Strict uniform rules exist. My day generally starts at around 7:30 am. I workout for a while. We have a gym on campus too and a lot of students keep going there. Breakfast starts around 7:30 am and goes till 9:30 Am. We have classes starting from 9:30 am and might go up to 4 in the evening. But it was only the 1st and 2nd years that had classes till 4 pm. By 3rd year, the number of classes were rapidly decreased as we were done with important courses by then. We had only 3 or 4 hours of college from 3rd year. It gets much lighter for 4th and 5th years.
After college, I go back to the room, rest for a while and then go for a walk in the evening for less than 20 min and head to the mess for evening snacks. I have some food, head to the library, pick up my newspaper and go back to the hostel reading room. As I'm preparing for Govt exams, I generally read books and material relating to that.
A lot of other students often participate in moot court competitions, research publications, judgment writings, drafting contests etc. There are a lot of student-run departments that also keep students busy. I must say at least 60 % of the student population is busy working on something or the other activity every day be it competitions, sports ( for foreign masters degree requirement), skill improvements or even desperately trying to top the exams.
Question - Since every law aspirant searches for quality education, law schools of Symbiosis are counted among the good ones, please explain how are the standards of legal education in SLS Hyderabad?
Ans - The student lot that comes here is quite competitive. Compared to local law colleges, we are way ahead.
Academics are great. And, it will become better as the Hyderabad campus gets old, number of batches that go out, the standards of placements, persistency of the alumni and local recognition. Currently, I don't see any fault with the student lot as they are trying their best to get good jobs and settle. The only problem is the area where the university is situated (too far away from the city and remote) and less number of outgoing batches. I feel this will eventually get better with time.
Question - Tell us about extracurricular activities and other facilities available for students at SLS Hyderabad?
Ans - There are good extracurriculars like sports, martial arts, singing, dancing etc clubs. These are entirely student-run under administrative supervision. Students are given an opportunity to come up with their own ideas too. There are fests and competitions held under the above categories, which are also open for other colleges participation too. College also provides for suitable infrastructure, ex-sports complex, dance and singing halls, martial arts room etc. Students are also encouraged to represent in other universities across India.
Question - Do you have moot courts in your institute and how often do you participate in this activity? Can you give a little insight?
Ans - We have 1-2 moot courts held every year. A lot of students almost nearly go crazy about it because the team that wins will get the opportunity to represent the University at national level moots in several reputed Institutes across the country. Also the more moots they participate the more they have to add in their CV.
Question - How do you keep your legal minds sharp in the hostel? Give us an insight into your intellectual debates!
Ans - Debates are literally endless in hostel lives. Sometimes, they even get carried to and from classrooms. A lot of discussions and debates happen based on current legal issues. One of the major and most recent topics that were debated almost by the whole college was decriminalizing homosexuality and J&K issue.
Question - Tell us about the internship opportunities? Where do you do internships and what activities do you do during the internships?
Ans - Internship Opportunities provided by the college are somewhere above average I must say. But more than 50% of students try to get internships on their own and college also supports them well. Majority of students are crazy for opportunities in Corporate Law and litigation fields, so their internship choices also lie in the same ex-corporate firms, under lawyers, chambers etc.
My internship outlook is more of expanding my awareness about how systems and laws work, public rights and activism, social work etc.
Question - What type of recruiters comes for campus recruitment and what percentage of students get placed every year?
Ans - The general stats could be somewhere like this; 50% Corporate, 30% litigation and 10 -15% Civil, 5% others. Criminal Law falls under the 'other' category and sometimes the number could even be none. We only had 2 batches that passed out from college until now, so I wouldn't give great feedback about it yet. 50-60% of students opt to sit through campus placements. While the rest choose to get jobs on their own. Out of the ones that chose to sit through campus placements, around 70-80% get placed.
Question - Is there any eligibility criteria for participation in campus placement? Do you have a placement cell that imparts placement training?
Ans - Yes, we have a minimum CGPA requirement of 6 points to be eligible for Campus placements. We have a placement cell too that holds frequent seminars and workshops to impart skill development strategies among students and also improve connections for placements.
Know about Symbiosis Law Admission Test -