Career in Litigation and Arbitration - Job opportunities and Challenges
Careers360 in conversation with Punit Dutt Tyagi,  Executive Partner of Lakshmikumaran & Sridharan, brings you insights on Career in Litigation and Arbitration. Punit Tyagi, a seasoned lawyer with an expertise in varied fields including Commercial Litigation and Arbitration talks about the specialisation concept. The Lakshmikumaran & Sridharan Executive Partner also speaks on the current prospect of Litigation and Arbitration in India.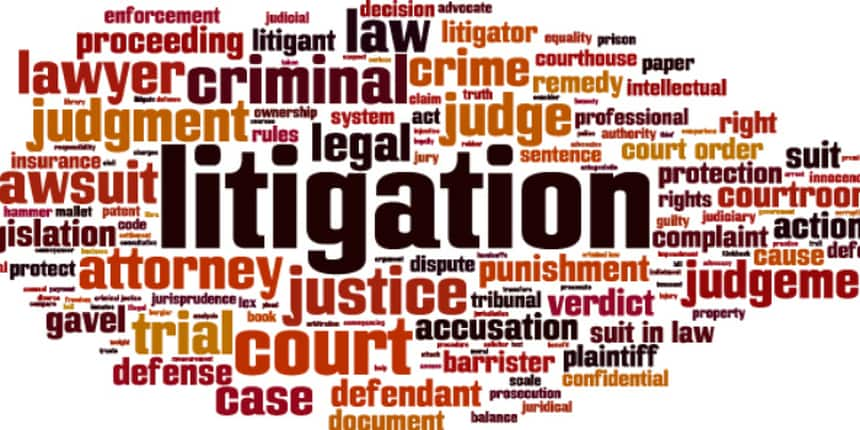 Punit Tyagi, who is also an Advocate-on-Record before the Supreme Court also, explains how the litigation and arbitration have changed in the last decade. Read this interview of Punit Tyagi to know the possible challenges and rewards, when you choose a Career in Litigation and Arbitration.
Interview Excerpts
Careers360: What are litigation and arbitration? What are the core similarity as well as the difference between them?
Punit Tyagi: The primary difference lies in the fact that litigation is pursued before courts, and arbitration is pursued before a forum of choice namely, tribunals constituted by the parties' consent.
The dispute resolution mechanism before Courts (i.e., the District Courts, High Courts and the Supreme Court of India) is envisaged under the Constitution. In comparison, Arbitration is a contractual forum chosen by the parties for settlement of disputes. The reason parties opt for arbitration is that it is not only private and confidential, but also that it provides of a more expeditious mode of settlement of disputes, when compared with a judicial approach before Courts of Law.
The similarity between the two modes of dispute settlement lies in the fact that in both forms, there is a neutral party in the form of a judge or an arbitrator to decide the dispute. The same substantive laws apply to both forms. As regards procedural laws, in arbitration, parties are free to agree on the procedure to be followed by the tribunal, i.e., parties can have their own procedure and if there is no agreement between the parties, then the tribunal conducts the proceedings in the manner the tribunal finds it appropriate. In latter case tribunal, though not bound by the procedural laws viz. Civil Procedure Code or Evidence Act, tribunal follow the principles of CPC and Evidence Act. However, they are not applied as strictly as they are before Courts.
Careers360: How has litigation and arbitration changed in last decade? Please share your personal views on them.
Punit Tyagi: In the last decade, arbitration as a means of dispute resolution has evolved to cater to the requirements of the modern-day litigant, particularly in the cases of high stake corporate and commercial disputes. It has less procedural hindrances, faster timelines and, in effect, a convenient mode of dispute resolution. But in Litigation, the manner and mode of dispute settlement is uniform across all areas and categories of disputes, making it sometimes difficult for parties to have their disputes effectively adjudicated. Further, the age old rigid structures of procedure applicable to Courts make it increasingly less popular as a forum for settling disputes. But it would not be fair to the judicial system to make a generalization in this regard. Even Courts have endeavoured in recent years to envisage systems to provide more effective justice to those who appear aggrieved before it. One such example would be the introduction of the Commercial Courts for settling a category of disputes that are time sensitive. Only time will tell if the Commercial Courts will provide effective and speedy mode of delivering justice.
Careers360: What is the current prospect of Litigator and Arbitrator as a specialised career domain in India?
Punit Tyagi: The prospect of practicing litigation or arbitration in India is definitely good. There is no dearth of disputes that are pending adjudication before Courts and arbitration. Arbitration, as a mode of settlement, is continuously growing in popularity, both amongst the corporates as well as private persons. I see great future for arbitration practitioners.
Careers360: What motivated you to begin a Career as a Litigator and Arbitrator?
Punit Tyagi: My parents, like all parents back in the day, wanted me to become a Civil Servant. They saw it as an opportunity for a stable and secure job. But I was quite clear in my mind that I wanted to practice law. Law, as a subject always excited me more than any other subject. The fact that lawyer is a master of his own, was also a big contributing factor in my decision to practice law. Everyday appearing before courts and being able to get relief to the client gives immense satisfaction. It's like passing an exam every day. The fact that lawyer can be instrumental in getting justice to the aggrieved party also excited me a lot. 
Careers360: What are the special skills that an aspirant should possess to begin a career in this law field?
Punit Tyagi: Perseverance and Hard Work. There is no two ways about this. In this field, I believe that everyone is always a student. A good legal practitioner must constantly keep updating himself in order to be able to address any and all issues that cross his or her path. This can only be done through constant engagement.
Careers360: What are the possible challenges to be faced in this career?
Punit Tyagi: The most challenging part in this field is that to establish oneself there is a considerably long gestation period. One must have a great deal of patience in order to succeed and excel.
Careers360: How rewarding is the remuneration as Litigator and Arbitrator?
Punit Tyagi: Remuneration is something that is a matter of perspective. But like in any profession, regardless of whether it is arbitration or litigation, to earn, one must first hone one's skills and make oneself competent. Money and recognition both will flow automatically once you do these.
Careers360: What are your suggestions for those who wish to become a successful Arbitrator like you?
Punit Tyagi:Work hard and apply yourself. There is nothing else to it, really!