Career Options post LLB through LSAT India
Career options post LLB: Anyone planning to take the LSAT India exam must be interested to know what kind of career options post LLB through LSAT India are available. Until a few decades back a career in law more or less meant a career in litigation, but today there is an emerging crop of students who don't want to walk that path and become a litigator. Instead they want to use their knowledge of law to pursue careers in a different field. Today many law graduates are found working in NGOs, the media sector, corporate houses, think tanks, and also international organizations like the UN. In this article we discuss how one can one pursue these diverse career options post LLB through LSAT India.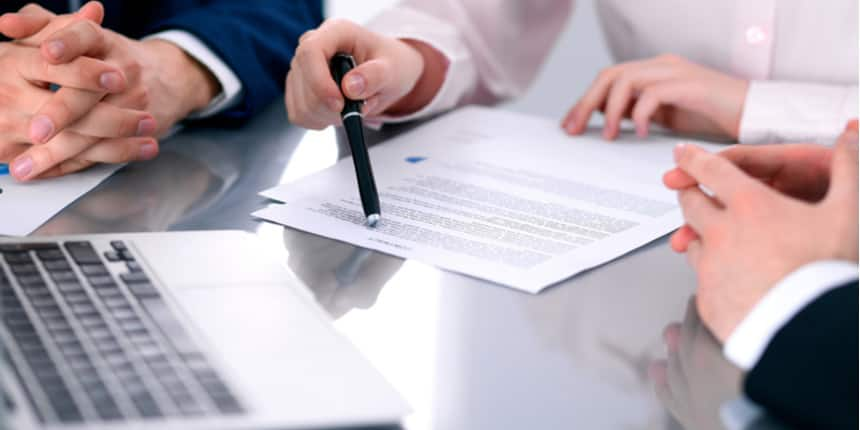 But before we dive deep into career options post LLB through LSAT India, let us have a quick look at the LSAT India exam, including the exam pattern and the list of law schools that accept LSAT India scores.
LSAT India 2020 Exam Pattern
The LSAT India until the last academic session was conducted in pen-and-paper mode, but this time around the exam will be conducted in online mode that will be remotely proctored using artificial intelligence-assisted remote proctoring technology. So, candidates will be able to take the test from the comfort and safety of their homes. The decision to switch to online mode was taken given the country-wide lockdown that has been imposed in the country due to COVID-19.
The online LSAT India 2020 exam will now be conducted on several days starting June 14. The LSAT India 2020 application form is now open till July 5.
Online LSAT India 2020 Section-wise questions and timings
| | | |
| --- | --- | --- |
| Section Type | Number of Questions | Duration (minutes) |
| Analytical Reasoning | 23 | 35 |
| Logical Reasoning (1) | 22 | 35 |
| Logical Reasoning (2) | 23 | 35 |
| Reading Comprehension | 24 | 35 |
| Total | ~92 Total | 140 |
LSAT India 2020 Participating Colleges
There are 12 law schools in India that offer admission to their LLB programs based on LSAT India scores; they are:


Jindal Global Law School, O.P. Jindal Global University

Hindustan School of Law, Hindustan Institute of Technology and Law

MIT-WPU Faculty of Law
Career Options post LLB through LSAT India
What kind of skills law aspirants learn after completing LLB through LSAT India
Studying law the candidate will learn about various laws and regulations that cover all aspects of human life. For example, the candidate will learn the legal framework of business, the various regulations regulating them, and about dispute resolution. In fact, understanding of law is a very crucial step towards building a rule of law society, according to Dr. C. Raj Kumar, VC, O.P. Jindal Global University.
He also adds that, "law or legal education helps you to hone your skill sets relating to research, communication and ability to articulate and persuade people, that is power of persuasion through effective arguments."
Traditional Career Options post LLB through LSAT India
Here are some of the typical career options that law graduates may take up as career options post LLB through LSAT India:
Litigation – Litigators, also called legal practitioners, represent clients in courts of law and are engaged in dispute resolution services. They may take up cases involving commercial litigation, Medical Malpractice, Intellectual Property/Patent Law, Arbitrations and Mediations, etc. The pay scale of litigator in the early stages of their career can be between Rs 15 – 20,000 per month. The figure can go, in some cases exponentially, depending on how effectively and successfully the litigator is able to represent his clients.
Judiciary and Civil Service – Entry is through state-level and national-level exams. The Union Public Service Commission (UPSC) conducts the national-level exam for entering the civil services like IAS, IFS and IPS. The pay scale for these positions are among the best in the country. But more than the salary, it is the power and influence that these positions yield that attracts many candidates.
Judicial Clerkship – If one wants to sharpen research skills and gain experience about legal matters from old hands, Judicial Clerkship is an obvious choice. The job role is contractual and the person works under a judge in a court of law. Pay scales may vary depending on where the candidate is working at. Someone working under a Supreme Court judge may be paid to the tune of 50 k per month.
Academics and Research - These days NET qualification after Masters is a mandatory criteria to become a regular teacher and teach in a school of law; non-permanent posts though may have relaxed norms. For regular posts, salary is as per the central or state-pay scale decided from time to time.
Some students after Masters also decide to go for research and do M.Phil and PhDs in various specialisations, including International Law, Legal Studies, Cyber Law, Civil Law, Jurisprudence, Administrative Law Studies, etc. Scholarships and fellowships are good ways to get sponsorships for a research program.
Non-Traditional Career Options post LLB through LSAT India
Media and Publication - Many lawyers have been found to switch to a career in media and publication at various stages of their career. The reason for a career switch can be different, but one thing that doesn't go unnoticed is that study of law helps one understand the constitution, the judicial set-up, and in fact gives a broad understanding of the legal framework and matters related to it. The payscale in media and publication can vary tremendously, depending on the organisation and job role. That being said, someone like a Rajdeep Sardesai can command a very handsome salary.
Work for intergovernmental organizations and United Nations type organizations – Dr. C. Raj Kumar says, "The UN has a large number of lawyers working in different field offices and different offices in various capacities who use their knowledge of law. It of course has an office of legal affairs, but there are people who work in the development side, refugee areas, human rights, humanitarian law, a whole range of things, including in international justice."
Citing the example of his own institute, he said, "we have our students doing internships in international criminal tribunal for Rwanda, international criminal tribunal for former Yugoslavia, we have had people who do work in international criminal court. So there is a whole range of possibilities for working in the international justice arena through your legal qualification."
Social Work – This sector doesn't always pay as well as some of the fields we have mentioned above, but at the same time people are consumed by a passion for social work and any monetary angle is only complimentary. Social work can be done through NGOs or on an individual scale. There are also many commissions like the National Human Rights Commission, National Commission for Protection of Child Rights, etc. that hire lawyers to fight for these high causes.
Questions related to LSAT India
Showing 135 out of 135 Questions
Law School Admission Test for India (LSAT India)