CLAT 2016: 6 months prep tips by Rajneesh Singh


With CLAT 2016 to be conducted on May 8, barely six months are remaining for the coveted law entrance exam. It is the initial phase when law aspirants like you may be bothered with questions like how to prepare for CLAT 2016, what to study, which topics to cover and as such. Careers360 brings you 6 months preparation tips of CLAT 2016, where experts will guide you with their exam expertise and help you in cracking the Common Law Admission Test.

Related Post
CLAT 2019
CLAT Application Form 2019
CLAT Admit Card 2019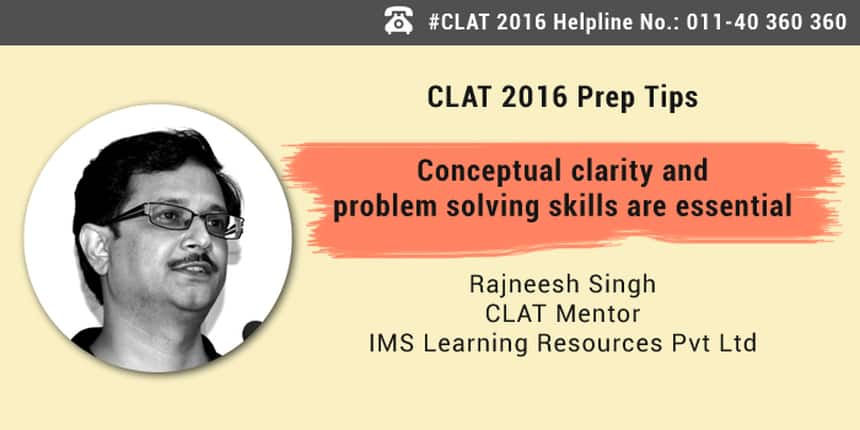 As a part of the series of CLAT 2016 preparation tips by experts, Rajneesh Singh of IMS Learning Resources shares his insights on how to prepare for CLAT 2016 in the next 6 months. The expert also shares his strategy for taking the exam in online mode and recommends books for cracking CLAT.

[Click here to enrol for CLAT Complete Study Material and Preparation Package]


Excerpts of the Edited Interview –


Careers360: How should a law aspirant prepare for CLAT 2016 in next 6 months?
Rajneesh Singh: I would suggest phase-wise preparation for law aspirants which includes three phases beginning from clearing concepts till taking mock tests. The phase-wise preparation strategy for CLAT 2016 is as follows –
Phase One – Conceptual clarity and ability to comfortably solve every type of possible questions likely to appear in CLAT of each subjects

Phase Two – Working on ability to solve set of questions with high speed but with 80 to 85 percent accuracy. Taking small section tests will help a lot. Taking it online will help more

Phase Three – Taking lots of mock tests under perfect exam conditions is the last task.  Analysis is must after every test. Without analysis (question by question) a mock test is useless
Careers360: As CLAT 2016 is to be conducted in online mode, what advantages do you think it will have?
Rajneesh Singh: The online mode CLAT 2016 shall pose numerous advantages. To list few–
Question to question navigation – This is quicker. You will have buttons for every question on one side mapped properly. In this way, switching to another question will be very quick

Going back to an un-attempted question – The question buttons will change its colour as their status change. The un-attempted, the attempted and 'reviewable attempted' ones will be shown in different colour codes. This is quite advantageous as it'll save your time in finding questions which need to be reviewed or can be attempted

Changing answers – You can change your previously marked answers at any time before the final submission. However, the same can't be exercised while appearing for an offline paper

Quick marking of answers –You need not to darken ovals which are more time consuming. The same can be done with just a mouse-click. Moreover, it saves you from managing lots of accessories including pens.
Careers360: Does the online paper have any disadvantage?
Rajneesh Singh: Everything comes with some advantages and few disadvantages on the other side as well. Listing few of them–
Taking a look at many questions at one go or searching for an easier one will be difficult as one question will be provided in one page

Overall little more time taking than the offline paper, therefore, students need to master online tests to be more efficient.

Inability to do rough works can pose to be the biggest problem in the online system. This will kill a lot of time without even realizing the same. Several a times, you'll have to look up and then down at your rough sheets. Many rough works which you would have done on or just beside the figures/data given in the offline question paper, now has to be done by copying the same in the rough sheet.
Careers360: How online mock tests are useful? How many times do the aspirants need to take these mock tests in the next 6 months?
Rajneesh Singh: Online mock tests are important as they are designed to give you a feel of the actual exam. Appearing for online mock tests will help law aspirants in improving their speed and accuracy.


Once the Phase one preparation is over (as mentioned above), aspirants may start taking mock tests in the following manner –
In the month of December, they can appear for a maximum of 5 mock tests, in January as many as 7 tests, 8 tests in February and 10 tests each in the months of March and April. I would not advise for taking any mock tests in May, as it should be the ideal time for revision of what you have gone through in couple of last months.


Careers360: What books would you recommend for preparing different sections of CLAT?
Rajneesh Singh: The following books may be added to the list of study materials for CLAT Preparation–
Analytical reasoning by M. K. Pandey

Elementary Mathematics and Analytical Reasoning by R. S. Agarwal

'Lucent' GK

'Competition in focus'

'CLAT magazine' by Achievers' Guild

'Ace the CLAT' for Legal Reasoning

'Legal GK' by Manish Arora
Careers360: 'Legal Aptitude' section is considered the most important topic in CLAT. What do the aspirants need to do to ace the section?
Rajneesh Singh: Each of the sections in Common Law Admission Test (CLAT) is important. Yet, Legal Aptitude holds its own importance and the section is quite interesting too. One can refer Manish Arora's and Lexis-Nexis Books for 'Legal GK' portion. On the other hand, for 'Legal Reasoning' part, one needs to work on two things – ability to reason out and never-the-less, familiarity with every type of questions to gain optimum speed. Moreover, I advise that solving past years' papers will help a lot.


Careers360: What are your key tips for CLAT aspirants?
Rajneesh Singh: CLAT aspirants need to take care of the following points–
Be prepared with every pattern and every level. Test taking strategy of a tough level test will be very different to that of an easy one.

You may be provided with calculator on screen. You must practice this to be quick and efficient.

Do not take full length mock tests. I recommend for rather taking as many sectional tests as you can.

Take the online mock tests which use same technology as that of CLAT.

Web is flooded with wrong questions and study materials. Be cautious especially for verbal reasoning and legal reasoning sections.

Take lots of free online tests. There are numerous of online General Knowledge (GK) sites. It was alleged that last year few questions were copy-pasted from a number of online GK sites. Practicing the questions from there will help you in reaching a comfort level.

I suggest CLAT aspirants to get ready for the hurdles in the online paper and win over the odd situations as once you win over these issues; you win over your competitors.

It may happen that you feel quite discomfort in taking a computer based test. The only solution is to get tortured as many times as possible till you feel the comfort of it. I strongly recommend taking lots of online tests as possible.
Common Law Admission Test (CLAT) is the most coveted law entrance exam conducted by National Law Universities (NLUs) by rotation in the order of their establishment for admissions to a total of 2252 seats distributed among the 17 participating NLUs for five-year integrated and post graduate law programmes including BA LLB, B.Sc LLB, B.Com LLB and LLM.


Also Read –
CLAT 2016 Exclusive Interview: Convener talks on CLAT Conducting Body and exam
CLAT 2016 Latest News and Updates
Is a permanent CLAT body the need of the hour?
CLAT 2015 Topper: Neha Lodha shares her success strategy

Stay tuned to law.careers360.com for more news and feature articles on CLAT
Questions related to CLAT
Showing 6929 out of 6929 Questions