CLAT 2016 Exam Analysis By Rajendra Khadav, Director CRACK CLAT TUTORIALS


With CLAT 2016 conducted on May 8, a large number of test takers reviewed the national level law entrance test to be an easy one in comparison to previous few years. With tricky questions only in mathematics section, expert Rajendra Khadav, Director of Crack CLAT Tutorials analyzed each section and presumes the cutoff marks of CLAT 2016.

Related Post
CLAT 2018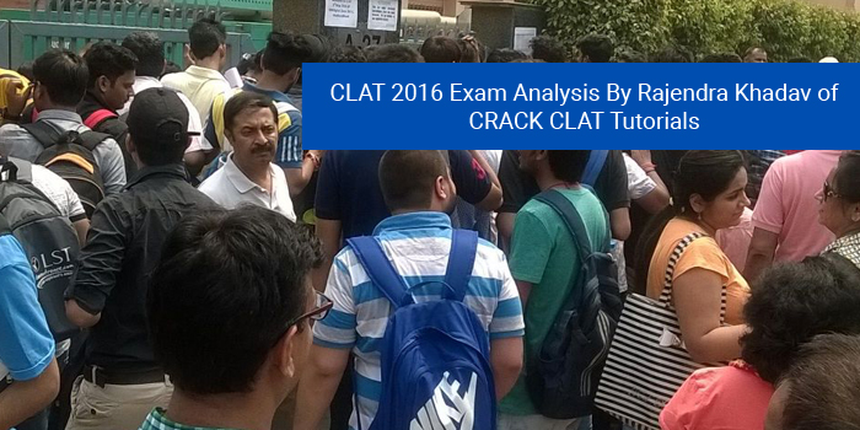 As many as 45,041 candidates had registered for CLAT 2016 conducted in 66 test cities all over India. Careers360 brings you 'CLAT 2016 Exam Analysis by Expert' by Rajendra Khadav who shares his views on the overall and sectional difficulty level and question types.  


[Click here to Know Which NLU College you will get based on your CLAT 2016 marks or Call 011-40360360]


Read below the expert's analysis on CLAT 2016

Careers360: What is your overall analysis of CLAT 2016?
Rajendra Khadav: CLAT 2016 was overall an easy to moderate one. This paper was very similar to the CLAT 2014 paper. Those who were updated with the current affairs and have followed and practiced last years' question papers would have done well.


Careers360: Share section wise analysis of the paper.
Rajendra Khadav: There were five sections and the analysis is as follows –
English: The English section was very easy. The questions comprised general topics like fill in the blanks, Cloze passages, Idioms, Foreign words which had the legal references and reading comprehension. The reading comprehension consisted just one passage of 10 marks.


Logical Reasoning: CLAT 2016 had no critical reasoning questions. The analytical reasoning questions comprised Analogy, Odd Word Out, Syllogism, Statement Assumption, Logical consistency, Cause and Effect. This was an easy section.


Legal Reasoning: This portion was also easy. There were 15 Questions of Legal Awareness. The rest were on Legal Reasoning. The questions were easy as compared to previous years.
Maths: This was the toughest and trickiest section of CLAT 2016 paper. The questions were from various topics including Arithmetic, Percentage, Ratio & Proportion, Algebra, Geometry, Probability etc.
General Knowledge: This section had lots of current affairs questions and some of the static questions. The current affairs comprised past one year happenings. Interestingly there were questions on recently happened event like recent decision of Supreme Court on Uttarakhand emergency.  Those who have read the newspaper daily and were in habit of news channels would have performed very well in this section and would have bagged full marks.
Careers360: What according to you is the expected cutoff for CLAT 2016?
Rajendra Khadav: I expect that CLAT 2016 cutoff would reach 128+ for General category. The expected cutoff for the top 3 colleges would be from 145 to 148.


CLAT 2016 Results will be announced on May 23 as the official answer key will be released RGNUL Patiala on May 12.


Also read –
CLAT 2016 Cutoff
CLAT 2016 Answer Key

Stay tuned on law.careers360.com for latest news, updates and feature articles on CLAT 2016
Questions related to CLAT
Showing 6758 out of 6758 Questions