CLAT 2016 Topper Interview: Learn time-management skill for cracking exam, says Atharv Gupta, AIR 7


Atharv Gupta cracked Common Law Admission Test (CLAT) 2016 with an All India Rank (AIR) 7. Careers360 interviews the 18-year old Delhite, who ascended to AIR 7 in CLAT 2016 from AIR 873 that of last year. Atharv, who is already pursuing his 5-year integrated law programme from Amity Law School, now feels happy as he is about to join his dream law school– NLSIU Bangalore. While sharing his success story, the CLAT topper says that GK is his favourite subject which he enjoyed preparing the most.

Related Post
CLAT 2019
CLAT Application Form 2019
CLAT Admit Card 2019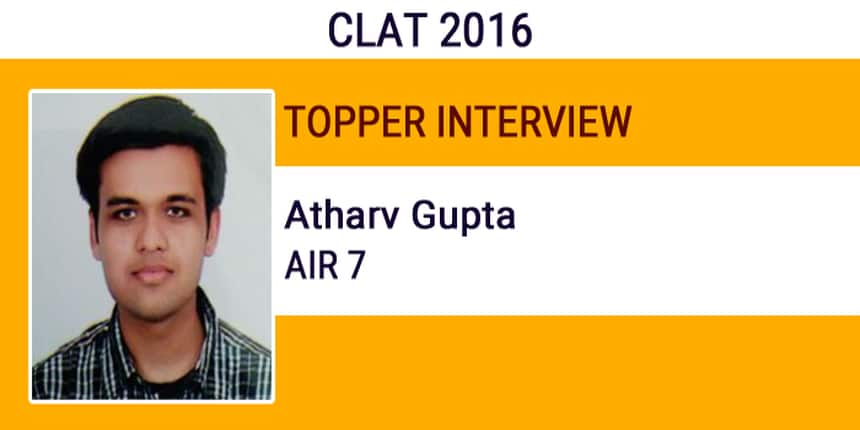 Atharv who loves reading newspapers daily attributes his success to consistent preparation of General Knowledge and Current Affairs sections despite maintaining a regular attendance in his current law school.


He says that he has learnt patience from the cricket legend Rahul Dravid and is impressed with politicians like Arun Jaitley and Kapil Sibbal who are the bigwigs of the law profession. The CLAT topper also shares that he visits law.careers360.com regularly to keep himself updated on the domain and to get the expert tips on preparation. Read more on different aspects of his preparation journey in this full interview below.

[Click here to know which NLU / law college you will get based on your CLAT 2016 Rank or Call 011-40360360]


Careers360: Congratulations on securing AIR 7! How are you celebrating your success?
Atharv Gupta: Thank you for your wishes. The feeling is quite pleasant which can't be expressed in words. I am celebrating my CLAT success with family and friends.


Careers360: What is your CLAT 2016 score? Is this your first attempt?
Atharv Gupta: No, this is my second attempt as last year too, I took CLAT. This year I have scored 170.5 marks in CLAT, which is almost double as compared to last year's score of 91 (AIR 873).


Careers360: Share your success mantra behind the 'doubled CLAT score'?
Atharv Gupta: Since I took CLAT last year too therefore I already knew the online test pattern and had completed most of the CLAT syllabus. Beginning with my stronger sections like English, Mathematics and Legal Aptitude, I would practice with the last years' question papers of different law exams.

My next strategy was to stay updated with current affairs and revise General Knowledge section, which I assume to be imperative for cracking the common law admission test. Moreover, I would also study the different 'legal jargons' for Legal Knowledge section besides keeping an eye on the recent updates on the various court cases of national importance.

Along with all these revisions and updates, I used to take regular mock tests and analyse my mistakes.

Besides, I would also like to express my gratitude to Rajneesh Singh, the CLAT mentor (DO-Zen and CLAT Essentials Founder) who guided me while I was preparing for the law exam and suggested me to take a number of mock tests.
Careers360: How is mock test beneficial for cracking law exams like CLAT?
Atharv Gupta: I believe mock tests are indispensable when you are appearing for coveted law exams like CLAT. In 4 months-time from January, I took a total of 80 mock tests before appearing for the Common Law Admission Test. I would have taken a number of assessment tests and mini tests too on a regular basis.

Taking online mock tests from different resources boosted my confidence. With each mock test, an aspirant can analyse the preparation level and know improvement areas. After taking so many mock tests, I could complete my CLAT paper 40 minutes prior to the schedule time.
Careers360: You are already pursuing BA LL.B from a law school. How did you continue your preparation despite hectic class schedules?
Atharv Gupta: I would say it was a hectic preparation as I had to manage my time schedule for CLAT preparation along with the daily routine at Amity Law School, Delhi. I would return home after attending my law classes at 3:30 pm and after an hour or so, would sit down for revising and practicing questions for the next 5-6 hours.

As I would get time on weekends, I utilized them to study for 10-12 hours, taking short breaks in between. Also, being a law school student, I knew how to study and attempt questions. While Legal Aptitude section remains a challenging area for most of the test takers, I had definitely an edge in this section.
Careers360: With such a jam-packed schedule, how did you distress yourself?
Atharv Gupta: At times when I felt stressed, I would listen to rock music to distress myself. Sometimes on weekends, I would play tennis and basketball, which is a good exercise and helps me in relaxing.
Careers360: What would you suggest to CLAT 2017 aspirants?
Atharv Gupta: I would like to share the following suggestions to CLAT 2017 aspirants–
Be honest while preparing; if you can study for 3 hours at a stretch, adhere to it

There are a number of books in the market; you need to choose the appropriate one

Master the basics of subjects

Learn time-management skill

Take mock tests sincerely and analytically

Have patience and put your best
CLAT is the common law admission test conducted by NLUs. CLAT 2016 was conducted by RGNUL Patiala, on behalf of all 17 NLUs, for a total of 2252 seats. As many as 37,176 candidates took CLAT 2016 out of a total 39,415 registered candidates for the law admission test.


Stay tuned to law.careers360.com for more news and feature articles on CLAT Toppers
Questions related to CLAT
Showing 6943 out of 6943 Questions