CLAT 2017: Expert committee to look into doubtful questions; Convenor asks candidates to file objections through CLAT website
Amid chaos and restlessness among CLAT 2017 takers regarding answer key and discrepancy in the question paper of the Common Law Admission Test (CLAT) held on May 14, 2017, Careers360 spoke to CLAT 2017 Convenor Dr A Lakshminath. The CLAT Convenor said that an expert committee is being set up to look into the concerns raised by students and experts. He says that maintaining fairness in the system was his utmost priority and any necessary action required towards this will also be taken very soon.

Related Post
CLAT 2019
CLAT Application Form 2019
CLAT Admit Card 2019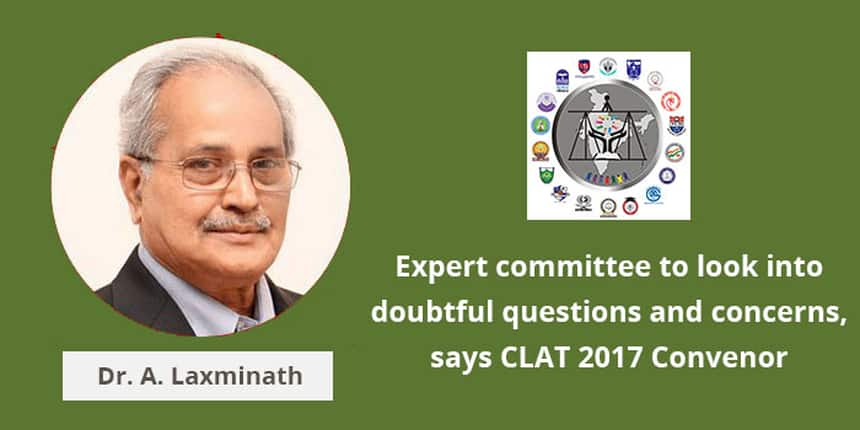 Read this interview to know what Dr Lakshminath shares more on the controversy surrounding CLAT 2017 testing.
Interview
Careers360: CLAT takers and experts have raised doubts on CLAT 2017 answer keys and also discrepancies in question paper. What is your take on this?
CLAT 2017 Convenor: We are looking into the concerns raised by different stakeholders. However, let me clarify that CNLU Patna is only responsible for smooth and fair conduct of the exam on behalf of all participating National Law Universities (NLUs) of CLAT 2017. It was a Common Law Admission Test Expert Committee which had set the question paper and no particular NLU can be held responsible for this. The expert committee comprises several members representing different NLUs.
Careers360: What should the CLAT 2017 takers do now?
CLAT 2017 Convenor: CLAT 2017 Committee has facilitated an online link on CLAT official website for filing objections and doubts on the questions and answer keys. The test takers takers are advised to file their objections on the question paper and answer key of CLAT through the official online link only by May 19, 2017 (11:59 pm). This will also help us to understand their concerns in a better way.
Careers360: How can CLAT 2017 takers file their objections?
CLAT 2017 Convenor: The CLAT 2017 takers need to register their objections by logging into CLAT 2017 question paper objection link given in the official website till Friday, the 19th of May, 2017.
Careers360: Is the CLAT Committee facing any problem during the objection filing process of CLAT?
CLAT 2017 Convenor: There are some candidates who have sent the representation and objections regarding the CLAT answer keys and questions to the official e-mail of the CLAT office. It is not to be done in this way. Candidates who have sent the representation and objections are advised to register the same by logging into their registered CLAT id within the prescribed time and date; i.e., till Friday, May 19, 2017. Moreover, the representations made directly to the official e-mail address shall not be entertained at all.
Careers360: How will CLAT Committee respond to the concerns of CLAT 2017 takers?
CLAT 2017 Convenor: Another expert committee is being set up for reviewing the objections and representations being made by CLAT examinees and experts. Once the expert committee files its report to the CLAT Committee, necessary actions will be taken in this regard. Moreover, if the expert committee finds the objections to be correct, an amended answer key of CLAT 2017 will be published by the CLAT Committee on May 25, 2017 and thereafter CLAT results 2017 will be announced by May 29, 2017.
Careers360: What is your message for CLAT 2017 examinees?
CLAT 2017 Convenor: I assure to the CLAT takers that nothing will go wrong. The CLAT Committee will follow whatever it takes to maintain complete transparency in the examination process.
Also Read
NLUs copy RC passage from CAT 1999 question paper
Stay tuned to law.careers360.com for more feature and interviews on CLAT
Get real-time alerts on exam & colleges at your fingertips with Careers360 App!
Click Here to Install or Give a missed call on 08080944727 to get app link.
Questions related to CLAT
Showing 6928 out of 6928 Questions