CLAT 2017 to offer 2312 seats with MNLU Nagpur joining CLAT, says Convenor

CLAT 2017 will be organised by Chanakya National Law University (CNLU) Patna. In this interview with Careers360, CLAT Convenor Dr A Lakshminath talks about the exam calendar, changes in common law admission test process and other areas related to the national level law entrance exam in India.


Related Post
CLAT 2019
CLAT Application Form 2019
CLAT Admit Card 2019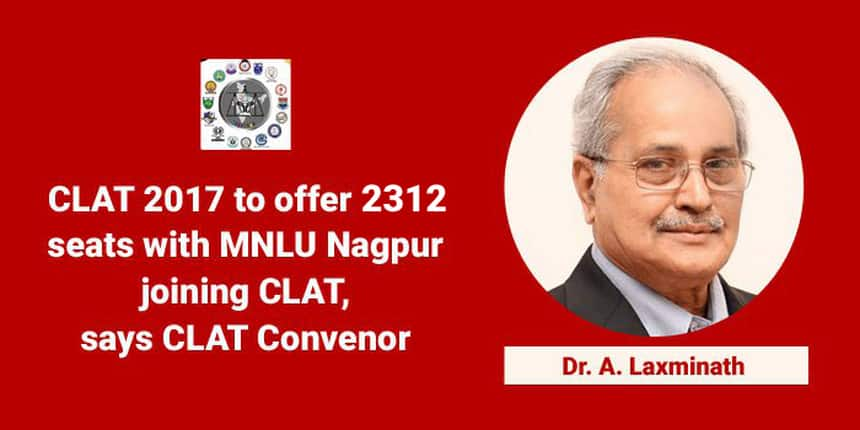 Read the exclusive interview of CLAT 2017 convenor to know about the common law admission test.


Excerpts of the interview

Careers360: When CLAT 2017 website will be launched as CNLU Patna is conducting the law exam?
Dr. Lakshminath: As per CLAT Committee's regulation, Chanakya National Law University Patna is conducting CLAT 2017, as the law admission test is being conducted for the 10th time. The organising process for the common law admission test is in progress and the website for CLAT 2017 will be soon launched.


Careers360: When shall be CLAT 2017 notification out?
Dr. Lakshminath: The law admission committee will announce CLAT 2017 on December 25, 2016.


Careers360: Can you share CLAT 2017 exam calendar?
Dr. Lakshminath: CLAT 2017 will be conducted on May 14 as the applications will be announced online from January 1 and the candidates can fill the form till March 31, 2017. The examination results of CLAT 2017 will be announced on May 25. The CLAT 2017 counselling for law admissions will be organised between May 29 and June 25, 2017 with the closure of CLAT admission office.

Worth Reading - CLAT 2017 notification


Careers360: Last year, CLAT committee had added MNLU Mumbai to its list. Is there any further addition to it?
Dr. Lakshminath: As many as 18 NLUs are participating in CLAT 2017 with Maharashtra National Law University (MNLU) Nagpur, the latest entrant to the CLAT committee. CLAT 2017 aspirants will now be vying for a total of 2312 seats in five-year integrated law programmes.


Careers360: Are there any likely modifications in CLAT 2017 admission process?
Dr. Lakshminath: Yes, after the BCI's order to all universities and law institutions on age criteria, the examination committee has decided to change the eligibility criteria of CLAT 2017. Candidates should be less than 20 years of age if applying for CLAT 2017 under General category and less than 22 years if applying under OBC*/SC/ST/Specially-Abled categories.

*Note - There was confusion regarding upper age limit of OBC candidates. The BCI's official notification read 22 years as the upper age limit, whereas CLAT 2017 convenor, earlier, had shared the maximum age as 20 years, which was creating the confusion among CLAT aspirants. Careers360, on behalf of the prospective CLAT 2017 aspirants had written to the convenor regarding this after which he clarified the confusion stating that only BCI rules would be followed.


Stay tuned to law.careers360.com for more feature and interviews on CLAT
Questions related to CLAT
Showing 6928 out of 6928 Questions