CLAT 2017 Topper Interview: Time management and mock tests are key to success, says Himanshu Anshwani, AIR 5
The Common Law Admission Test (CLAT) 2017, arguably India's premier law entrance exam, was conducted by Chanakya National Law University (CNLU) Patna on May 14. More than 48,000 applicants appeared for the test which is a gateway to law admissions across NLUs in the country. The CLAT 2017 results were declared on May 29. Bhopal's Himanshu Anshwani emerged as one of the toppers of CLAT 2017, achieving AIR 5 and a score of 143.25 out of 150 in his very first attempt. Taking a year's gap to prepare for the national-level law entrance exam, Himanshu dedicated his time towards analysing his strengths and weaknesses and worked accordingly. While his strengths lay in English and Mathematics, he had to work hard on Current Affairs. Mock tests helped him to improve his scores. In this interview with Careers360, he speaks on his CLAT preparation strategy.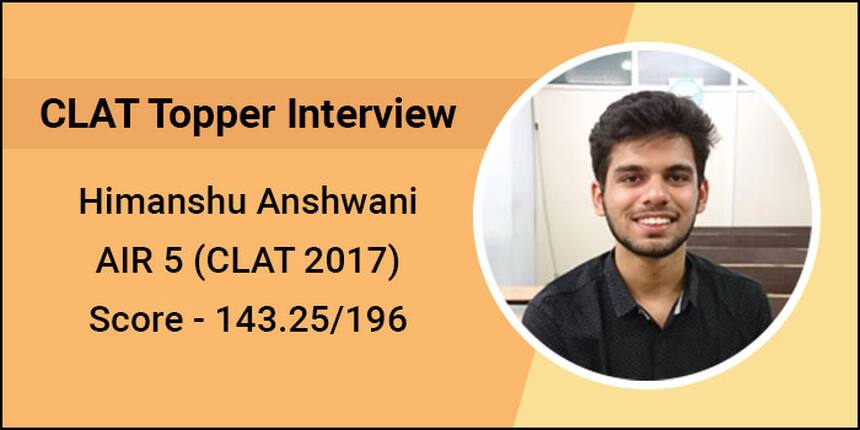 An avid food lover and badminton enthusiast, Himanshu says that the company of friends and the support of his mother helped him to stay motivated for CLAT 2017. With 93 per cent marks in Class 12 Board exam, the meritorious Himanshu decided to pursue law in his final year of school owing to his inclination towards policy making and foreign relations. The topper advices aspirants to go for SWOT analysis prior to preparation and practice from previous years' papers.
Related Post
CLAT 2019
CLAT Application Form 2019
CLAT Admit Card 2019
CLAT Topper Interview Excerpts:
Careers360: Being one of the CLAT 2017 toppers must have been a proud moment for you and your family. What was your first reaction when you came to know about your results? Were you expecting this?
Himanshu: Yes, it was indeed a proud moment for me and my mother. I was expecting to get under AIR 50, but AIR 5 is a pleasant surprise for me. The exam was not that tough, but I was definitely not expecting AIR 5.
Careers360: How did you plan your exam preparation?
Himanshu: I took a year's gap after completing my Class 12 to prepare for CLAT exam. I joined coaching classes in the month of June, but it was only from November onwards that I started taking my studies seriously. I used to spend four hours on studies in a day apart from my coaching classes.
I was always good at mathematics and English and I just needed to brush-up my logical skills. I devoted my maximum time to General Knowledge and Current Affairs. I used to spend at least two hours in a day on GK and current affairs. I think, current affairs is the most important part of the test. From last three to four years, current affairs has played a major role in GK section.
Careers360: What made you choose a career in law?
Himanshu: I completed my Class 12 from Bal Bhavan School, Bhopal and scored 93 per cent marks. I had Commerce with mathematics in Class 12. I wanted to study in the best college of Delhi University, but with 93 per cent I was only be able to get a decent college of DU. I was always more inclined towards policy making, foreign relations and current affairs, hence I decided to take a drop year to prepare for the CLAT exam.
Careers360: What was your thought process while preparing for CLAT?
Himanshu: In the beginning, I was not sure what to study. I was not following any schedule, but after getting serious for my studies, I started devoting four hours in a day to my studies apart from my coaching classes. With the help of weekly mock tests, I started improving my weak areas.
Careers360: How did you prepare for each section? What were your strong and weak areas? How did you improve on your weaker section?
Himanshu: I solved the CLAT question papers from 2008 to 2016. I started solving them section-wise and it took me three days to solve the English section alone from the past papers. There is no need to prepare from too many materials as you might get confused. 
Mathematics is my favourite subject from childhood, so I am good with that. Mathematics plays an important role in analytical skills. For English, I read several newspapers, novels and online journals. I am good with English too but I practiced grammar, passage reading and foreign words to get more speed. For Legal section, I practiced 500 to 1000 questions as the questions get repeated every year with minor amendments. Through this, I could understand the trick to solve every question. I also referred to the coaching manual.
For me, the weaker sections were General Knowledge and Current Affairs. I started learning from my mistakes. With the help of weekly mock test, I started improving my weak areas.
Careers360: When should a CLAT aspirant start taking mock tests?
Himanshu: I started taking mock tests in the month of August 2016. In my coaching institute, I used to appear for a mock test every fortnight in the beginning. But after November, they used to conduct a mock test every week.
Careers360: What role do mock tests play in the preparation phase?
Himanshu: Mock tests are very important as aspirants are able to get an idea of the CLAT exam. I have taken 60 mock tests as it gave me a ready platform to check my preparations for the CLAT exam. You will be able to quickly understand the pattern of the question paper. It is very important to learn from your mistakes, and mock tests help you in knowing about the same.
Careers360: What is more crucial – accuracy or speed?
Himanshu: The crucial part is speed in the beginning. It has to be a balance in the later stages. You must prepare yourself for the CLAT exam according to your strengths and weaknesses.
Careers360: Amidst such hectic preparation schedule, what did you do to de-stress yourself?
Himanshu: After every mock test, I used to visit a fancy restaurant with friends to eat, relax and rejuvenate myself. I also used to watch movies, read novels and play badminton.
Careers360: What are your hobbies? What was the last movie you watched before appearing for CLAT 2017?
Himanshu: I love to play badminton. The last movie which I saw before CLAT 2017 was La La Land featuring Emma Stone and Ryan Gosling.
Careers360: What were you feeling while getting ready on the exam day?
Himanshu: I was feeling anxious before the exam. A week before CLAT, I had appeared for AILET on May 7 and did not perform well due to poor time management. Before the exam, I had a chocolate to relax and went inside. Once the exam started, I was very calm and composed as the paper was not that tough.
Careers360: Was there any strategy which you chalked out for appearing in the online CLAT paper?
Himanshu: I was very comfortable with the online platform. Taking those 60 mock tests had helped me become familiar with the online platform. I knew how much time I needed to spend on each section. So I didn't need to follow any particular strategy while appearing for CLAT.
Careers360: What message would you like to share with CLAT aspirants?
Himanshu: Aspirants must ensure that they solve previous years' question papers. They must also analyse their strengths, weak areas, opportunities and threats. Candidates should be adept with their time management skills and know in advance how much they need to spend on each section.
Careers360: CLAT had quite a few erroneous questions. Did you attempt them? What do you have to say on this?
Himanshu: I did attempt a few of them. But whenever I felt there were erroneous questions, I left them. According to me, it was not a disaster. If you have prepared diligently for the CLAT exam, these discrepancies do not play a big role.
Stay tuned to law.careers360.com for more feature and updates on CLAT
Get real-time alerts on exam & colleges at your fingertips with Careers360 App!
Click Hereto Install or Give a missed call on 08080944727 to get app link.
Questions related to CLAT
Showing 6929 out of 6929 Questions