CLAT 2017 Topper Interview: Strategise preparation to overcome challenge of accuracy with speed, says Rajat Maloo, AIR 1
The result of CLAT 2017, one of the most competitive law entrance exams of India, was announced on May 29. Jaipur's Rajat Maloo achieved the top position in CLAT 2017 by scoring 154.25 marks out of 196. Rajat, with his confidence and determination, beat around 48,000 test takers across the country to attain the first rank.

Related Post
CLAT 2019
CLAT Application Form 2019
CLAT Admit Card 2019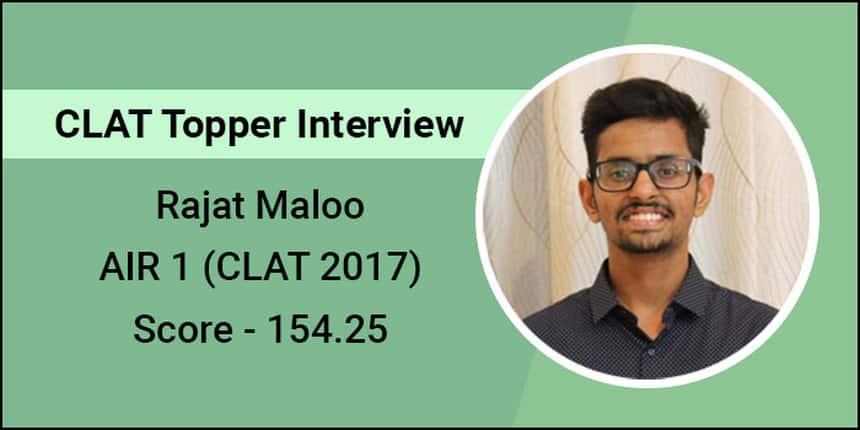 A science student, Rajat had no interest in following the conventional career option of Engineering. He knew he had the skill set and interest to stand up for people's rights and fight for changes that common citizens wish to see in the Indian judiciary and Constitution. With this passion in mind, he took a year off to prepare hard for the test and successfully secured AIR 1. According to Rajat, the key to success in CLAT is overcome challenge of balancing speed with accuracy. His advice for future test takers is to practice questions regularly and take as many mock tests as they can while remembering to keep themselves active and rejuvenated by indulging in physical activities rather than wasting time on social media. In this exclusive interview with Careers360, he shares his thoughts and various insights on CLAT preparation and D-Day time management strategies followed by him.
Read interview excerpts below
Careers360: Congratulations on your Rank 1! How are you celebrating your success?
Rajat: Thank you for your wishes. I feel like I am on cloud nine! This now takes me closer to my dream of becoming a lawyer and that too from NLSIU Bengaluru. I never thought my drop year would pay off so well! I am glad I have made my family proud of me.
Careers360: What motivated you to pursue law as a career option?
Rajat: I never believed in the conventional education system followed by most students in our country. Students forget their skills and just follow the herd. I knew what my skills were and what I wanted to do with them. I had an interest in the legal domain and wanted to represent people and work on the changes they demand from our Indian constitution. This made me prepare for CLAT religiously and hence the results.
Careers360: What strategy did you evolve for section-wise preparation?
Rajat: The foremost key or strategy is to be confident about yourself and your preparations. My maths has always been strong, so I did not have to follow any strategy there as such. For GK, I made sure I followed all national and international events including sports. I read newspapers, magazines and online articles, not only as a way of improving my GK but also to hone my language skills. For legal aptitude, I feel one must prepare from the available books, online materials and by reading the latest case orders, or by simply focussing on reading the Indian constitution in detail.
Also, the most vital strategy is to take as many mock tests as possible without fail. You must do a minimum of two in a day. Mock tests help you in identifying your mistakes and improve on your preparations accordingly. One must never avoid taking mock tests.
Careers360: A year-long preparation and a huge success. How did you keep yourself rejuvenated during your preparation days?
Rajat: I never believed in being active on social media or in watching movies to take time off studies. I think they take too much of your attention and are a waste of time. The best way to keep your brain active is to get involved in any kind of physical activity. I played badminton, played the guitar, read classic novels etc. One must save themselves from distractions to achieve what they want.
Careers360: What was your time strategy for the test day?
Rajat: You should remember to manage your time well in each section. Do the sections which are easy for you. I gave:
1. GK - 5-10 minutes
2. Legal Aptitude - 25-30 minutes
3. English - 20 minutes, excluding RCs which I did at the end as they are time-consuming
4. Maths - 15-20 minutes
5. Logical Reasoning - 25 minutes
Careers360: Any success mantra for future test takers?
Rajat: My success mantra is to be confident, avoid distractions, focus on your weaker sections and always practise mock tests. Also, make sure you take out time for some physical activities as all work and no play can seriously make anyone dull!
CLAT is the annual common law admission test conducted by NLUs. CLAT 2017 was conducted by Chanakya National Law University (CNLU) Patna on behalf of all 18 NLUs on May 14. Known for its frequent controversies, CLAT hit the headlines this year as well. In CLAT 2017, there were claims by students and experts alike about as many as 13 questions being wrong in the paper. As per the officials, however, there were only nine mistakes in total leading to four questions being scrapped and marks being adjusted accordingly. 
Get real-time alerts on exam & colleges at your fingertips with Careers360 App!
Click Here to Install or Give a missed call on 08080944727 to get app link.
Visit law.careers360.com for more news and feature articles on CLAT Toppers
Questions related to CLAT
Showing 6972 out of 6972 Questions