CLAT 2018 Topper Interview: Regular study, mock test analysis and keeping up confidence are keys to my success, says Aman Garg, AIR 1
CLAT 2018 Topper Interview - The pink city boy, Aman Garg outnumbering over 53,000 Common Law Admission Test takers bagged All India Rank (AIR) 1 in the 13th May online test for admissions to 19 National Law Universities (NLUs). A strategic, calm and composed, Aman scored 159 out of total 200 marks vying for National Law School of India University Bangalore (NLSIU). A Rajasthan Administrative Officer's son has always been good in his academics as he scored a 10 CGPA in Class 10th and 93% in 10+2 examinations. In an exclusive interview with Careers360, CLAT 2018 AIR 1, shares his CLAT preparation strategy, while he also speaks on his strengths and weaknesses.

Related Post
CLAT 2019
CLAT Application Form 2019
CLAT Admit Card 2019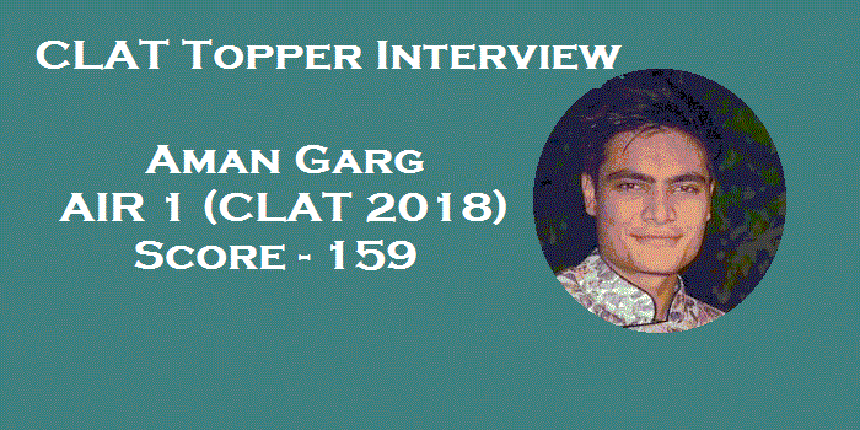 Wanderlust Aman also shares that he has travelled across the lengths and breadths of India before visiting over 20 countries including the European nations. He says that this globetrotting helps him in being passionate about learning different culture and history of the places.
Talking to Careers360 on CLAT preparation strategy, Aman says that he was active on social media platforms including Facebook even on the CLAT day and the day before as he believes that it doesn't matter how much time you spend with the books but what matters is how much information, you gain in that time.
Read this Careers360 CLAT topper interview, where Aman Garg, AIR 1 shares how he cracked CLAT 2018 and what kept him motivated to give the best performance, amidst the technical snags at the exam centres.
Excerpts of CLAT Topper Interview
Careers360: An AIR 1 in CLAT 2018. Were you expecting this? How are you celebrating your success?
Aman Garg: It has always been a distant dream that I would be in the top 10 and making it through NLSIU Bangalore. But AIR 1 was never on my watch. Yes, I aimed for the Bangalore NLU and the feeling is amazing. Speaking of AIR 1, it's just the icing on the cake, I love it!
Careers360: A career in the field of law. Was it completely your decision?
Aman Garg: Well, I would say it was a joint decision of my parents, especially my father and mine. When I passed Class 10th with a 10 CGPA, my father suggested me to pursue law as he saw that intellect, knowledge and the capability of debating that is essential in the field of law.
Careers360: Had your father been your ideal?
Aman Garg: My father, a Rajasthan Administrative Service (RAS) Officer has always been a topper. He has been the constant motivational source for me. When my father foresaw my debating skills, he discussed it further with me. This is where I came to know that the field of law also has intricacies of political science, the subject which interests me. I have been good in studies and other extra-curricular activities including elocution competition, debate-discussions and moots.
Careers360: When did you begin your preparations for law entrance exams?
Aman Garg: No sooner I entered Class 11th, I started with my law entrance exam preparations. I was very much focused as I knew what to do. I already knew that a year later preparations, would be more hectic and challenging for me. So, I decided to go for a two-year coaching programme, even as I would be able to focus on my board examinations in the 12th standard.
Careers360: Apart from AILET 2018, which other law entrance exams did you take? How was your performance in those exams?
Aman Garg: Besides CLAT 2018, I would appear for AILET 2018 securing a rank of 17. I also appeared in SLAT and got a score of 122.2. I consider these to be good in terms of performance even as I did not go for any of these good law schools.
Aiming for NLSIU Bangalore, my main motive was to get a good score in CLAT and these exams were just in my schedule to get the hang of the law entrance examinations before I appear for the most coveted Common Law Admission Test.
Careers360: Can you share your CLAT preparation strategy?
Aman Garg: Before even preparing for CLAT, I would have learnt from my father that CLAT is not an examination where you can just cram every topic and mug-up the facts, and sit for the exam. The examination is a gateway for admissions to the premier 19 NLUs, which obviously need something 'special' from candidates like us. So, I decided to start early.
This is where I decided to devote my entire two years in CLAT preparation. In the first year, I utilized the time to learn the basics of Legal Knowledge, Legal Reasoning and Static GK. I moved into Current Affairs part in the final year as I knew that the Current Affairs' questions would be from only last one year.
Moreover, in the second year of my CLAT preparation, I gave mock tests and practices previous years question papers as much as I could, because I knew that this was where I could really analyze my preparation for CLAT.
Yes, it was all strategic planning for CLAT preparation which helped me in moving towards my goal and this is why I never faced any problems.
Careers360: How did you prepare for Legal Aptitude section of CLAT?
Aman Garg: To be honest, I had some doubts with Legal Reasoning part of Legal Aptitude section and found it somewhat difficult. While preparing for the section, I was confused by the answers as they were judgmental. For the same question, the answer would be different for different test takers, as it's not fact-based. It was how you perceive the question, but if you identify the case correctly, you get a right answer. This is where I got stuck several times. I discussed it with my coaching teachers and clarified my doubts.
Further, For Legal Knowledge section, I would memorize the legal maxims and significant cases.
My final strategy for Legal Aptitude section was just solving last years' question papers as I observed that similar pattern questions were being repeated every year. This habit helped me in solving the questions on CLAT day.
Careers360: What preparation strategy did you have for English section?
Aman Garg: Preparing English section for CLAT, I focused on English Grammar and its rules. I would memorize 2000-3000 words in the two-year time even as I honed my reading skills by going through two newspapers daily. The constant practice of questions for English Language Comprehension increased my competency and accuracy for this section.
Careers360: Was there any proper strategy for GK section as well?
Aman Garg: As I told earlier, the Static GK part was covered by me in Class 11 and I focused on Current GK (Current Affairs) in the final year of my CLAT preparation. My GK preparation strategy would involve going through as many sources of information as possible. Many people just concentrated on learning from one source which I expanded. I consulted every source, be it internet, books, newspapers and magazines. With so much information, I had a lot of information ready for solving my Current Affairs questions.
The beauty of this section is either you know the answer or you don't. You need not attempt the question if you are not sure about; else you would lose your marks on account of negative marking.
Careers360: How did you balance your Class 12th boards and CLAT preparation?
Aman Garg: I knew it could be challenging for me to give my 10+2 board exam along with CLAT. This is why I started my preparation for CLAT, while I was in Class 11. When I was in Class 12, I utilized my time in preparing for the board exams and took mock tests. This helped me in easing the pressures for both the exams.
The one thing which I would like to mention here is I never doubted on my preparation or the way I was preparing. I enjoyed learning from my mistakes and maintained my confidence level.
Careers360: Mathematics is a nightmare for many law exam takers? How did you manage to tame it?
Aman Garg: Not at all, as I was very good in Mathematics. After a 10 CGPA in Class 10th, I took Maths with Commerce in 10+2. Yes, I had to take coaching guidance for my Accountancy and Maths of Class 12th, but I would also solve the Elementary Mathematics for CLAT. Practising previous years' questions helps a lot.
Careers360: If you can share your CLAT preparation strategy for Reasoning section as well?
Aman Garg: Since I was good in Maths, this part was equally easy for me. I just solved mock test questions and previous year question papers of CLAT to hone my performance in this section.
Careers360: How many mock tests did you appear before the actual CLAT? How helpful are mock tests?
Aman Garg: I would have taken around 90-100 mock test before appearing for the Common Law Admission Test. Yes, a mock test is quintessential of CLAT. They are quite useful provided you learn from your mistakes by analyzing your post-mock performance.
The CLAT mock tests besides giving you an overview of the law admission test also help you in acknowledging your weaknesses and stronger sections.
Now when you analyze your CLAT mock test performance, you would be able to improve on the sections where you lag behind and take another mock test to check how far you have improved. I enjoyed this practice.
Careers360: It might have been too hectic. What would you do de-stress yourself in between?
Aman Garg: Frankly telling, I never sat for hours and hours with books. I believe that even if I study for three to four hours daily with full concentration, it would help me. This is exactly where I succeeded. During my CLAT preparation, I studied for some hours and take a long break, listen to music, or go out and play cricket and then come back to my study table after de-stressing myself.
Careers360: What are your hobbies? 
Aman Garg: I love all kind of sports except basketball. I have represented my school in sports like cricket and football. I love horse-riding and have acquainted great equestrian skills too. Besides these, I am also associated with an NGO called 'Raksha', which is basically an animal welfare organization.
Further, I love travelling. I've been to around 25 nations after exploring each and every state of our India.
I have been participating in debates and discussions, elocution completions, etc. I love doing a lot of extra-curricular activities.
Careers360: How much active are you on social media platforms?
Aman Garg: Many people live by the strategy that if you have to prepare for exams like CLAT, you've to cut away from the social gatherings, mug-up with your books and spend hours and hours on your study table. But I was even active on the CLAT day, a day before the exam and almost on every day. I live by the philosophy that it's not the amount of time you spent in, but the time you put in should be utilized perfectly with proper concentration. It was also the social media platforms where I used to discuss my doubts with my friends, teachers and learn a lot of other things while preparing for CLAT.
Careers360: What technical challenge did you face on the 13th May paper? How did you overcome the pressure?
Aman Garg: Yes the CLAT 2018 was surrounded by technical glitches. My computer machine also shut down once and then there were my fellow CLAT takers screaming, yelling and shouting, some were crying too. But I kept my nervousness down while keeping myself calm and composed and focusing on my year-round CLAT preparation.
Even at my home, I was used to such situations. I was quite acquainted with the current getting off for several times, or some guests would come; my friends would come or call me. During all these, I would be taking my mock tests or solving some questions and I would get stuck but never lost my confidence or you could say never let these things break my question-solving continuity. All you need is your inner peace. I was prepared for these and this is how I overcame them.
Careers360: Do you think coaching is necessary for cracking exams like CLAT?
Aman Garg: I think it's the candidate who should decide whether a coaching guidance is needed or not. For me, I take the help of CLAT Prep, Jaipur coaching as it guided me through solving the Legal Aptitude section and preparing for CLAT. The coaching provides guidance and the way which can be useful to crack the exam, but it is a candidate who should be solving questions and mock tests and clearing the doubts, wherever and whenever possible.
Careers360: What message would you like to share with the future CLAT aspirants?
Aman Garg: A few pointers that I would like to share with the CLAT aspirants–
Don't take CLAT for granted as every year the competition is increasing while the exam is raising its bar.

Start your CLAT preparations as early as Class 11 as an early bird advantage will always be there.

Keep your study sources diversified. Don't just consult one source material as it would not give you complete information.

Keep taking regular mock tests and analyze them with a purpose to improve further.

Keep good companies and avoid getting indulged in negative thoughts or people who would disturb your confidence.

Keep yourself motivated and build your confidence every day.

Balance your studies and take regular breaks to de-stress yourself.
Questions related to CLAT
Showing 6928 out of 6928 Questions