CLAT 2018 Topper Interview: Consistent preparation is the key, says CLAT AIR 3 Anmol Gupta
CLAT 2018 Topper Interview - Anmol Gupta, who secured AIR 3 in CLAT 2018 credits that his consistent preparation is the key for his success. Coming from a business family, Anmol says that he was never stopped from pursuing his dream. Although pursuing law was not something he had planned from the very beginning, upon knowing the prerequisites of the profession, speaking, writing and reading, he decided to utilise his qualities by pursuing legal profession. According to him, having a mentor, who has cracked CLAT/AILET to guide you through your year is essential.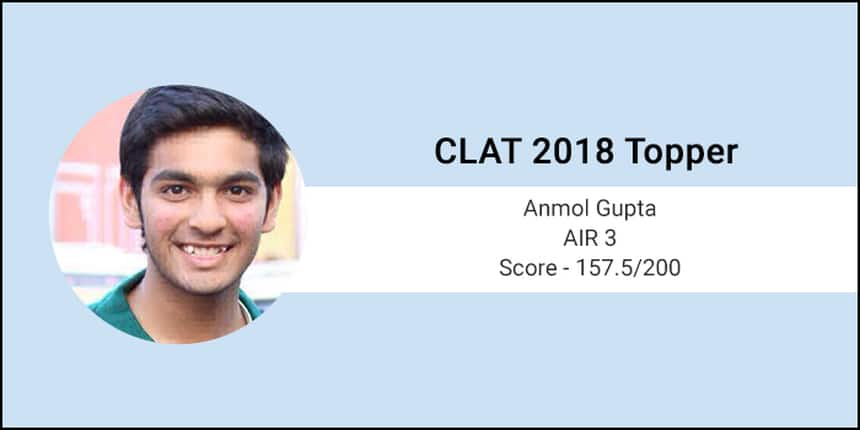 Related Post
CLAT 2019
CLAT Application Form 2019
CLAT Admit Card 2019
Anmol dropped a year after Class 12th and prepared for CLAT 2018. In this interview, he shares his section wise and overall preparation strategy. He had started taking mock tests since July and took over 100 mock tests. Careers360 brings to you exclusive CLAT 2018 topper interview of Anmol Gupta, AIR 3.
Excerpts from the interview:
Careers360: Congratulations on qualifying CLAT 2018 with such good scores! How do you feel being among the toppers?
Anmol: Thank you, so much! Honestly, I never expected a rank in top 10 in CLAT 2018, and that, too, AIR 3. It's just euphoric. I did work hard for it, but, this was a bit unexpected.
Careers360: Tell us something about yourself and your family.
Anmol: We are a family of four. My family is, purely, a business-oriented one. My elder brother also joined my father's business after school. My mother is a vastu professional. Despite the fact that my family was business-oriented, they never stopped me from getting the education I wanted. They fulfilled all my wishes and it couldn't have been possible without them.
Careers360: What motivated you to pursue law?
Anmol: So, I was clueless about what to do after 12th. And, this scenario followed till almost after mid-12th grade. So, I talked to one of my seniors, who told me that the things you require to do law are reading, writing and speaking. I was good at all three of them. So, I decided to take it up as a career.
Careers360: When did you start preparing for the law entrance exams and what was your section wise strategy?
Anmol: I took a crash course in 12th. I had got 75 marks. In my drop year, I covered each section everyday. I made sticky notes and tried to complete everyday goals in that day only, even if it took me six hours to do it. I never missed even a single section in my everyday schedule. Consistency is the key. For maths, I did 20-40 questions daily. For reasoning, I solved various questions of analytical reasoning from books like RS Agarwal. For legal, I solved the mocks of my coaching and other test series. For English, I did one reading comprehension daily (LSAT material is the zenith for this). I read novels for my vocabulary and made sentences with new words that I came through. For GK, I referred to various websites and magazines like CF and PD.
Careers360: Which were your strong and weak sections and how did you prepare for them?
Anmol: I didn't have 'strong' and 'weak' sections. I prepared for all sections equally. The only thing I faced real problem in was Static GK, which was covered through a thorough and smart reading of Lucent's or any other good material available.
Careers360: What strategy did you follow for the exam day?
Anmol: My exam day experience was okay. I wouldn't say good, because of the heat. The order in which I attempted my paper was English, GK, Legal, Reasoning, Maths.
Careers360: Did you take up any coaching? How important was coaching for you?
Anmol: I took up coaching in my city itself. It was very important for me because they gave diverse mocks to me which helped me get through all types of possible papers. But, coaching classes are not everything. Your hard work and consistency will, at last, be the things that are going to get you landed in top NLUs. My coaching was CLAT Prep, Jaipur.
Careers360: When did you begin taking mock tests? How may mock tests did you take before taking the exam?
Anmol: I started taking mock tests in July, itself. I took around 100-110 mocks before the final paper.
Careers360: How did mock test help you in law exams?
Anmol: Mock tests were important because they gave me an idea of how the paper was to be attempted. Also, a large number of questions come from the mocks itself.
Careers360: CLAT 2018 was marred by technical glitches. What technical problems did you face?
Anmol: My computer did not display any questions for the first 10 minutes. Although, my time was compensated to me later, but maintaining my composure during that time was very important.
Careers360: Tell us something about your hobbies. Did you get time for them during the preparation phase?
Anmol: My hobbies include reading and writing. I read around 16 novels in my drop year, but, I stopped reading after February. I also stopped writing then, only. My stress buster was good music which I continued listening till the D-day.
Careers360: What are your suggestions for CLAT aspirants who will appear for the test next year?
Anmol: My suggestion is, don't waste time searching the net for 'predictions for next CLAT paper'. No one knows, no one ever will. Just keep your hard work up and you'll get the results. Also, if possible, have a mentor, who has cracked CLAT/AILET to guide you through your year. All the best!
Also Read
CLAT Topper Interview
Questions related to CLAT
Showing 6936 out of 6936 Questions