CLAT 2018 Topper Interview: Analysing mock tests is equally important as practice; says Devansh Kaushik, AIR 2
CLAT 2018 Topper Interview - Jaipur boy, Devansh Kaushik who bagged AIR 2 with a score of 157.5 in CLAT 2018 shares his success story in an exclusive interview with Careers360. Devansh advised the next year candidates to focus on the CLAT mock tests and analysing it thereafter. As he believes that along with practice, analysing your mistakes, strengths and weakness is what gives you an extra edge.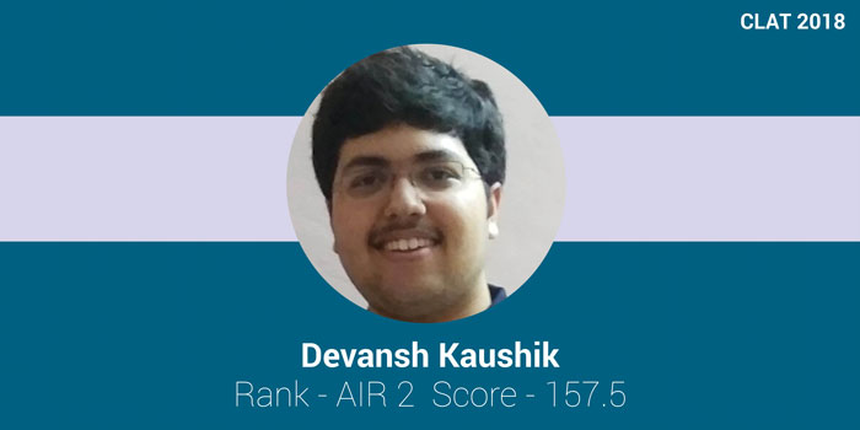 What motivated him to study law was his interest to get in Civil Services to serve the nation. The student of Cambridge Court High School, Jaipur, Devansh has also topped AILET with AIR 1. Son of academic professionals, he is all set to follow the footsteps of her elder sister, who is a student of NLSIU Bangalore.

Related Post
CLAT 2019
CLAT Application Form 2019
CLAT Admit Card 2019
Excerpts of CLAT Topper Interview
Careers360: You have been on the Top 10 in both the exams, CLAT 2018 and AILET 2018. How are you feeling?
Devansh: It feels great to have secured such a high rank in a national level Law entrance exam. I am happy that I finally got the result of my hard work.
Careers360: We would like to know something about yourself and your family.
Devansh: I was a student of Cambridge Court High School from where I completed my 10th and 12th class. My father is a principal and my mother is a lecturer in a Government educational sector. My elder sister is a law student of NLSIU Bangalore.
Careers360: What motivated you to pursue law?
Devansh: My main aim is to join Civil Services and law is the path where I can enhance my knowledge towards my dream. Law gives you an opportunity to get exposure to many disciplines under one umbrella. Therefore, law has always interested me from the beginning.  
Careers360: Apart from CLAT 2018, which other Law entrance exams did you take? How was your performance in those exams?
Devansh: Apart from CLAT, I also appeared in AILET 2018 where I secured AIR 1. I will not comment on my performance as it is transparent to everyone but I will definitely comment on my hard work that showed results.
Careers360: When did you decided to start preparing for the law entrance exam?
Devansh: I started preparing for CLAT from March 2017 onward. I had the confidence of qualifying boards in six months, while my CLAT preparation was on priority. There were subjects like Legal Aptitude and Legal Knoweldge which were new to me. A good grip in these sections and topics would fetch me good marks in CLAT.
Careers360: Which were your strong and weak sections and how did you prepare for them?
Devansh: Initially my strengths were English, GK, Legal and Critical Reasoning. While my Maths and Analytical Reasoning were not up to the mark. But I was able to cover a lot of ground through extra practice in these areas before the actual exam.
Careers360: What was your exam day experience? What strategy did you follow?
Devansh: My exam day experience was overall smooth, except for two power cuts mid exam. I first attempted General Knowledge then English, followed by Legal, Reasoning and Maths. To be safe I was cautious while attempting the paper due to negative marking, I attempted 190 questions left 10 questions.
Careers360: How did you manage your board exam preparations with CLAT and AILET that you appeared for?
Devansh: I balanced my board and law entrance preparation by allotting time between them, focusing more on the latter.
I hardly studied for my quarterly exams but did so for my half yearly and pre-board exams. Throughout the year I focused on CLAT as I wanted to get a good rank instead of good percentage in boards. I did my boards preparation in the last six weeks.
Careers360: Did you take up any coaching? If yes, did the coaching help you in your preparation and how?
Devansh: Yes, I joined the classroom programme of CLAT Prep Education in Jaipur. It's faculty and resources proved to be very important contributor to my success. They helped me with all my doubts that came just before the examination. Preparing with the study material provided by the coaching really prove helpful as they know the pattern and questions to come. Therefore, they ask to prepare those parts which are important and will definitely come in the law exam.
Careers360: When did you begin taking mock tests? How may mock tests did you take before taking the exam? How did mock test help you in law exams?
Devansh: I began to take mock tests in the month of May 2017 itself. I took about a total 90 mocks before the actual exam. Mock tests serve a best form of practice and prepared me to tackle all the issues that may appear in the examination. After practising mock tests I used to discuss it with my mates so that I could compare the mistakes I committed and also the ones committed by them. Analysing of mock tests is very important. Just practising and not analysing will be just null.
Careers360: Tell us something about your hobbies. Did you get time for them during the preparation phase?
Devansh: I like to read books that help to improve my grammar and vocabulary. Learning is an unending process and when you try to learn through your hobbies, it's wonderful. I was able to pursue my hobby during the preparation phase too as it was related to my exams only.
Careers360: Any suggestions and tips for CLAT aspirants who will appear for the test next year?
Devansh: I would advise them to take mocks seriously and be prepared for any kind of test in any kind of situation. Because every year there are problems complementary with CLAT exams. So students should be prepared for that. Moreover, focus on consistency and clarity in concepts is what is important.
Also Read
Questions related to CLAT
Showing 6760 out of 6760 Questions