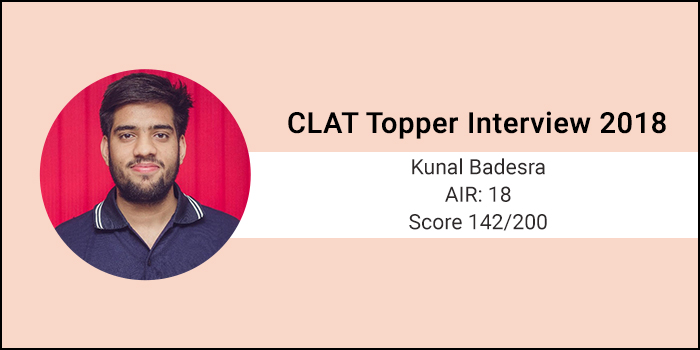 CLAT 2018 Topper Interview - For Kunal Badesra, CLAT 2018 AIR 18, the biggest motivation to pursue law as a career is that an individual gets to make a long list of contributions to the community as a lawyer. Not only has he succeeded in CLAT 2018 by being among the top 20, he has also topped AILET 2018 by securing AIR 18.
Kunal wishes to join NLSIU Bangalore for pursuing his degree in law. In this interview with Careers360, Kunal shares with us his dual happiness of being among the toppers for the country's top Law Entrance Tests, preparation strategy and tips for aspirants.

Related Post
CLAT 2019
CLAT Application Form 2019
CLAT Admit Card 2019
CLAT Sample Paper
Download Free Sample Paper for CLAT
Download Now
Excerpts from the Interview
Careers360: Congratulations on qualifying CLAT 2018 with such good scores! How do you feel being among the toppers of the country?
Kunal:I didn't expect myself to be in top 20 but I knew I would crack CLAT. It is an amazing feeling being in the top 20 of the biggest national level law exam. I feel humbled yet honoured being among the toppers of this country.
I would like to express my gratitude to all those who helped me attain this level and those who supported me throughout my two years of preparation.
Careers360: Tell us something about yourself and your family.
Kunal: I belong to a family of four. My father is a Lecturer in History. He has always supported me in following my pursuits. Although, I had to leave my hometown as my family and I recognised the need for a better coaching that my dream result will surely ask for, yet, my family was always there for whatever I needed, be it support or constant guidance. Then, I shifted to Jaipur at my Maternal grandmother's place and got admitted into Jayshree Periwal High School. I consider myself determined and self motivated. I get constantly inspired by my parents, especially by my father. The love and understanding from my mother is always a big help.
Careers360: What motivated you to pursue law?
Kunal: I want to pursue law as a profession as I consider it to be a very giving field when it comes to financial considerations. Intellectually as well as in terms of opportunities, an individual gets to make a long list of contributions to the community.
Careers360: Apart from CLAT 2018, which other Law entrance exams did you take? Howe was your performance in those exams?
Kunal: I appeared for MHCET, SLAT and AILET apart from CLAT. I scored 123,  for MHCET, 122 for SLAT and 79.50 for AILET.
Careers360: When did you start preparing for the law entrance exams and what was your section wise strategy?
Kunal: I started preparing for law entrance exams in 11th standard itself. I had Humanities so there was less burden from the CBSE side.
Section Wise Strategy-
GK – Consistency is the key. It was a combination of newspaper, current GK websites, and static GK books. In the later phase of preparation sound revision is the key. I kept myself updated with current case laws and judgements
Logical Reasoning – Preparation for NTSE in class tenth helped me preparing for LR section and for CR solving inferential RCs and LSAT papers helped me a lot.
Maths – Maths was not a hurdle for me and eliminating options helped a lot.
English – English was my weakest section in the early phase of preparation but thereafter I worked hard on the topic, solved as many question as I could, after a rigorous practice, I eventually gained confidence and started scoring well.
Legal – By solving past years papers and coaching material, I managed to have a good command over the legal section.
Careers360: Which were your strong and weak sections and how did you prepare for them?
Kunal: My weakness was English so, as I have mentioned above constant practice for two months and then rummaging over those in the last two to three months really helped me a lot in increasing marks in CLAT and AILET.
My Strengths were GK and LR, so that really gave me an advantage over others in mock tests.
Careers360: What strategy did you follow for the exam day?
Kunal: I had an accident on the 1st of May and CLAT exam was on the 13th. It was really a tough job to sit there and concentrate over the CR and the Legal Reasoning questions but somehow I managed to complete the paper on time. The main thing that gave me an edge was, I didn't maintained composure on the D-day and kept myself calm and later on it paid off.
Careers360: How did you balance the board exam preparations with CLAT and other law entrance tests?
Kunal: I was a Humanities student and I didn't have much pressure from CBSE side as subjects were easier in comparison to other streams.
In the penultimate week of February month, I started preparing for my boards from the scratch and I got ample gap between two exams that I covered the entire syllabus in time.
Careers360: Did you take up any coaching? How important was coaching for you?
Kunal: Yes, I took coaching from CLAT PREP, Jaipur.
It indeed was important for me as it gave me a competitive environment and regular mocks provided, helped me gaining confidence over my prep. I discussed my weaknesses with my faculty and worked upon that and eventually gained confidence over those topics.
Careers360: When did you begin taking mock tests? How many mock tests did you take before taking the exam?
Kunal: I started taking mocks in August 2017. I took 75-80 mocks before CLAT and AILET.
Careers360: How did mock test help you in law exams?
Kunal: It really helped in time management and assessing my virtual All India Ranks before the main exam. Analysing mocks made sure that I won't miss out on the topics that are weak or consuming a lot of time and next mock scoring good in same section/topic helped me overcome my fears.
Careers360: Tell us something about your hobbies. Did you get time for them during the preparation phase?
Kunal: I am a big fan of Sci-fi movies, Stand-up comedy and T.V. Shows but during the preparation phase, it was tough to get time for all that but I managed to simultaneously watch all that so that I don't feel stressed out and get refreshed during the prep phase.
Careers360: What are your suggestions for CLAT aspirants who will appear for the test next year?
Kunal: Don't expect anything from CLAT as there is no fixed pattern, solve mocks at least thrice a week once you are through with your syllabus and concepts.
One must not be carried away by Past Year Papers in CLAT and not stick to any pattern as you will get bouncers in the exam.
Don't get stressed by your low mock scores. Bounce back harder, No matter what happens comeback stronger and harder as you are master of your own seas.
Questions related to CLAT