CLAT 2018 Topper Interview: Mocks help you in devising strategies; says Shikhar Aggarwal, AIR 6
CLAT 2018 Topper Interview – Alumnus of Amity School boy Shikhar Aggarwal who secured AIR 6 in Common Law Admission Test, shares his success journey in an exclusive interview with Careers360. He says that an early preparation strategy was his key towards cracking CLAT.
What motivated him to study law was his belief that law is no more restricted to mere affidavit making, or getting documents notarized. A degree in law opens a larger avenue towards civil services, legal research, litigation, academics and to name a few.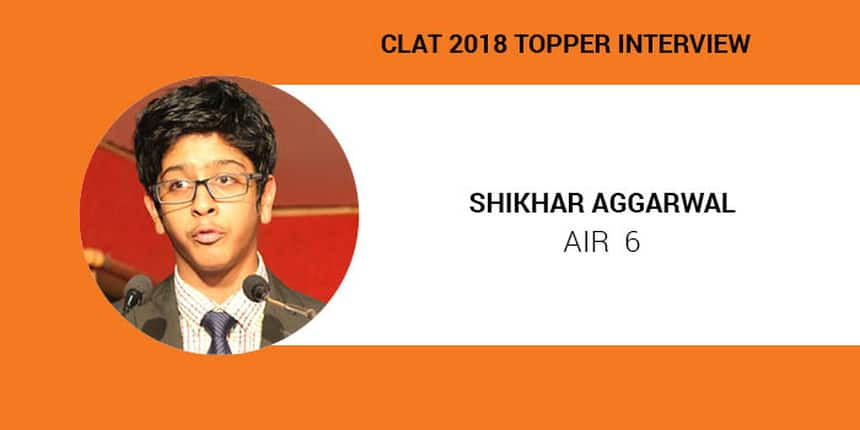 Son of a Chartered Accountant shares his preparation strategies with us in the interview given here.
Excerpts from Interview
Careers360:Congratulations on qualifying CLAT 2018 with such good scores! How do you feel being among the top 10?
Shikhar:It certainly feels very good to get an excellent rank in one of the elite law entrance exams of this country. The effort put in over the last one-and-a-half years surely paid rich dividends. I feel humbled with this result of mine.
Careers360: Tell us something about yourself and your family.
Shikhar: My father, Naveen Aggarwal, is a Chartered Accountant and works at BA Continuum, Gurgaon. My mother, Anchal Aggarwal, is a homemaker. I also have a younger brother, Vaibhav Aggarwal, who studies in class X.
Careers360: What directed you towards pursuing law for your higher studies and career?
Shikhar: What I feel is that these days career in law is not just restricted to mere affidavit making, or getting documents notarized. A degree of law opens a larger avenue towards civil services, legal research, litigation, academics and what not. I felt law could be something that suits my personality, and what I aim to do in my life.
Careers360: Along with CLAT 2018, which other Law entrance exams did you take? How was your performance in those exams?
Shikhar: I gave AILET 2018 apart from CLAT 2018. I found AILET to be tougher than CLAT, but managed to secure AIR 4 in AILET, with a score of 83/150.
Careers360: When did you start preparing for the law entrance exams and what was your section wise strategy?
Shikhar: I started my preparation 12 – 15 months prior to the exam. I had made sure that all topics that tested my concepts were covered, were done once board exams are done. With that in mind, I used the following strategy for each section:
English – Making notes of etymology, important and frequently occurring words through YouTube videos.
GK – Marking important questions and information provided in the weekly Manthan provided by Career Launchers, proper notemaking of important trivia. Started studying it only after boards ended.
Logic – Solving and completing questions from the modules for Analytical Reasoning. Analyzing questions from reference books for MBA type exams for Verbal Logic.
Maths – Had a natural inclination towards Maths. I was thorough with most of the formulae and concepts involved. Primary focus was on practising unusual questions.
Legal – Solved questions, understanding concepts and doubt clearing. Attempting a variety of questions from mocks and reference books.
Careers360: Which were your strong and weak sections and how did you prepare for them?
Shikhar: My Maths, Analytical Reasoning and English grammar were strong. I had to predominantly work on GK, Legal and English vocabulary. For GK, I decided not to study anything till my boards ended (because GK is something that one can forget easily). I resorted to only note making before the boards, and started memorizing content, by deciding what questions might have a higher chance of being on the paper (which luckily worked for me). I made notes on etymology and word roots for English through YouTube videos, and tried to do diverse questions as practice for Legal.

Careers360: What was your exam day experience? What strategy did you follow?
Shikhar:I feel that going in with a sound strategy, and a good contingency plan is a must to attempt any exam. I started off my paper with GK, followed by Legal, English and Maths. I wanted to reserve around 35 minutes for completing Logic, and checking questions marked for review. I aimed to attempt as many as I could, especially in Legal and GK, with educated guesses in questions where I got confused between Two to three options. Getting off to a good start and having momentum by your side can help you deal with any situation. Overall, I was very much satisfied with my performance.
Careers360:How did you balance the board exam preparations with CLAT and other law entrance tests?
Shikhar: I tried to maintain a good balance between preparing for both of these. It is important to realize that one cannot make himself entirely dependent on the performance in either boards or the entrances, because anything can go wrong on the day of the exam, rendering all prior planning useless. Keeping that in mind, the focus was majorly on completing everything except GK by December, and then focused completely on board exams preparation for the next three months.
Careers360:Did you join any coaching? How important was coaching for you?
Shikhar: Yes, I took coaching from Career Launcher CL LST program. A formal coaching programme is very important in making a student push towards preparation with a streamlined focus and access to mock tests and study material. Teachers play an important role towards the candidates success to reach his/her goals; a mentor is always needed.
Careers360: When did you begin taking mock tests? How may mock tests did you take before taking the exam? How did mock test help you in law exams?
Shikhar: I began taking mock tests from the very beginning, when I covered a very small part of the syllabus. I took a total of around 30 mock tests before the exam which many would consider less in comparison to what the other toppers took. The reason behind this can well be the fact that I gave a lot of attention towards analysing mocks. One needs to identify areas where improvement is needed and see what his/her standing is. In that manner, giving more mock tests would not ensure a seat, especially when one is not able to see what is going wrong/address a stagnant score. One should experiment with mocks as much as possible, in order to develop a proper test taking strategy and get used to the pattern. Mocks helped me in developing speed and later, accuracy.
Careers360: Tell us something about your hobbies. Did you get time for them during the preparation phase?
Shikhar: I am a big cricket fan, and love watching and playing the sport with my younger brother. I also have an inclination towards watching movies and videos over YouTube. Managing time is a skill and I used that skill to pursue my hobbies.
Careers360: What are your suggestions for CLAT aspirants who will appear for the test next year?
Shikhar: Be calm, be focused. Have faith in yourself; and be free from fear. Don't let a bad mocks demoralize you. Don't get intimidated by what others are doing. What only matters is your performance on the day of the exam, and the effort behind it. Yet, respect fear, for it will keep you grounded.
All the best for CLAT 2019 aspirants.
Questions related to CLAT
Showing 6771 out of 6771 Questions