CLAT 2019 Topper Interview: 'Keep it simple and stay focused' says Harsh Tomar, AIR 2
CLAT 2019 Topper Interview: In a race, the ones who secure the first three positions are remembered forever. Similarly, the ones who secure a position among the top 5 in any examination become a benchmark for all the others. This year Harsh Tomar joined the list by securing the second position in CLAT 2019. The Common Law Admission Test is conducted for admission to the five-year integrated law degree programme. The result of CLAT 2019 was awaited by almost every law aspirant. But the celebrations in Harsh Tomar's house is different. In an exclusive CLAT Topper 2019 Interview with Careers360, Harsh Tomar shares his preparation strategy for CLAT 2019. The boy from Hoshagabad believes in keeping things simple and advises everyone to stay focused. To know what Harsh Tomar shares in the CLAT Topper 2019 Interview, and know his preparation strategy, read the complete article.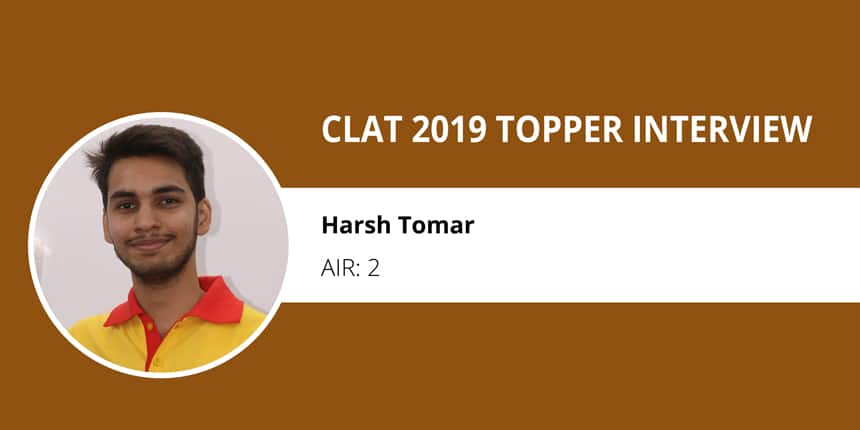 CLAT Topper 2019 Interview -
Careers360: Congratulations on qualifying CLAT 2019! How does it feel to be AIR 2?
Harsh Tomar: I am feeling very good. I have been in a celebratory mode for two days.
Careers360: How are you celebrating your success?
Harsh Tomar: I celebrated with my friends and family.
Careers360: Were you expecting an AIR 2 in CLAT?
Harsh Tomar: I was not expecting this rank, but I knew the marks that I was going to get. This time we got a carbon copy of the OMR sheet to enable us to calculate our marks. I calculated the marks, but the rank was a surprise.
Careers360: Tell us something about yourself and your family.
Harsh Tomar: I am from Hoshagabad, its 80 kms from Bhopal. I studied in Servite Convent Senior Secondary School. I opted for PCM in class XI and secured 91.8% in class XII boards.
Careers360: What motivated you to make a career in law?
Harsh Tomar: My family has a legal background, my father is an advocate and my sister is also pursuing BA LLB from HNLU Raipur. There was no pressure on me to pursue continue the same, but I had a strong inclination towards law from class XI. I opted for PCM in class XI, but was not interested in engineering. So I read about law and found that I suited me.
Careers360: Was this your first attempt at CLAT?
Harsh Tomar: No, this was my second attempt. I had written CLAT 2018, but I was not prepared for it.
Careers360: Apart from CLAT 2019, which other Law entrance exams did you take this year? How was your performance in those?
Harsh Tomar: I have written MH CET Law 2019, SLAT 2019 and AILET 2019. In MH CET Law I secured an AIR 32 and in SLAT I scored 129 marks. In AILET I secured an AIR 15.
Careers360: When did you start preparing for the law entrance exams?
Harsh Tomar: I started preparing for CLAT after my class XII. I took a drop for the preparation.
Careers360: Can you share with us your section wise preparation strategy for English?
Harsh Tomar: I think English was my weakest section. For the first six months I spent most of my time preparing for English. I read two newspapers daily, the Hindu and the Guardian. I also read novels, approximately 30 novels in the whole year. They were from different genres. I read various articles and blogs. I focused more on reading, but I also solved many books like Word Power made Easy by Norman Lewis. I worked on increasing my vocabulary and idioms, which are also an important part of this section.
Careers360: How did you prepare for the General Knowledge section?
Harsh Tomar: I find the general knowledge section quite fascinating. I referred to the Pearsons Concise General Knowledge Manual for static general knowledge. For the current affairs section, I made notes from GK Today and Affairs Cloud. The monthly from my coaching was also sufficient to cover the current affairs section.
Careers360: What was your preparation strategy for Mathematics section?
Harsh Tomar: I did not find this section difficult but I took a lot of time in solving this section. So I focused on time rather than solving many questions. I would set a timer for 1 minute to solve a question. I tried to solve the question within this 1 minute with accuracy. I felt that my Mathematics section was good, so if I work on my timing, it would give me an edge over the others.
Careers360: How did you prepare for the Legal Reasoning section?
Harsh Tomar: This section was quite new for me. I tried to understand the concepts of all the topics covered under legal, like, torts, criminal, etc. After working on the basics, I started attempting the questions. I only referred to the study material provided by my coaching for this section. I also solved the question papers of the previous years.
Careers360: What about the Logical reasoning section?
Harsh Tomar: I solved various types of puzzles for this section. I solved the puzzle section R.S.Agrawal four times. I also solved this section from M.K.Pandey and the material provided by my coaching for this.
Careers360: Did you join any coaching? How has coaching helped you?
Harsh Tomar: Yes, I had joined Legal Edge, Bhopal. I think I could not have achieved it without my coaching. I was not familiar with the CLAT exam pattern, but my coaching material helped me with this. The mentors also helped me a lot. Since there is no fixed syllabus for CLAT, so I think coaching helps you with that. They have a lot of experience, and thus the material they provide is better. You can prepare for these examinations using the books available in the market, but they are quite vast. The coaching material is quite handy that way.
Careers360: What role have mock tests played in your success?
Harsh Tomar: Mock tests are very important for clearing CLAT, because it gives you an idea of what the exam day would be like. My coaching gave us mock tests with difficulty levels ranging from easy to moderate to difficult. It prepares you for the d-day. You get into the habit of solving questions in a defined time. You can divide your time for every section and have an exam day strategy in place. But merely solving mock tests is not enough, you have to analyse them. Rectifying your mistakes is more important.
Careers360: What was your exam day strategy for CLAT?
Harsh Tomar: The strategy was to stay calm, and not get overwhelmed by the question paper. I believed in my preparation and that was my only strategy.
Careers360: Do you think coaching is necessary to clear CLAT?
Harsh Tomar: I think coaching is necessary from the study material point of view. The mock tests and study material are better if you take coaching.
Careers360: Which is your dream college?
Harsh Tomar: During my preparation NLU Delhi was my dream college. But now I think it is NLSIU Bangalore.
Careers360: Tell us something about your hobbies.
Harsh Tomar: I like reading books and playing football. I am also into gardening.
Careers360: What is your take on social media?
Harsh Tomar: I was not active and honestly was not interested. I recently registered myself on one of the social media platforms.
Careers360 : What did you do to stay motivated?
Harsh Tomar: I would talk to my mentors and my parents. My sister was always there to support me. I also watched some TV series and read books to de-stress.
Careers360: What advice would you like to give the future CLAT aspirants?
Harsh Tomar: I would advise them to keep it simple and choose your study material wisely. Repeat and revise, rather than aiming to complete a vast syllabus. Make your own notes for vocabulary and general knowledge. These will come in handy during the last months of preparation.
Questions related to CLAT
Showing 6941 out of 6941 Questions