CLAT 2019 Topper Interview: 'Time is everything in a competitive exam' says Mouli Kaushal Jain, AIR 5
CLAT 2019 Topper Interview: Success tastes different for those who have sacrificed everything for it. The celebration is grand and never-ending. Mouli Kaushal Jain, a girl from a small town named Ganj Basoda, made it to the top 5 of CLAT 2019. The Common Law Admission Test was held on May 26, 2019. Mouli Kaushal Jain in an exclusive CLAT 2019 topper interview said that the whole town is celebrating her success post the result of CLAT 2019. She came across a quote during her preparatory phase, 'Sometimes it's not about who has more talent. It's about who is hungrier'. Mouli Kaushal Jain says that this kept her motivated and helped her sail through. In the CLAT 2019 topper interview, Mouli Kaushal Jain also shared that she stayed away from her family during the preparatory phase, and felt homesick often. But her family and mentors supported her during this journey. To know what Mouli shares in her CLAT 2019 Topper Interview, read the complete article.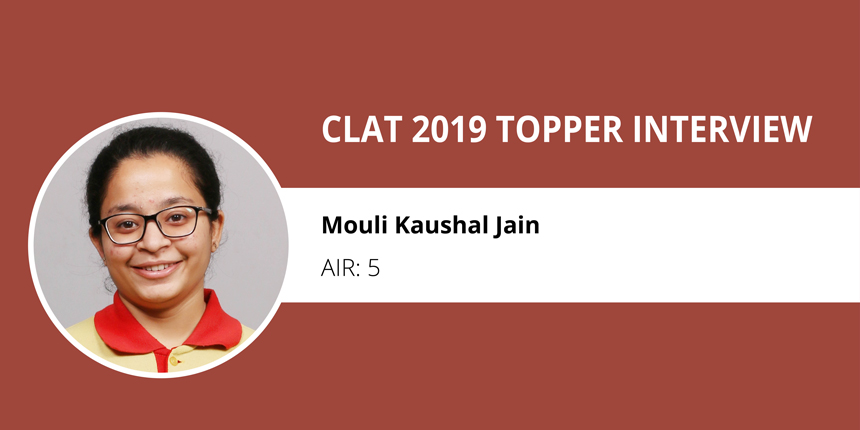 CLAT 2019 Topper Interview -
Careers360: Congratulations on qualifying CLAT 2019 with such good scores! How does it feel to be among the top 10?
Mouli Kaushal Jain: It is a great feeling. I was not expecting an AIR 5. All the CLAT 2019 test takers got a carbon copy of the OMR sheet to enable them to calculate the scores. But I lost my copy so I was not able to figure out my CLAT score. Thus, my marks and rank were a complete surprise.
Careers360: How are you celebrating your success?
Mouli Kaushal Jain: I belong to a small town named Ganj Basoda, its near Bhopal. If anyone secures a good rank here, the whole town celebrates the success. All my relatives came home to congratulate me. My coaching institute also celebrated my success.
Careers360: Tell us something about yourself and your family.
Mouli Kaushal Jain: I come from a simple family. My father is a businessman and my mother is a housewife.
Careers360: What role has your family played in your success?
Mouli Kaushal Jain: I was staying away from my family during the preparation phase. But my father always supported me. My mother boost my confidence and kept saying "You can do it, just have faith in yourself"!
Careers360: What motivated you to make a career in law?
Mouli Kaushal Jain: I was a little confused after class 10. I opted for commerce with Mathematics in class XI and I was ok with numbers. But I was not into Chemistry or Physics. So I started looking for careers in Commerce and found my way to law. I read about law and found that it fit my interest and I was capable of doing it.
Careers360: Was this your first attempt at CLAT?
Mouli Kaushal Jain: Yes, this was my first attempt at CLAT. I had filled the application form for CLAT last year, but could not appear for the same because of a date clash with my economics examination.
Careers360: Along with CLAT 2019, which other Law entrance exams did you take? How was your performance in those exams?
Mouli Kaushal Jain: Apart from CLAT 2019, I appeared for MH CET Law 2019, SLAT 2019 and AILET 2019. I got an AIR 15 in MH CET Law and I was allocated a seat in GLC Mumbai. In SLAT you don't get a rank, they only give you a cutoff. I was able to clear the cut off for SLS Pune. And in AILET my rank was 76. I was not selected in the first list, but I am hoping that I will get NLU Delhi in the second list. But my aim was to get NLSIU Bangalore, and I got it, so it's ok.
Careers360: When did you start preparing for the law entrance exams?
Mouli Kaushal Jain: I had joined a test series for CLAT when I was in class XI. I only gave mock tests in class XI and class XII. But mocks can only help you get an idea of what you have to do in the two hours of the examination and how to manage your time. So when I took a drop, I cleared all my basics and started the preparation in real sense.
Careers360: Can you share with us your section wise preparation strategy for English?
Mouli Kaushal Jain: My English was very weak, as I have mentioned earlier. I do not come from an English speaking background. I was in a CBSE school but it did not have an English speaking culture. Thus, English was a difficult task for me. So, I divided English into different sections - vocabulary, grammar, reading comprehension and para jumble. CLAT is an examination in which you have to be content specific. So I targeted all the high-frequency words. These are the words that you find in your coaching material and come repeatedly in all the exams. Also, my grammar was weak and my basics were not clear. I tried to practice the same from Wren and Martin. My coaching modules were also helpful. Reading comprehensions and para jumbles are something that you can master with practice. Reading comprehensions have been repeatedly asked in CLAT, so I used to practice one reading comprehension and 3-4 para jumbles every day. I also timed myself while solving these.
Careers360: How did you prepare for the General Knowledge section?
Mouli Kaushal Jain: General knowledge is a very vast section. You can divide it into two parts - static and current affairs. Static general knowledge section is vast, you cannot complete everything. So, I focused on current affairs, and I read the connecting topics of static general knowledge. For example, the Kashmir issue was all over the news, so I read about Article 370, Article 335A and so on. I tried to read all the related stuff which was relevant from the CLAT point of view.
Careers360: What was your preparation strategy for the Mathematics section?
Mouli Kaushal Jain: I had opted for mathematics in class XI and class XII, so it wasn't much of a problem for me. But, Mathematics is a game changer in CLAT, so I used to practice this section by setting a 20 minutes timer. I aimed at solving 20 questions in these 20 minutes. These 20 questions were from different topics. I think this strategy helped me a lot.
Careers360: How did you prepare for the Legal Reasoning section?
Mouli Kaushal Jain: Legal section is a new section for all the law aspirants. It can also be divided into two parts - legal reasoning and legal knowledge. The legal knowledge section includes all the theories, and for this, you should stick to one or two modules. If you have enrolled yourself into coaching they give you a lot of questions on the reasoning section, which are enough. If you are not in coaching, you should try to solve 3-4 questions in a day for practice.
Careers360: What about the Logical reasoning section?
Mouli Kaushal Jain: This section again has two parts - analytical and critical. Analytical has a lot of numbers, so if a person is good in Mathematics, he/she can do well in analytical reasoning, except for puzzles. For puzzles, I used to practice a lot. I solved 5-6 puzzles daily and I timed myself while solving those to boost my speed. The critical reasoning section can be solved by those who have a strong hold on English. As my English was a weak link, I had trouble with this section. I referred to R.S.Agrawal, and I practiced from that book only.
Careers360: Did you join any coaching? How has coaching helped you?
Mouli Kaushal Jain: Yes, I took coaching from LegalEdge, Bhopal. The directors motivated me a lot. They kept saying "Trust yourself! You can cope up with any stress, and you can easily clear CLAT!" My English was very weak, so their English faculty also helped me a lot. She pushed me to work harder and she had faith in me.
Careers360: What role have mock tests played in your success?
Mouli Kaushal Jain: I feel that the students who have appeared for mock tests have an edge over those who have not. Initially, the mock tests are scary because you don't know what to do. You are more confident if have already appeared for them. I think this played a major role in my preparation.
Careers360: Do you think coaching is necessary to clear CLAT?
Mouli Kaushal Jain: I think you need a good mentor for CLAT. By mentor, I mean someone who is a reputed law college, a senior or a cousin. You need a lot of mental support during the preparation phase of CLAT, and a mentor or guide is important for this support. So, if you have a mentor, then you don't need coaching. But if don't, either find one or join coaching.
Careers360: Tell us something about your hobbies.
Mouli Kaushal Jain: I like reading and listening to music. I think music has the power to change your mood, it can motivate you.
Careers360: What is your take on social media?
Mouli Kaushal Jain: I wasn't active on social media this year. I do not have a lot of interest in social media, so I wasn't active. But if you are active on social media, you should be careful that these do not become a distraction for you. You should be able to balance both.
Careers360: What did you do to stay motivated?
Mouli Kaushal Jain: For me, music was the best motivation, so I used to listen to music. Apart from that, I talked to people who created a positive environment around me.
Careers360: What advice would you like to give the future CLAT aspirants?
Mouli Kaushal Jain: Be content specific and pay attention to time. In a competitive examination, time is everything. Anyone can solve a question paper designed to be solved in 2 hours if you give them an extra hour. So, someone who is able to solve this question paper in 2 hours is likely to succeed and this sets him/her apart.
Give a lot of mock tests, if not mock tests, try to give a lot of sectional tests.
Stick to one or two sources for General knowledge and English. These are vast subjects, so being content specific is important here.
Questions related to CLAT
Showing 6760 out of 6760 Questions