CLAT 2020 Preparation Tips during lockdown by Asif Zamir, the faculty of Pahuja Law Academy
CLAT 2020 Preparation Tips - The nation-wide lockdown has disrupted the daily study routine of several CLAT aspirants. In these hard times, it is important that the candidates remain calm and focussed. Asif Zamir, the faculty of Pahuja Law Academy says that though the current lockdown does impose a barrier to the free flow of learning, for CLAT 2020 aspirants, it also gives some time to critically look into the preparation. Careers360 had a detailed interview with Asif as he shared important tips for preparing for CLAT during lockdown. Read the complete interview to know how to prepare for CLAT 2020 during the lockdown.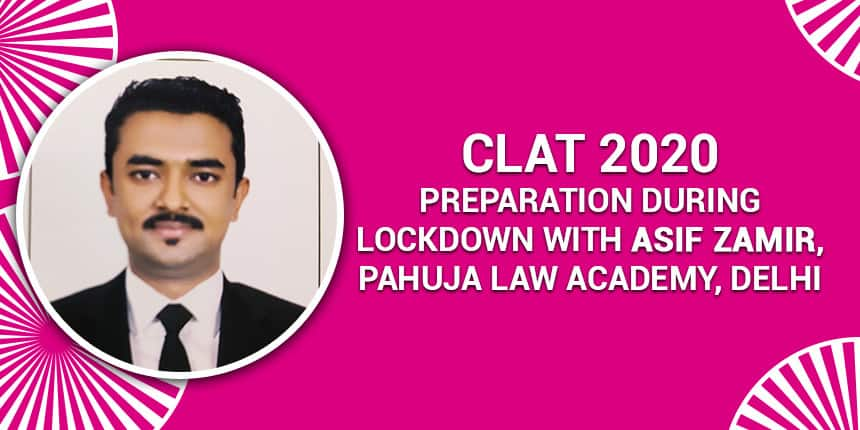 Careers360 - With the lockdown in place, the entire family is now at home? Don't you think this could be a distraction for the candidate as the peace of mind is disturbed more often?
Asif - An emphatic YES, there is no denial of the fact that the current COVID-19 pandemic, that we are in along with the rest of the world, is an extremely distressing never-seen-before crisis.
The pan-India mandatory lockdown has forced the general populace inside their safe abodes for their own safety and well being but at the same time creating wide-ranging predicaments for the CLAT-2020 aspirants, distraction is one of those. The CLAT aspirants, coming from different walks of life, find themselves in the pickle due to the glaring uncertainties regarding the upcoming exam with respect to the date of entrance test coupled with the recently updated syllabus are wreaking havoc on their already distorted mental tranquillity.
Careers360 - How does one keep one's space and stay focused on the job at hand and not get all caught up in the coronavirus spectacle?
Asif - We get accustomed to any habit in 21 days and staying at home is the latest habit in this streak. Pertinently, development of razor-sharp FOCUS in these testing times will separate the winners from the masses because apparently this lockdown is for all and sundry thus providing a level playing field of a bizarre kind. The aspirants may use the following techniques to help themselves:
Develop an achievable daily study schedule follow it religiously;

Demarcate a specific area in your respective house for studying and use it every day;

Take regular breaks to relax in the learning intervals;

Don't get sucked up by the unremitting negative news about COVID-19 in TV media or Social Media, easier said than done but try and focus on the positive aspect of the news like about human courage and positive measures taken by mankind in these challenging times to get inspiration from the same.

Develop a reading habit of any fiction or non-fiction book as this will go on to help you in your English Language segment and also keep yourself busy.

Discuss study-related problems with friends, teachers, etc over a call or video session to keep the learning interactive.

If you are not in a mood or unable to focus, then listen to e-books or audiobooks which shall also aid in improving your concentrating capability.
Careers360 - Staying inside the house continuously can lead to depression and melancholy. What do you prescribe to keep the spirits high in these difficult times?
Asif - Taking care of your physical and psychological health is paramount because as the saying goes "health is wealth" and no amount of achievements and laurels can ever make up to it. The CLAT aspirants must take all due care and precaution in keeping their minds occupied with the ultimate object which they have to achieve as that will give them a sense of purpose in sailing through this rough sea of melancholy. This is an abnormal time for everyone but we have no other option than to get used to it and then find ways to get over it. The aspirants may follow simple techniques like:
Meditate and perform light physical Exercise daily (might seem frivolous at first blush but let me tell you guys you need to include these two in your schedule in order to achieve your physical and mental well being);

Eat healthy and keep your appetite disciplined and never miss your breakfast;

Sleeping is the key, as presently we are not on a tight schedule so you may allow your body to rest at night and let your mind rejuvenate for the next thing you want to add to your wisdom. Just make sure you sleep for at least 6-8 hours every day and keep the time the same for all the days, it'll help you improve your biological clock.

Talk to your family and loved ones as they are the anchors to your ship;

Take occasional breaks and socialize over video sessions with friends because we are in this together, but keep the discussion on positive aspects of life. Discussion on COVID-19 should be avoided as it is something which is not in our control but our mental health and well-being are.
Careers360 - The exam date is also postponed which gives candidates some additional time. Do you think it is an advantage or a disadvantage and why
Asif - Basically, there are both elements of a boon as well as bane in this sort of postponement. It is disadvantageous as it breaks the rhythm of preparation and fails to give a scheduled timeline for preparation to the aspirants. Also, such uncertainly causes a mental barricade restricting the free flow of learning pushing the students into a state impasse whether to go ahead or bring the preparation to a halt.
Nevertheless, the benefit which can be derived from such deferment is that the aspirants are able to spend more time with the books, read more articles (as required by the new updated pattern) write more tests, learn a few more lessons and add the latest information to their cerebral inventory. And in my humble opinion, TIME is a great leveller and the more time you spend, practice and invest in your CLAT preparation, the better are your chances for selection in the same and acing the test.
Careers360 - Can you prescribe some tools in these times to help the candidate prepare for the exam?
Asif - The following aids/tools for learning may come handy for the CLAT-2020 aspirants:
Daily News Paper along with the previous month's newspapers (from July 2019 till April, 2020) which are available online preferably The Hindu/Economic Times/ Indian Express;

Special Focus should be laid on the development of Vocabulary in Context of Sentence;

Renowned fiction and non-fiction books;

Any Book providing a decent coverage on GK;

Critical Reasoning Aspect to be covered from a book or online (premise, conclusion, analogies, arguments, etc) for Logical Reasoning;

Data Interpretation Material for Quantitative Techniques;

Sample Papers for CLAT – 2020, available online;

Online Classes (if available);

Online and Offline Test Series.

Give due importance to Constitution Law, you may use any study material or even the Bare Act for this purpose.
Careers360 - How is exam preparation during lockdown different than at other times?
Asif - Yes, it has to be different as there is a constant psychological pressure of lockdown and all the negative news in the air. Focusing is all the more difficult in these times but, it is these testing times that sometimes bring out the best in you. Preparing for CLAT or your subjects left for 12th Board Exams, you'll need to put aside everything and give your 100% efforts for them. No one will enquire as to how you gave your papers and none of the circumstances no matter how grave they are can be used as an excuse for failure or blaming nature or your family or anyone else, as this pandemic is inevitable for all species.
People with greater disabilities and impairments have written and passed these exams, take inspiration and motivation from them and keep jostling through the mediocre crowd and keep hustling for a brighter tomorrow because it is an inevitable necessity and necessity knows no law.
Check - Best Books for CLAT 2020
Careers360 - How often should one solve sample papers and mock tests? Can you elaborate a bit?
Asif - The Sample papers or CLAT Mock Tests form the very essence of any entrance exam including CLAT 2020. It immensely helps the students in gauging the complexity level of the papers. It facilitates the students in discovering their paper solving speed and also be of assistance in learning about time management. The CLAT sample papers give a slight foretaste of what the aspirants will be ultimately facing in their entrance test. This year the sample papers are even more important for CLAT-2020 as we don't have any previous literature for it as all the Previous Year Question papers are based on old patterns.
Consequently, the sample papers or mock tests should conscientiously be solved this year and the frequency may go as high as two-three papers in a day (no harm in solving papers more than once) towards the end of the preparation but in the inception of the preparation it would be wise to solve one question paper in a week and gradually the speed must be improved.
Careers360 - Any special advice for students in the time of COVID-19? Your parting CLAT 2020 preparation tips during lockdown.
Asif - Battles have been fought against greater odds and it's not always the fittest who survives but the most adaptable. Humans shall overcome this ordeal as well and once all of this is over the questions would be what do YOU have to offer for the future? What skillset did YOU develop in your quarantine period? The answer to which will lie in the indomitable determination of the winners who seek to achieve victory in CLAT-2020. With daily practice, you'll imbibe and even master the craft of studying in such gruelling conditions.
In the midst of every chaos, there is a hidden opportunity for the wise. Look at the brighter side of things, all this endeavour and learning for CLAT will never go waste, and after all this hard work you'll already be a winner because you'll be far ahead in the learning curve from others.
We all wanted Holidays or some more time to study, now we have all the time in the world though unwillingly, study hard and make it count. I wish you Godspeed for your upcoming papers.
Name of the expert: Asif Zamir
Designation: Faculty of Legal Reasoning for CLAT and DU.LLB. Aspirants at Pahuja Law Academy, Delhi
Frequently Asked Question (FAQs) - CLAT 2020 Preparation Tips during lockdown by Asif Zamir, the faculty of Pahuja Law Academy
Question: When will CLAT 2020 be conducted?
Answer:
The national-level CLAT 2020 exam will be now conducted on August 22.
Question: In what mode will the CLAT 2020 exam be conducted?
Question: How many sample papers should one solve for CLAT 2020 exam preparation?
Answer:
The frequency can be one paper a week at the initial phase. Towards the end of the preparation. it can be much more.
Question: What are the best books to prepare for CLAT 2020?
Answer:
The best books for CLAT 2020 preparation are the ones that are easy to follow, well written with few mistakes, cover the entire syllabus, contain examples and illustrations, and importantly problem sets.
Question: What are various guidelines for CLAT 2020 online centre-based exam?
Answer:
The exam has move to online mode to ensure protection against COVID-19 pandemic. As per CLAT 2020 exam day guidelines, the candidate must wear a mask,carry sanitizer, and maintain social distancing norms.
Questions related to CLAT
Showing 6885 out of 6885 Questions