The results of the national-level law entrance exam, Common Law Admission Test (CLAT) were announced recently. And, getting a top rank in CLAT is a dream for many law aspirants. Janhavi Joshi who secured AIR 08 in her second attempt told Careers360 that she wanted to do something good for society and the law gives that power. In an exclusive conversation with Careers360, the CLAT 2022 topper talks in detail about her experience and shares several tips for law aspirants. You can read the full interview of Janhavi Joshi with Careers360 below.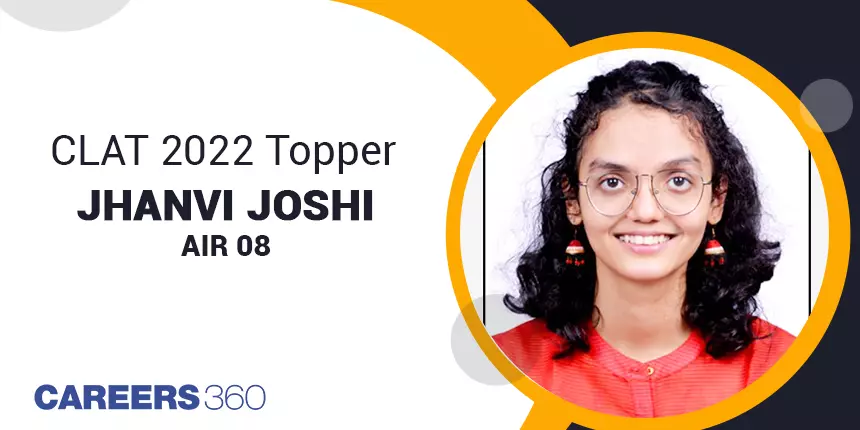 CLAT 2022 Topper Janhavi Joshi, AIR 08 says, "Treat mock tests as actual paper"
Also Check | CLAT 2022 toppers
CLAT 2022 topper Samriddhi Gupta - To read complete interview - Click here
CLAT topper's interview - AIR 4 Harshit Gupta - Read here
Hi Janhavi, Congratulations on your success! Were you expecting such a good rank in CLAT? How did you react after knowing your result?
I knew that I would get a decent rank right after the paper was collected from us. It's just that internal satisfaction that this was my best. Nevertheless, I did not expect a single-digit rank and the moment was one of pure joy. My brother screamed AIR 08 and I hugged him. It was one of the happiest moments of my life.
Tell us about yourself, your educational background, the place you belong to, and your family background.
My education till Class 10 was done in IES Chandrakant Patkar Vidyalaya Marathi Medium. For classes 11 and 12, I studied at RA Podar College of Commerce and Economics. I don't have any legal professionals in my family, so I will be a first-generation lawyer.
What is your college and course preference? And, what are your career plans?
I have picked NALSAR Hyderabad because it suits my priorities well, and has a semester system. I haven't decided on what exactly to do in the future but want it to be connected to social work, NGOs etc.
Coming to your preparation, how and when did you start CLAT preparation? What motivated you to go to legal studies?
I got to know about CLAT when I was in Class 9. Back then I was doing NEET foundation. It took me a long time to choose one broad career path. Law seemed interesting because of the esoteric language, and how it formed the base of literally everything. I always wanted to do something good for society and the law gives you that power. I started my CLAT preparation in Class 11 but it was for the old pattern, so the new pattern preparation started when I was in Class 12.
What was your daily schedule like? How many hours did you give to CLAT preparation?
I would like to clarify that I took a drop to appear for CLAT 2022, my first attempt was in CLAT 2021 and I got AIR 1211. So, I did not have boards and was able to dedicate my time to CLAT.
I started my day pretty late at 9 am. The first things I used to do were 1)read the Hindu(or occasionally the Indian Express) and 2) solve at least 5 sets of DI.
I found reading newspapers very boring as I have been reading them since Class 11. And, I was not regular with math, So, used to do them first. The rest of my day was divided between current affairs: 3 to 4 hours, sectional tests and mock tests twice a week.
What are important subjects and topics that one must cover for CLAT preparation?
One must know the exam well before starting their preparation. As you all know CLAT has 5 sections- English, Critical reasoning, Legal, Current affairs and Quantitative techniques. I will go section by section.
English
This is the foundation of the exam. Having a decent vocabulary and reading speed is extremely important. Reading newspapers in a timed manner can help increase reading speed. Not every single line of the passage is useful, so knowing when to slow down (usually when the author is stating his/her opinion or after words like hence, therefore) and knowing when to skim or speed through (when the author is giving examples or substantiating her opinion) can help a lot.
For vocabulary, one should try vocabulary.com, I used to make my own lists of new words and practice them for 30 minutes. I had solved CAT RCs of all difficulty levels. This helped me form a wide base on subjects ranging from natural science to philosophy.
Logical Reasoning or Critical Reasoning
Many people find this tough but it's quite doable with some practice. One must know the basic concepts of critical reasoning. Any GMAT guide can work for this. I will recommend the Powerscore GMAT Bible and GMAT official guide. One can easily find the pdf of these books on Google. The skill of identifying the premise and the conclusion is useful in all reading comprehension sections be it English, critical reasoning, or legal reasoning. Keep in mind that GMAT questions are immaculately designed and often tend to have the perfect answer, but in CLAT you have to find the most suitable answer, you may not find the best answer in many CLAT questions. Here, the skill of elimination can do wonders. I used the BANEs strategy;
B: Broad (the answer is too broad, while the question asks some specific details)
A: Alien (irrelevant information)
N: Narrow (mostly applicable in the title and main idea questions)
E: Extreme (words like always, everything, all)
Legal Reasoning
Knowing legal jargon, and legal terms are extremely important. One can start with basic legal theory (torts, contracts, criminal law, family law, miscellaneous law) from websites or coaching material, and do it thoroughly. I don't think revising theory helps a lot in the new pattern, doing it once or twice is sufficient.
Try to increase your comprehension speed by reading and understanding legal newspaper articles quickly. I will not suggest reading legal articles from Livelaw or any other site, just be aware of the legal current affairs and newspapers are more than enough for this purpose. Solve mock tests for practice, you can also use old mocks. Remember the basic things like identifying the main principle, and its exceptions, choosing the principle-based answer over the fact-based one etc. Eliminate options when you're stuck and unable to form a judgment.
Current Affairs
One thing CLAT 2021 and 2022 have taught us is that just doing the most important events is not going to work. Having a good knowledge base makes it easy to eliminate and guess the right answer. My sources were Weekly manthans and Mega GK. I did not make my own notes per se, but I did have a compilation of all the important years, dates etc. thanks to my study buddy Mehul. We did this in an app called Notion.
Another tip is do not expect that the topics you have done will come in the actual paper, this saves you from the last minute panic. Remember that come what may, your preparation will either give you the direct answer or help you eliminate and guess. Start doing general knowledge from the start of your preparation and do it consistently. Stick to two or three sources and focus a lot on revision. One should revise at least 2-3 times. You can use different methods for revision like active recall, and quizzes (I had monthly quizzes with my study buddy Mehul)
Quantitative Techniques
Most of us fear mathematics but CLAT math is fairly doable. Practicing daily helps so much to be familiar with numbers. There are many RBI PO quant basics playlists, you can brush up your basics from them. I used the Career Definer playlist, this improved my calculation speed. Basic topics like percentage, ratio proportion, profit and loss, simple interest- compound interest, time speed distance, time and work should be covered.
How important is it to read daily newspapers considering that a good weightage is given to current affairs including legal current affairs?
There is no alternative to the reading newspaper. I focused mainly on the editorial page because it had many opinion pieces. I used to read an editorial and try to summarize it in a few words, then match it with the given summary. This helps in CR or all reading sections for that matter. Reading legal current affairs news also helps in understanding the legal passages. People usually take more time initially but you should be able to wrap it up in 40-50 min eventually. Both the Hindu and the Indian expressions are equally good.
Did you solve mock tests? If yes, how important do you think the mock tests are for CLAT preparation?
CLAT mock tests are the most important aspect of CLAT preparation. I gave around 75 mocks in my drop year. Make sure that whatever mocks you are solving closely resemble the actual pattern. Analyzing them is equally important. Write down big mistakes in a notebook, and read them before the next mock. Pay attention to your emotional responses like panicking, being too chill and what triggers them. A super important tip is to treat mocks like the actual paper. Take them seriously, but not the scores. Yes, improving mock scores is important but that can't happen if you crib about it, just see what went wrong and try to rectify it.
CLAT was a pretty lengthy paper and many students were unable to complete the test within 120 minutes. How did you manage your time inside the exam hall?
The nature of CLAT is that it is lengthy but doable. Solve mocks that have long passages and doable questions. I attempted at least 20-25 mocks in 110 minutes. In CLAT 2021 the invigilator wasted almost 20 minutes and sadly this happens to many people. Having a buffer time of 10 minutes covers the mishaps that might happen on the D-day.
My sequence and sectional timings:
1) Legal: 35 min
2) Logical: 25 min
3) English: 25 min
4) Current affairs; 8-10min
5) Qt: 10-15 min
I was able to follow this in actual CLAT and it gave me 7 minutes to spare on the questions that I found a bit challenging and in the end increased my attempts.