When you dream big, you have to work hard for it. There is no shortcut to success. The fruit of hard work is always sweet. Same happened with the CLAT 2023 AIR 40 Arunav Ghosh. The Kolkata topper, Arunav Ghosh has shared a few tips and suggestions for CLAT 2023 exam aspirants. In conversation with Careers360, he says, curiosity towards the subject and interest in a particular field is important. Continuous practice and dedication towards a goal is the key. Read the complete interview of Arunav Ghosh (AIR 40, CLAT 2023) below.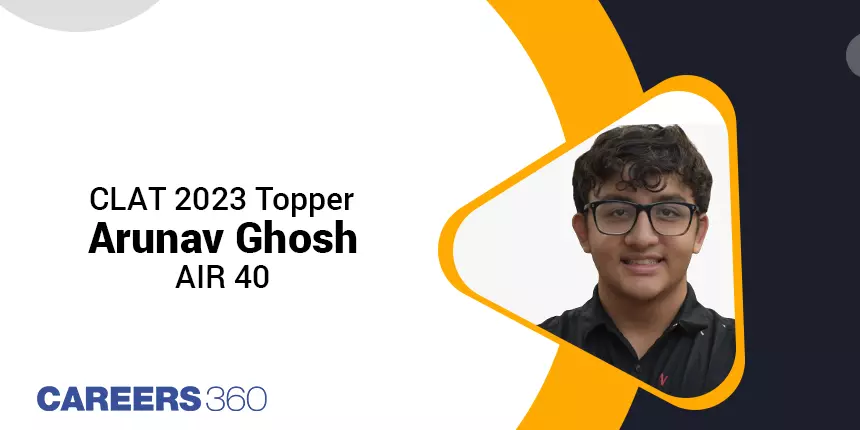 CLAT 2023 Topper Interview: Arunav Ghosh, AIR 40 says, "Be consistent in your preparation"
Question: Which NLU did you select?
I chose NLSIU Bangalore as my first preference before the CLAT exam.
Question: How was the CLAT exam this year?
The CLAT question paper was a standard paper with an expected level of difficulty. The sections were of reasonable quality and difficulty. The GK questions rewarded a general interest in world affairs rather than a targeted preparation approach.
Question: Why did you select law as a career?
Law is not just a profession or an occupation. It is a lens which can be used to observe almost any development in the world. I choose to study law to be able to observe society from this lens. Also, because I believe that the five years spent in the BA LLB degree will offer me the clarity required to understand what I want from the work I do. My initial interest in law developed as a result of participating in competitive debating and reading the works of my idol, Dr. B. R. Ambedkar.
Question: Which school you are studying and what is your stream?
I am a student of the Humanities stream in DPS Newtown. I opted for the these subjects - Political Science, Economics, Sociology, Legal Studies
Question: What have been your other achievements?
I was a part of an ISDS development squad at the World School's Debating Championship earlier this year, and have received several accolades for participating in various public speaking events and research-related programmes.
Question: How do you rate this achievement?
I am satisfied with the work I have put in to prepare for the CLAT entrance exam over the last two years.
Question: What are the three main reasons for your success?
The three main reasons I would like to credit are - keeping an open and curious mind which meant that I took an interest in various subjects and liked to read about them, the support of my fellow aspirants and loved ones, and trust and faith in the guidance given by my mentor, Mr. Rajneesh Singh.
Question: What would you like to suggest to your juniors?
Aspirants should first try to reflect and understand why they want to seek a legal education, because that creates a resolve which is important during the final days before the entrance exam itself, and try to engage themselves in their interests beyond the preparation for the test, be consistent in their preparation and to always be kind and supportive towards their peers.