CLAT exam pattern 2024 - The Consortium of National Law Universities prescribes the CLAT 2024 exam pattern for candidates planning to appear in the law entrance exam. Candidates are required to go through the CLAT exam pattern 2024 before starting their preparation. The exam pattern of CLAT 2024 contains important information such as mode of exam, total number of questions, marking scheme, etc. CLAT 2024 exam will be conducted in offline mode. There will be around 150 questions in CLAT UG and 120 question in CLAT PG exam. Read the complete article to know more about CLAT 2024 exam pattern, syllabus and other related information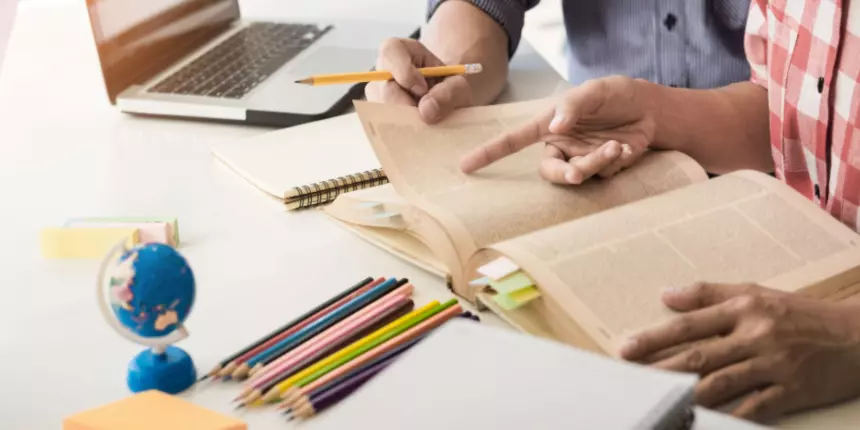 CLAT Exam Pattern 2024: Mode, Marking Scheme, Number of Questions
Common Law Admission Test is a national-level entrance test that allows aspiring law candidates to pursue 5-year LLB and LLM programmes from India's top national law universities (NLUs) and other prestigious law institutions.
CLAT exam Pattern 2024 - UG and PG course
Category

Details

Time duration

2 hours

Mode

Offline mode (pen paper based mode)

Type of questions

Objective-type questions

Number of questions

CLAT UG - 150 questions

CLAT PG - 120 questions

Total marks

UG CLAT- 150 marks

CLAT PG - 120 marks

Marking scheme

One mark will be rewarded for each correct answer, while 0.25 marks will be deducted for each answer marked incorrectly.

Language

English
CLAT 2024 exam pattern - Key details
Type of questions - In each section of CLAT question paper (except quantitative techniques), there will be a passage of approximately 350-450 words followed by a set of multiple choice questions. While in quantitative technique section there will be short sets of facts or propositions, graphs, or other textual, pictorial or diagrammatic representations of numerical information, followed by a series of questions.

CLAT 2024 total number of questions and marking scheme - In CLAT UG 2024 there will be around 150 multiple choice questions. On the other hand, CLAT PG exam 2024 will have 120 multiple choice questions. Candidates will be awarded ome mark for each correct answer and a negative marking of 0.25 for each incorrect response. No marks will be deducted for unanswered questions.
CLAT UG 2024 syllabus and section wise weightage
There are five sections in CLAT 2024 syllabus. It is important for the candidates to understand that each section carries different weightage. Refer to the below mentioned table to understand the sections included in the syllabus and their weightage.
CLAT UG syllabus 2024
| | | |
| --- | --- | --- |
| Subject/topics | The total number of questions | Percentage weightage |
| English Language | 28-32 questions | 20% |
| Current Affairs, including General Knowledge | 35-39 questions | 25% |
| Legal Reasoning | 35-39 questions | 25% |
| Logical Reasoning | 28-32 questions | 20% |
| Quantitative Techniques | 13-17 questions | 10% |
CLAT exam pattern 2024 analysis
CLAT English language: This section consists of 450 words passages and questions will be derived from contemporary or historically significant fiction and non-fiction writing, the difficulty lavel would be according to class 12 standard

Current affairs: The section consists of passages based questions of about 400-450 words on current affairs, including national and international news, static general knowledge, and other relevant topics.

Quantitative techniques: The section consists of questions based on elementary mathematics, including graphs, numerical ability, elementary statistics, and data interpretation.

Legal reasoning: The section consists of short passages of about 450 words. The passages may relate to fact situations or scenarios involving legal matters, public policy questions or moral philosophical enquiries.

Logical reasoning: The section consists of questions short passages of 300 words based on logical reasoning, including syllogisms, analogies, logical sequences, and other relevant topics.
CLAT PG syllabus 2024
The PG-CLAT 2024 will feature an emphasis on the comprehension abilities of the students. The CLAT PG syllabus includes subjects such as constitutional law, jurisprudence, administrative law, law of contract, torts, family law, criminal law, property law, company law, etc. The detailed syllabus of CLAT PG 2024 is mentioned in the table below.
CLAT LLM syllabus 2024
| | | |
| --- | --- | --- |
| Subjects | Total number of MCQ questions | Marks |
| | 60 | 60 |
| Other areas of law such as jurisprudence, administrative law, law of contract, torts, family law, criminal law, property law, company law, public international law, tax law, environmental law, labour and industrial law. | 60 | 60 |
| Total | 120 | 120 |
Candidates should first refer to the CLAT exam pattern and syllabus before starting their preparation as this will help them to streamline their preparation in the right direction.

According to CLAT exam exam pattern, each section will have passage of around 450 words each thus candidates should focus on increasing their reading speed.

Newspaper reading can play an important role in scoring high marks in the exam, it will help the students to improve their vocabulary and stay updated with the current national and international events.

Candidates should refer to the best books for CLAT 2024 preparation and make short notes for revision purpose.
CLAT 2024 Syllabus and Exam Pattern
In this e-book, we have curated the complete syllabus for the CLAT exam, with essential topics in each section to ease your preparation journey.
Check Now
Solving CLAT sample papers and previous year question paper will help students increase their speed and accuracy.