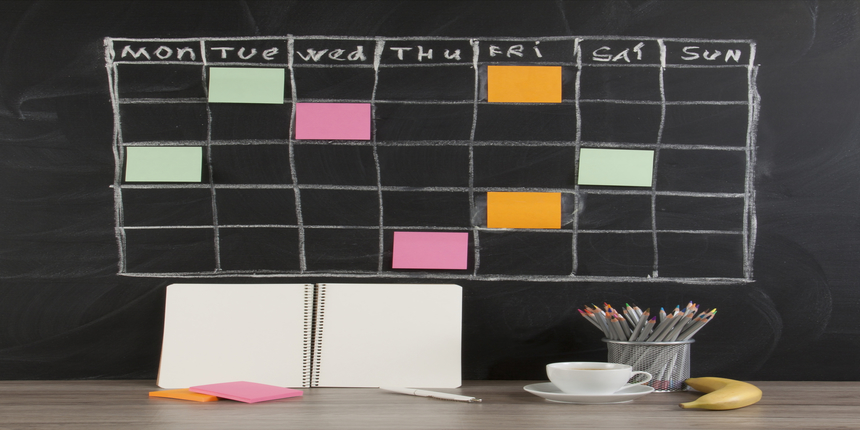 Study Timetable for CLAT 2019 - Cracking one of the most coveted entrance tests like CLAT and securing admission in the premier law university of India necessitates strategic and organized preparation. The syllabus of CLAT 2019 is not only a hard nut to crack but also too huge to be covered in a limited period of time. Therefore, candidates need to have a foolproof and effective CLAT study timetable to finish off the syllabus and win on both the fronts of accuracy and speed.
In yet another advisory on CLAT 2019, Careers360 enlightens law aspirants on how to make a study timetable for CLAT to manage the CLAT syllabus for five year integrated LLB entrance test. From the duration which candidates should devote to preparation for each section to important preparations strategies, candidates will find it all in the page. 
CLAT Sample Paper
Download Free Sample Paper for CLAT
Download Now
To know how to make a study timetable for Common Law Admission Test, candidates can read further. 
CLAT 2019 Exam Pattern and Syllabus
Before going through the CLAT 2019 study timetable, candidates should take a quick look into the exam pattern and syllabus of CLAT 2019 so that they know the amount of syllabus and the difficulty level of the paper and devise a timetable accordingly. As per the weightages mentioned in the syllabus, candidates can also distribute time amongst the sections accordingly and devise a CLAT timetable. 
| | |
| --- | --- |
| Exam Pattern  | Details |
| Exam | Common Law Admission Test |
| Duration | 2 hours |
| Mode | Offline |
| Type of Questions | Multiple Type Questions |
| Number of Questions | 200 |
| Language | English |
| Total marks | 200 |
| Marking scheme | 1 mark for correct answers; 0.25 marks deduction for incorrect answers |
| | | |
| --- | --- | --- |
| Subjects | Number of Questions | Marks |
| English including Comprehension | 40 | 40 |
| Legal Aptitude | 50 | 50 |
| Logical Reasoning | 40 | 40 |
| General Knowledge and Current Affairs | 50 | 50 |
| Elementary Mathematics and Numerical Ability | 20 | 20 |
| Total | 200 | 200 |
Importance of a Study Timetable for CLAT 2019
A systematic preparation is one of the keys to cracking CLAT 2019. Candidates should manage their time throughout these months in such a way that they are left with an ample amount of time to complete the syllabus, practice questions from each section, revise, and solve around 80-90 mock tests. And the only way to undertake this successfully is to make a CLAT 2019 study timetable. Since a timetable charts out the sections to be covered and the time to be devoted to each of these sections, candidates have a concrete idea of their schedules and goals. 
Furthermore, the CLAT study timetable does not only help candidates to manage their syllabus but also plays a major role in increasing the motivation and confidence of the students. Most importantly, candidates fulfilling all the daily agendas mentioned in the study timetable of CLAT serves to be a cherry on the cake as it helps them to move one step closer to finish off the entire syllabus. 
How to make an effective study timetable for CLAT 2019
For a time table to be effective and yield positive results, candidates should devote a specific amount of time to each section on a daily basis. Ideally, they should follow the mentioned breakup of time to be devoted to each section of CLAT. 
Ideally, candidates should devote at least twelve hours daily to CLAT preparation and cover all the five areas. However, candidates who have their boards examination to prepare for can reduce the time to 8-9 hours to prepare for CLAT.
| | |
| --- | --- |
| Sections | Time to be devoted |
| Mathematics  | 0.5 hour |
| English  | 0.5 to 1 hour  |
| Reasoning  | 1 hour  |
| Legal aptitude | 2-3 hours |
| Mock tests | 2 daily, each of 1.5 hours each  |
Important preparation tips to include in CLAT 2019 study timetable
Along with the aforementioned timetable, candidates should take out time regularly to read newspapers. Reading newspapers serves two purposes - (i) Adding to knowledge of current affairs (ii) improvement in vocabulary. It is advised that candidates include newspaper reading sessions in the early morning slot of their study time-table for CLAT 2019. 

Candidates should also keep studying the general knowledge section and updating themselves on the current affairs section while working as per the CLAT study timetable. 

For the legal aptitude section, candidates should learn legal maxims, increase their legal knowledge, specifically the Constitution, practice reasoning sections which include questions related to propositioning and conclusion. 

Candidates should make it a point to practice two short mock tests daily, as mentioned in the study timetable above. 
CLAT 2019 Study Timetable - Important points and expert tips
Overstressing oneself hardly does any good to any one. It is always advised that candidates take breaks in between their study sessions to refresh their minds. Supporting this, Rajendra Khadav, Director of CrackCLAT Tutorials, also says that aspirants of CLAT should work according to a study timetable and take gaps in between. He says, "Relaxing in between the study hours is essential as it helps your brain to memorize and revise the last round of study." 
Ashwin Madhavan, Co-founder and director of Enhelion, focuses on General Studies as one of the key sections to focus on while preparing for CLAT 2019. While talking about time management during CLAT preparation, he says that candidates should finish off with General Studies and legal aptitude sections. Candidates who particularly find technical areas difficult can structure their study timetable for CLAT in such a way that they get to finish and strengthen General studies and legal aptitude sections.

Strengthening each section and gaining fair amount of expertise in each of them is the key to crack the test. As the study timetable of CLAT 2019 highlights the importance of each section and the amount of time candidates should devote to them, their preparation and time management plans must accommodate all sections. Prof. Hema Raman, Director, Sri Ram Law Academy says, "It's smart to prepare for CLAT in a systematic manner. CLAT aspirants need to have a clear concept of all the sections, know the question pattern and focus on necessary components of the law entrance exam." To master this, she necessitates strategic preparation. She says, "Aspirants appearing for the first time will have only one month's time after their boards so they need to strategise their preparation at the earliest."
Common Law Admission Test, also known as CLAT, is conducted by the National Law University, Odisha, Cuttack, for candidates who seek admissions into the university's undergraduate and postgraduate law programmes. Upon qualifying one of the most coveted law entrance tests of India, the candidate becomes eligible to secure a seat for himself/herself amongst 2600 seats offered by the 21 participating institutes under the university. CLAT 2019 is set to be conducted on May 12, 2019. 
Questions related to CLAT