Know all about Commercial law
Know all about Commercial law - Actors like persons, small and big businesses, and corporates that are engaged in commercial activities are regulated by commercial laws. These laws work to ensure fair business practices, resolve disputes, advance healthy competition, etc. Commercial laws have come to work closely with other streams of law like environmental law, corporate laws, etc. As an academic subject, commercial law is taught at the top law schools across the country, including WBNUJS, NALSAR and NLUO Cuttack. Here we discuss eligibility criteria and admission process, popular courses and colleges, and skills required to be a commercial lawyer.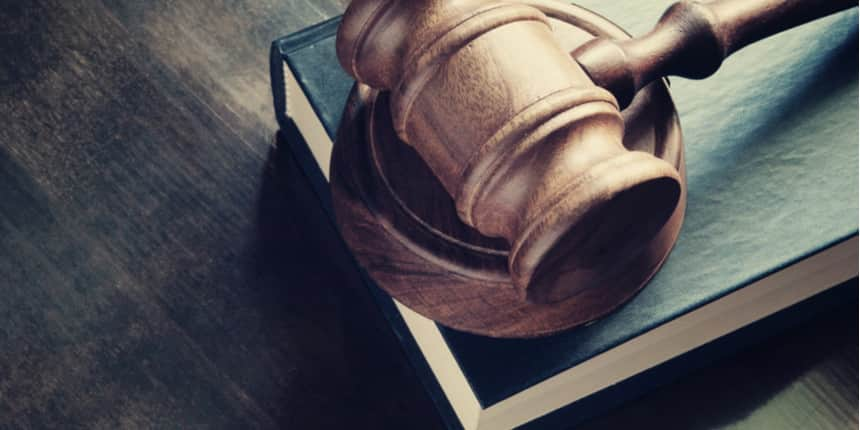 What is commercial law?
The body of laws which regulate the activities of individuals, merchants and businesses engaged in commercial transactions are called commercial or business laws. It may be noted that commercial laws don't always act alone but in conjunction with contemporary laws like environmental laws, food safety laws, etc.
Some of the major areas of contention covered by commercial laws include:
Intellectual property and trade secrets

Complaints of consumers

Process to start a new business

Unfair business practices

Disputes related to marketing and advertising
Eligibility Criteria to study Commercial Law:
The applicant has to fulfill the eligibility requirements of the course to be considered for admission. Please note the Commercial law course eligibility criteria may vary depending on the course opted for admission.
Eligibility Criteria for 5-year integrated law course in Commercial law
The candidate must have passed 10+2 or an equivalent examination from a recognized board or university. For minimum marks, the candidate needs to refer to the exam they are appearing in, or the institute they intend to take admission.
Eligibility criteria for LLM course in Commercial Law:
Qualifying exam: Applicants must have passed LLB or an equivalent examination from a recognized university.

Minimum marks: This requirement may vary across institutes. In case of NLUs, the minimum requirement is 50% marks or an equivalent if the candidate belongs to general/PwD categories. SC/ST categories however need only 45%.
The above criteria are indicative only, and the candidate is advised to consult with the institute (or refer to the exam through which admission is conducted) for latest and correct details.
Admission to Commercial Law Courses:
CLAT scores are used for admission to both undergraduate and postgraduate courses at the NLUs. Further, affiliate colleges also use CLAT scores for admission.
Other popular national-level exams the applicant may try include LSAT-India and AILET. At the state-level, there are MHCET law, TS LAWCET, and TS PGLCET that one may consider.
LLM in Commercial Law and fee structure (NLUs only)
Sl.no

Name of The University

One-year PG (LLM)




Specialization

Fees Structure PG( For 1 Year)

1

The West Bengal National University of judicial Sciences

Corporate Law &

Commercial Law (CCL)

-

2

NALSAR University of Law (NALSAR),Hyderabad

Commercial Laws

Rs.1,55,000

3

National Law University Odisha (NLUO), Cuttack

Corporate Law &

Commercial LawNLUO (CCL)

Rs.1,61,000




NRI- Rs.91,000+4,000$

4

Corporate Law &

Commercial Law (CCL)




Rs.1,89,500

5

Corporate Law &

Commercial Law (CCL)




Rs.2,26,000




Maharashtra Domicile- Rs.1,82,000




NRI-1,82,000+$10,000

6

Corporate Law &

Commercial Law (CCL)




Rs.1,54,250




Maharashtra Domicile- Rs.1,73,000
Skill set required to become a commercial lawyer
In depth knowledge of the subject

Resourcefulness

Integrity

Research and analytical skills

A legal mind

Good vocal and writing skills

Calm temperament

Dispute resolution skills
Also Read -