Know all about Criminal law - Introduction, Eligibility, Skills, Colleges
Know all about Criminal Law - Law can be a very challenging and rewarding profession if you have the mind and legal knowhow and aptitude about you. And speaking of Criminal Law, one of the oldest branches in the profession, it really takes the cake. Criminal law deals with a gamut of areas covering criminal offences, charging and trial of criminals, and fixing of penalties. Many also use the related term tort mistakenly to refer to a crime when it in general means a private injury; crime however is typically about offence committed against the public. In this article, we discuss what is criminal law, how one can become a criminal lawyer, eligibility requirements, types, and also career prospects from an Indian perspective.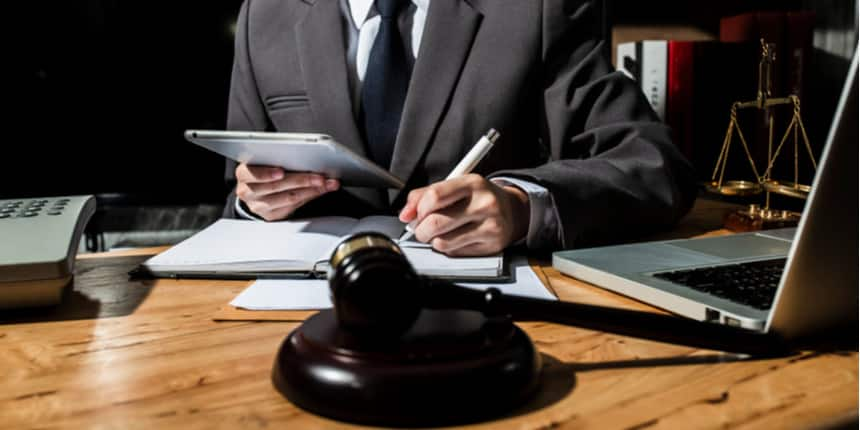 What is criminal law?
Criminal law deals with the definition of crime and the legal framework that is used for prosecuting people committing those crimes. The central, state and local governments all have specific penal codes for defining specific crimes that are prohibited. The government levies penalties, which may range from monetary compensation to incarceration, for committing a crime. The extent of punishment will vary depending on the nature of the crime.
The criminal lawyer will have to deal with legal matters, whether working as a legal aid for the defendant or plaintiff.
Principles of Criminal Law:
A crime is an activity that is considered amoral

Criminal law seeks to bring the offender to justice and make him or her atone for their crimes.

The punishment meted out to the criminal person must be proportionate to the crime committed.

In recent times, the purpose of criminal law has undergone some change in perspective as it looked upon as a tool to stop crime.

Concepts like correction and rehabilitation of offenders is widely promoted, with deterrence being the buzzword.
Eligibility Criteria for studying Criminal Law:
There are various courses in Criminal Law, including bachelors, masters, diploma and even certificate courses. And the eligibility criteria for each of these courses would be different. That is not all as the law colleges providing these courses may have their own specific requirements which may be at variance with one another; that being said the basic eligibility remains the same, which have been outlined below.
Eligibility Criteria for Criminal law - 5-year integrated law course
The basic requirement is the candidate must have passed 10+2 or equivalent examination from a recognized institute.
Eligibility criteria for Criminal Law - LLM course
Qualifying exam: The candidate must be a LLB degree holder or have passed an equivalent examination.

Minimum marks: This requirement is not uniform and may vary across institutes. The NLUs demand that the candidate scores a minimum of 50% marks or its equivalent if they belong to general/PwD categories; SC/ST candidates need 45% marks.
LLM in Criminal Law and fee structure (NLUs only)
S. No

Name of the university

One-year PG (LLM)




Specialization

Fees Structure PG( For 1 Year)

1

Criminal Law

Rs.1,55,000

2

Human Rights and Criminal Law

Rs.2,14,750

3

Dr Ram Manohar Lohiya National Law University (RMLNLU), Lucknow

Criminal and Security Law

Rs.1,13,000




NRI- $ 5,000

4

Criminal Law

Rs.1,65,000

5

Criminal & Security Law

Rs.2,26,000




Maharashtra Domicile- Rs.1,82,000




NRI-1,82,000+$10,000

6

Criminal Law

Rs.1,71,500
Other popular law colleges offering courses in Criminal law
| | | |
| --- | --- | --- |
| S.No | Name of the college/institute | Course |
| 1 | | LL.M. in Criminal Law |
| 2 | | Post Graduate Diploma in Criminal Justice |
| 3 | | LL.M. in Criminal Law |
| 4 | | Post Graduate Diploma in Criminal Justice |
| 5 | | LL.M. in Criminal Law |
| 6 | | LL.M. in Criminal Law and Justice |
How to get admission in NLUs to study courses in Criminal Law
Undergraduate law admission in the NLUs is based on CLAT UG scores, whereas for admission to postgraduate courses CLAT PG scores are considered. CLAT 2020 exam is slated to be conducted on May 10.
Meanwhile, Symbiosis Law School, Pune has its own exam SLAT; admission is based on merit of SLAT scores. To take admission in LSAT participating institutes that offer courses in Criminal Law the candidates need to appear in LSAT India 2020 exam.
Skills required to be a Criminal Lawyer
Ingenuity

Resourcefulness

Integrity and grit

Perseverance

An analytical bent of mind

Great verbal and communication skills

Articulateness - both vocal and writing

Investigative and research skills

Thorough knowledge of the Indian Penal Code

Attention to detail

Advanced problem solving skills
Career prospects of criminal lawyers:
There are a number of ways the criminal lawyer may pursue a fulfilling career. Here are few samples:
Panel lawyers - The government may hire these lawyers on hourly-basis and provide complementary public defense service.

Legal-aid societies - They are generally employed by nonprofit organizations and represent Indigent defendants.

Public defenders - They handle cases for people who can't pay or pay enough for

Private lawyers - These are hired by private parties and can be an expensive proposition.

Legal advisors - In this role, the criminal lawyer counsels their clients on the merits and demerits of a case, legal obligations, etc.
In addition, after completing their degree course, the candidate may go for higher studies, and ultimately into teaching or research.
Also Read:-