CUSAT CAT LLB Exam Pattern
CUSAT CAT LLB Exam Pattern 2017 has been announced by Cochin University of Science and Technology for candidates, who will be appearing in the common admission test scheduled for April 29. Exam Pattern of CUSAT CAT LLB 2017 provides an overview of the university level entrance exam to the test takers. The test pattern aids students in understanding the modalities of common admission test comprising exam mode, total number of question & marks, marking scheme, exam duration, test centres, and more. Candidates can check complete details about CUSAT CAT LLB 2017 Exam Pattern on this page.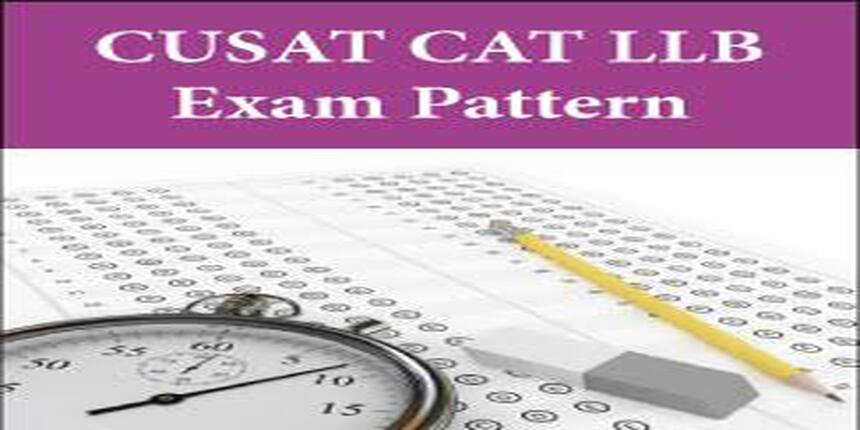 Latest: CUSAT CAT 2019 scheduled on April 6 at Carmel College of Engineering and Technology, Alappuzha and UKF College of Engineering and Technology, Kollam stands cancelled. The revised exam date and schedule will be informed later. There is no change in the exam scheduled on April 7 at these venues. 
CUSAT CAT LLB Exam Pattern 2017 
Check below the attributes of Test Pattern of Cochin University LLB Entrance Test 2017-
Test Mode: Cochin University of Science and Technology will conduct the common admission test in online mode.

Test Duration: The online test will be conducted for two hours (4 pm-6 pm).

Test City: CUSAT CAT LLB 2017 will be conducted in Ernakulam only.

Total Questions: The paper will comprise a total of 150 questions.

Total Marks: The paper will be of maximum 450 marks.

Marking Scheme: Three marks will be awarded for every correct response and one mark will be deducted from the total score for every wrong answer. Marking more than one options will be treated as wrong response. The negative marking policy will be applicable in such question even if one of the selected answers is correct.

Formula for calculation of total score: This formula will be used for calculation of final CUSAT CAT LLB 2017 score-

S=3R-1W; wherein

S is the CAT score

R is the number of right answers

W is the number of wrong answers

Subjects: The paper will be divided among five sections- English, General Knowledge/Current Affairs, Logical Reasoning, Comprehension Ability and Legal Aptitude.

Section-wise distribution of questions: From the total 150 questions, 25 questions each will be from English, Comprehension Ability, General Knowledge and Logical Reasoning. As many as 50 questions will be asked from Legal Aptitude section.
Check below subject-wise distribution of questions in CUSAT CAT LLB 2017-
Careers360 will provide the latest updates about Exam Pattern of CUSAT CAT LLB 2017 here as soon as any official notification is released regarding the same. 
Cochin University will conduct Common Admission Test for admissions to Bachelor of Laws programmes on April 29. CUSAT CAT LLB 2017 Application Form in online mode can be submitted till February 21 (without fine). With fine of Rs.100, the application can be submitted till February 28. The entrance test will be held for admissions to as many as 40 seats in the three year Bachelor of Law programme.
Stay tuned to law.careers360.com for latest updates, news and feature articles on CUSAT CAT LLB 2017.
Questions related to L.L.B
Showing 2 out of 2 Questions
154 Views
Is there evening law college in CUSAT kochi? What are the admission procedure? and class timings too
Hey Josy
Yes. Law courses is available in CUSAT kochi.
The admission of CUSAT LLB three year Evening batch is through Aptitude test, Group discussion & Interview. The Candidates are shortlisted on the basis of the marks in the Test will be called for Interview/GD.
The test code is 169 which comprises of 150 objective type questions in two parts as given below. For each right answer 3 marks will be awarded and for each wrong answer one mark will be deducted.
You can check the further detail with the given below link on page no. 28.
https://cusat.nic.in/pdf/Prospectus_2018.pdf
The educational criteria for CUSAT 2020 CAT LLB, general category aspirants is a minimum of 50% in the last qualifying degree. For SC/ST/OBC category, CUSAT CAT LLB 2020 aspirants need a score of minimum 45% in their last qualifying degree.
for more information go through the following link:
https://law.careers360.com/articles/cusat-cat-llb
hope this helped
all the best