DU LLB cut off 2022 - Delhi University will release the DU LLB cutoff at the time of counselling and seat allotment, tentatively in December 2022. The DU LLB 2022 cut off will be the last rank in the merit list for which the DU Faculty of Law would give admission to the candidates. The cutoffs of DU LLB 2022 will be released for each category, after each round of seat allotment. Candidates who appeared in the DU LLB entrance exam 2022 must clear the cut offs to secure admission to the law programme. The DU LLB previous year cut-offs indicate the expected cut-offs for the current year, hence, candidates should check the previous year cutoff to know their chances of securing admission. In this article, candidates can check DU LLB previous year cut off and trends of the last 5 years along with expected cutoff for this year. Read the complete article to know about the DU LLB cut off 2022, marks vs rank and other relevant information.
To check DU LLB result - Click here
To know about DUET LLB counselling process - Click here
Latest: DU LLB 2022 Cut Off. Check Now
Don't Miss: DU LLB 2022 Entrance Exam Complete Guide - Download now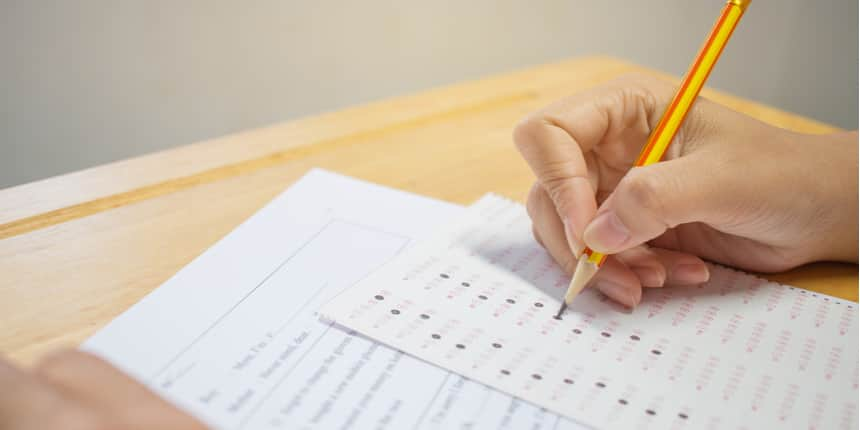 DU LLB Cutoff 2022 (Updated) - Expected & Previous Year Cutoff Marks, Rank
Important factors that will affect DU LLB 2022 cut off
Candidates should note that the cut off of DU LLB entrance exam changes every year. It depends on several factors including the number of seats offered through DU Entrance Test and number of applicants applying for admission. Some of the important factors that may affect the DU LLB cut off 2022 are mentioned below.
Number of applicants appearing in counselling (3 to 5 times of total number of seats available)

Number of seats offered by DU Faculty of Law (Around 2,888 seats)

Difficulty level of the test paper

Marks and rank obtained by the candidates

Reservation policy of the university

Candidate's own category
Student Also Liked:
DU LLB expected cutoff 2022
Candidates appearing in DU LLB 2022 should refer to the previous year cut offs to know about the expected cut-offs for this year. Based on past years' trend, the general category expected cut off for DU LLB 2022 would be around 230 to 240 marks. Similarly, the OBC non-creamy layer candidates should try to secure more than 180 marks. The previous year cut offs are given below.
DU LLB cut off 2021
| | | |
| --- | --- | --- |
| Category | Cut off marks | Combined Rank |
| General | 232 | 88 |
| EWS | 195 | 125 |
| OBC non-creamy layer | 184 | 136 |
| SC | 156 | 164 |
| ST | 91 | 229 |
DU LLB cut-off 2020 - Third admission list
| | | |
| --- | --- | --- |
| Category | Cut off rank | Cut off marks |
| Unreserved | 89 | 225 |
| SC | 156 | 158 |
| ST | 87 | 227 |
| OBC NonCreamy layer | 136 | 178 |
DU LLB 2020 cutoff - Second admission list
| | | |
| --- | --- | --- |
| Category | Cut off marks | Cut off rank |
| Unreserved | 133 | 181 |
| Unreserved (PWD) | 20 | 294 |
| EWS | 136 | 178 |
| SC | 160 | 154 |
| ST | - | - |
| OBC NonCreamy layer | 132 | 182 |
DU LLB 2020 cut off - First admission list
| | | |
| --- | --- | --- |
| Category | Cut off marks | Cut off rank |
| Unreserved | 228 | 86 |
| EWS | 210 | 104 |
| SC | 164 | 150 |
| ST | 136 | 178 |
| OBC NonCreamy layer | 183 | 131 |
DU LLB Cutoff 2019 - First List
| | | |
| --- | --- | --- |
| Category | Cutoff Marks | Cutoff Rank (Combined Rank List) |
| General | 222 | 82 |
| Other Backward Classes | 169 | 135 |
| Scheduled Tribe | 102 | 202 |
| Scheduled Caste | 149 | 155 |
| EWS | 189 | 115 |
DU LLB Cutoff 2019 - Second List
| | | |
| --- | --- | --- |
| Category | Cutoff Marks | Cutoff Rank (Combined Rank List) |
| General | 218 | `86 |
| Other Backward Classes | 164 | 140 |
| Scheduled Tribe | 85 | 219 |
| Scheduled Caste | 140 | 164 |
| EWS | 183 | 121 |
DU LLB Cutoff 2019 - Third List
| | | |
| --- | --- | --- |
| Category | Cutoff Marks | Cutoff Rank (Combined Rank List) |
| General | 218 | 86 |
| Other Backward Classes | 162 | 142 |
| Scheduled Tribe | 78 | 226 |
| Scheduled Caste | 139 | 165 |
| EWS | 181 | 123 |
DU LLB Cutoff 2019 - Fourth List
| | | |
| --- | --- | --- |
| Category | Cutoff Marks | Cutoff Rank (Combined Rank List) |
| General | 243 | 61 |
| Other Backward Classes | 197 | 107 |
| Scheduled Tribe | 76 | 228 |
| Scheduled Caste | 143 | 161 |
| EWS | 183 | 121 |
Popular Online Law Courses and Certifications:
DU LLB Cutoff 2018 - First List
| | |
| --- | --- |
| Category | Rank |
| General | 91 |
| Scheduled Caste | 155 |
| Scheduled Tribe | 202 |
| Other Backward Classes | 134 |
DU LLB Cutoff 2018 - Second List
| | | |
| --- | --- | --- |
| Category | Rank | Marks |
| General | 99 | 226 |
| Scheduled Caste | 164 | 161 |
| Scheduled Tribe | 224 | 101 |
| Other Backward Classes | 141 | 184 |
DU LLB Cutoff 2018 - Third List
| | | |
| --- | --- | --- |
| Category | Rank | Marks |
| General | 101 | 224 |
| Scheduled Caste | 166 | 159 |
| Scheduled Tribe | 229 | 96 |
| Other Backward Classes | 143 | 182 |
| PwD | 315 | 10 |
| CW | 289 | 36 |
DU LLB Cutoff 2018 - Fourth List
| | | |
| --- | --- | --- |
| Category | Rank | Marks |
| General | 99 | 226 |
| Scheduled Caste | 163 | 162 |
| Scheduled Tribe | 230 | 95 |
| Other Backward Classes | 140 | 185 |
DU LLB Cutoff 2017 - First Admission List
| | | |
| --- | --- | --- |
| Category | Rank | Marks |
| General | 992 | 249 |
| Other Backward Classes | 3102 | 210 |
| SC | 5673 | 180 |
| ST | 9615 | 139 |
| PwD | All | 151 |
| CW | All | 102 |
DU LLB Cutoff 2017 - Second Admission List
| | | |
| --- | --- | --- |
| Category | Rank | Marks |
| General | 1464 | 237 |
| Other Backward Classes | 3894 | 200 |
| SC | 6781 | 168 |
| ST | 11721 | 115 |
| PwD | All | 151 |
| CW | All | 102 |
Browse Law Colleges by Locations: