DU LLB 2018 Preparation Tips: Time should be devoted to both syllabus coverage and practice, says Vivek Subramanian of Delhi Law Academy
DU LLB 2018 Preparation Tips - With the DU LLB entrance exam approaching fast, students are busy finding ways to prepare well and score well in short time. Vivek Subramanian, an expert from Delhi Law Academy (DLA), shares here some useful tips for candidates preparing for DU LLB 2018. Delhi Law Academy has been counselling and guiding law aspirants since 2011, the year they established their institution in the interest of students. Mr Subramaniam, who also doubles up as the Chief Technology Officer at DLA, primarily works towards helping law aspirants in the sections where they require good mentoring, namely Mathematics and Logical Reasoning. Let's read his exclusive interview with Careers360 on DU LLB 2018 Preparation Tips in a short duration of time.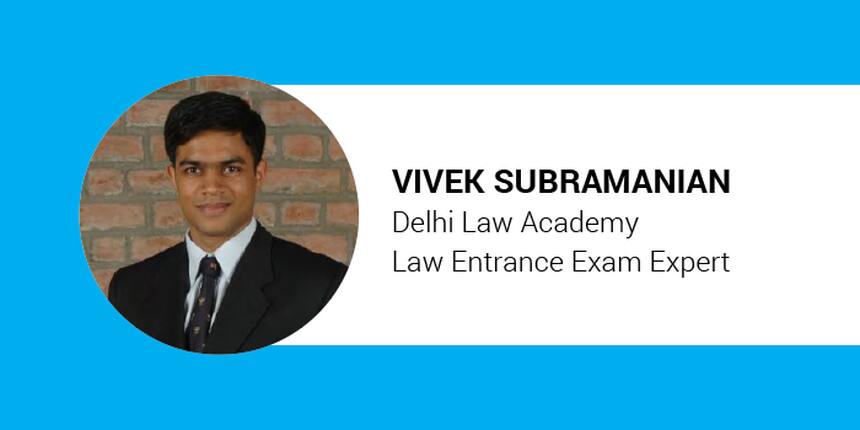 Excerpts from his Interview
Careers360: DU LLB 2018 is scheduled for June 18. What strategies should DU LLB aspirants adopt to prepare for the exam with only a few days remaining?
Vivek: DU LLB Entrance has always tested students on a few core areas – Legal Aptitude, Constitution, Static GK and Current Affairs. Now these are vast portions of syllabus, but any competent coaching institute should be able to guide students on the most important parts of the syllabus to target. Targeted study is the only way a student would be able to complete the portion in time.
Careers360: What section-wise preparation strategy would you advise the aspirants to follow – for English, GK, Analytical Abilities and Legal Awareness?
Vivek: Each of these sections demands a different strategy. In the time remaining, maximum time should be allotted to General Knowledge and Legal Awareness. Within this, time is required for both syllabus coverage and practice. On the other hand, English and Analytical Abilities need more time for practice and less for syllabus coverage.
Careers360: Although Analytical Abilities cover a minor portion of the DU LLB question paper, candidates tend to get confused. What specific strategies would you like to recommend to the candidates for better performance in this section?
Vivek: Practice is the secret, but it should be targeted practice, looking at the high-frequency parts of the syllabus and extracting maximum value out of them. For example, Coding-Decoding is a known favorite of the DU LLB exam setters. The major parts in this section would be based on Family relations, blood relations, series and directions. This section requires practice along with common sense and patience.
Careers360: A lot of DU LLB exam takers fear Analytical Abilities section as it comprises some questions from Mathematics and Reasoning. What suggestions do you have for these exam takers?
Vivek: I would suggest candidates not to worry about Mathematics and hamper their overall performance as it covers the smallest portion of the syllabus. But it is important to prepare all the sections included in the syllabus of DU LLB 2018.
Careers360: What books/websites would you recommend for each section of DU LLB exam?
Vivek: For General Knowledge there are many good books like Manorama Yearbook, GK Today and there are other portals like UPSC Online from where you can get updates of the daily events around you. Moreover, we prepare an exclusive study material for the candidates who seek coaching from us at Delhi Law Academy.
Careers360: General Knowledge and Current Affairs cover a sea of knowledge. How can a student prepare for this section to score more in DU LLB exam?
Vivek: As discussed above, the secret is to focus on the high-frequency areas of the syllabus and effectively crush them using trusted and reliable study material. Both syllabus coverage and lots of practice of questions are important.
Careers360: Delhi University LLB paper has 100 questions to be attempted in 120 minutes. How should candidates prepare themselves for this challenge of time-management? 
Vivek: Yes, there are 100 questions in 120 minutes but it is nothing difficult. Candidates should aim at not spending too much time on any one single question, and attack the paper with the mindset of scoring maximum marks in minimum time. Also, candidates should start with the section that is easiest to them.
Careers360: When is the appropriate time for the candidates to begin solving sample papers/mock tests? How effective is the practice of taking mock tests and solving sample papers/old question papers? How many mock tests should a candidate take in the last few days of preparation?
Vivek: Mocks are an essential part of preparation, and you should be giving mocks once you are done with about 60% of your syllabus. A good coaching program like the one at Delhi Law Academy provides an excellent set of carefully designed and calibrated mock tests, with complete feedback and pattern analysis. Solving past papers is also an invaluable part of preparation, and cannot be ignored.
Careers360: It has been observed over the years that the exam takers are worried about cut-offs even before the exam. What advices would you like to offer to the exam takers?
Vivek: Worrying about cutoffs does not change anything. To satisfy your curiosity, if you score above 70% in the DU LLB exam, you should be safe, looking at historic patterns. This may always change this year, but it is a reasonable thumb rule. Beyond that, you should simply focus on scoring as much as you can, without limiting your potential.
Careers360: We all know that DU LLB entrance exam follows a negative marking policy, deducts one mark for every incorrect answer. In certain situations, how can leaving out questions help in scoring more?
Vivek: Negative marking is the factor that brings down many talented students' scores. The simple way to reduce the amount of negative marks is to stop guessing wildly. Delhi Law Academy's analysis reveals that students get under pressure in the last 20 minutes of an exam and start guessing wildly in an attempt to answer more questions. This results in lots of mistakes resulting to negative marks. So the simplest and most effective way to reduce negative marks is to make fewer guesses.
Careers360: Any other important points that you would like to share with our readers who will be appearing for DU LLB exam?
Vivek: The DU LLB exam has been becoming more competitive and tougher each year. However, remember that your experience is the same as that of every other student. Keep your spirits up, get your rest, remember to eat a good breakfast on the day of the exam and reach the center well in time! All the very best to you!
Questions related to DU LLB
Showing 1216 out of 1216 Questions