"Fundamental knowledge, skills, and ethos necessary to have a successful law profession," says Chairman of IIL
IIL Chairman Interview - Law is fast becoming a preferred career option for many students, what with institutes like NLU New Delhi, NLSIU Bangalore and NALSAR leading the way. Interestingly all these three institutes are public law colleges, but there are a good number of private law colleges as well that are doing their bit to make law a popular option among students. What is interesting is the presence of highly acclaimed academic institutes (which include law colleges as well) goes hand-in-hand with a thriving economy. One only needs to look at the economic giant, the USA, which boosts of private institutes like Havard, Stanford and Yale, which constantly top the rankings (in whichever parameter you choose), to get the idea!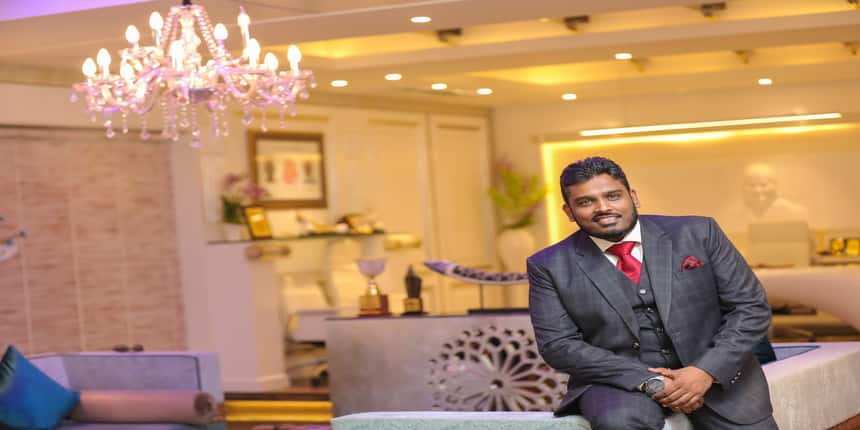 So, a good law college can serve twin purpose: (a) help law students get a firm foothold in their academic and professional career (b) act as a catalyst for the growth of the country.
Indore Institute of Law (IIL) is a private law college, located in Indore, MP. Careers360 got in touch with the Chairman of the college, Mr. Akshay Bam, and questioned him on a host of topics of interest to aspiring candidates, ranging from the mission and vision of the institute, admission process, infrastructure, industry linkages, and placement. We also asked about his views on recent AICTE guidelines which make internships a mandatory part of the academic curriculum. Read the full interview to get insights into the college.
Interview with Chairman of Indore Institute of Law (IIL)
Careers360: Tell us something about the institute; when it was set up, vision and mission.
Mr. Akshay Bam: Icon Education Society (I.E.S), as a first step to achieve its objectives, decided to set up an exclusive and independent college to provide specialized and high quality law education for professionals, coupled with all basic infrastructural facilities. The society established Indore Institute of Law (IIL) in 2003, which is the first independent and exclusive college of law in Indore. It is affiliated to the Bar Council of India and Devi Ahilya Vishwavidyalaya (DAVV), Indore. The teaching pedagogy, courses, admission process and examination process are strictly in terms of regulations of DAVV, Indore. IIL has signed MoU with CLAT. IIL is the only private college in Madhya Pradesh where all the law courses like B.A.LL.B. (Hons.), B.B.A. LL.B. (Hons.), LL.B. (Hons.), and LL.M. are offered under one roof.
Remarkable Accomplishments
IIL has been awarded 1st ranked private law college of Central India by magazines like THE WEEK, THE OUTLOOK, INDIA TODAY and THE KNOWLEDGE REVIEW.

IIL has also been awarded for promoting academic excellence. Among these include the "Education Excellence Award" by Brands Academy India.

The name of IIL has appeared in the Golden Book of World Records and has been awarded Certificate of Excellence.
Careers360: Tell us something about the admission process.
Mr. Akshay Bam: Admission to the 5 year Integrated program is made strictly through following channels:
Entrance Test IILET (70% Seats)

Entrance Test CLAT 2020 / LSAT India (20% Seats)

Merit (10% Seats)
To be eligible for admission in the program, the candidate should:
Have passed Senior School Certificate Examination (10+2 System) or equivalent Examination with at least 45% marks in aggregate for General Category & 40% marks in aggregate for SC/ST Category.

Candidates appearing/appeared for the Annual Examination in March/April are also eligible to apply.
All the above mentioned rules & regulation are subject to D.A.V.V University and Bar Council of India.
Careers360: What kind of infrastructure can students expect at the institute? Please elaborate.
Mr. Akshay Bam: With a fine balance of academics and extracurricular activities, the students of IIL understand the values of sacrifice, sensitivity, and courage to fight for the right to serve the profession with commitment, integrity, and excellence. Qualified and dedicated faculty provide opportunities to the students to acquire the fundamental knowledge, skills, and ethos necessary for entry and success in the professional practice of law.
IIL believes in 360º development of students. To cultivate research and analytical skills in students, the institute promotes various publications. This includes the Law Journal "The Legal Voice of India" and Law & Management Journal "Udgyam Vigyati". Further, it publishes a monthly newsletter "Nyaya Disha" which is a platform for students to showcase their understanding of law which will lead them to be excellent legal professionals.
IIL has modern and eco-friendly building amidst green surroundings, opposite the Indian Institute of Management (IIM) in Indore. This building houses smart classrooms, seminar halls, e-library, moot court room, auditorium, residential campus for girls and boys and several such unique facilities. Dainik Bhaskar and Ernst & Young have awarded IIL's educational building the status of Best Education Building of Central India in the year 2012-2013-2014-2015 consecutively.
Careers360: Industry interaction is being stressed by the AICTE as well as companies that recruit. What are the steps being taken by the institute in this direction?
Mr. Akshay Bam: The institute provides a variety of exposures and career opportunities to its students. It aims at overall career development of students. IIL has signed Memorandum of Understanding (MoU) with corporates, law firms, and LPOs for internship and placement of students amongst prospective recruiters such as HDFC Bank; Kotak Mahindra Bank; Luthra & Luthra; Anand and Associates, New Delhi; Lex Qual, Coimbatore; Biz and Legis, Ernakulam; Diwan and Associates, Mumbai; Ferry Dhiman and Company, Chandigarh; Bharti Infratel; Airtel; Abhay Nevagi and Associates Pune; and many more.
We also have a dedicated student exchange program that allows our students to have an exposure to Global Law Practices. We also take our students for academic visits to The International Court of Justice, Hague, and The International Criminal Court, Hague, Netherlands. This exposure helps the students to improve their language learning, enhance their intercultural skills, and polish their self-reliance and self-awareness.
The students are also taken for Supreme Court, High Courts and Parliament visits. We facilitate different types of internship opportunities to students which includes LPO Clerkships, Pro Bono Service, Legal Clinics, and the Corporate Clerkships, with a goal of providing real world legal experience. All this helps the students to advance their future career opportunities in law practices.
Careers360: Internships are now mandatory as per AICTE guidelines. Does the institute help students with this? If yes how?
Mr. Akshay Bam: We held regular visits of S.C Judges, H.C Judges, Senior Advocates, and Law Attorney for the seminars. We also send our students to Law Firms for Internships from time to time so that they get the right exposure. Many international faculty also visit the college on a regular basis for international workshops.
We also ensure that students get the practical training sessions that involve lawyer's chambers with an aim to provide them with specialized interactive training for legal skills. The students also get the required exposure to the Supreme Court and the International Court of Justice dignitaries, along with National level Moot Court Competitions, so that they get an overall understanding of the law that would prepare them for the future from day one.
Careers360: Please share placement statistics with information on the average package, highest and lowest package, number of students placed and details of companies that have recruited.
Mr. Akshay Bam: During the past 5 years, many bright and talented students of Indore Institute of Law got placed in some of the top companies and law firms in India. These include Trans India Law associates, QUISLEX, Mind Crest, India Shelter Finance, IP Leaders ,VIS LEGIS, Ranbaxy and many more. Students who got placed are drawing handsome salary packages in the range of 5 lakhs to 9 lakhs per annum.
Questions related to IILET
Showing 2 out of 2 Questions
12 Views
sir kya ug ki digree mai kuch problam ho tab bhi apply kar sakte hai?
Hello,
.
Have a look at Eligiblity criteria,
Candidate must pass 10+2
Must secure atleast 45% and there is 5% relaxation for SC/ST
There's no age limit
Examinination validity is 1 year
Now, coming to your problem, you haven't told us what kind of Problem you have. If the problem goes against the eligibility criteria, then you can't apply for examination. If it's not educational, please tell us.
24 Views
whats the last date of online registration
Hello Aspirant,
Indore Institute of LAw is a very good college with excellent faculty and library. College provide internship in good law firms. There is strict rules for placement. Regular classes. No ragging record in last 17 years. Recommended for the students who want exciting career in field of law. Infrastructure is amazing.
The Online Registration Started from 15th Jan 2020 & will End on 15th May 2020 in both Online and Offline Mode
Click at this link to know more about IILET - https://law.careers360.com/exams/iilet
Click at this link to know more about Indore Institute of Law - https://www.careers360.com/colleges/indore-institute-of-law-indore
Hope this was helpful.
Indore Institute of Law Entrance Test (IILET)