Gharpe CLAT preparation 2020
Gharpe CLAT preparation 2020 - Just like there is more than one way to skin a cat, there is more to CLAT preparation than simply hinging one's hope to coaching. So, it is no surprise that many students instead of spending their energies on searching for a suitable coaching institute, turn attention to their own abilities driven by the belief that Gharpe CLAT preparation 2020 is possible. Some of the myths surrounding success in CLAT is that coaching is integral to succeed in the exam. But one only has to take a cursory look to find that if you are dedicated to your studies, you will succeed, whether you take coaching or do Gharpe CLAT preparation 2020. In this article we take you through some tips that will help you give impetus and edge to your Gharpe CLAT preparation 2020, and consequently multiply your chances of success manifold.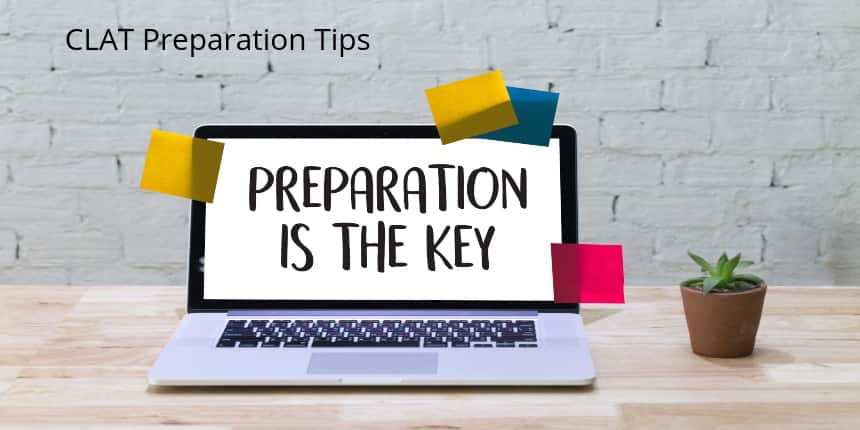 Corona fear also makes Gharpe CLAT preparation 2020 more urgent!
The coronavirus spreading steadily and creating panic among the population, there are now strict government guidelines to maintain social distancing and avoid travel-related activities. In such a scenario, CLAT preparation Ghar Pe becomes the default option for many.
Gharpe CLAT preparation 2020 - How to go about it
Since you will be your own boss, you need to be proactive but calm at all times, even when there is a lot of pressure.

Also, note that just because you are doing Gharpe CLAT preparation 2020 does not mean you can't take outside help. You can.

In fact, you need to identify people in your circle who can help you in overcoming difficult topics where you get stuck.

CLAT 2020 is slated to be conducted on May 10, so there is a little more than one month left. The candidate needs to make the best of remaining time.

Normally at this point it is most likely you are done with the basic CLAT preparation. What needs to be done is more advanced preparation.

Solve CLAT sample papers: This will help you track your progress and identify areas that need improvement. Sample papers are also special tools to learn time management and enhance problem solving skills.

Complete the syllabus in time: This will give the candidate to reflect on the preparation effort until now, correct mistakes, and do extensive revision.

Take mock tests: The Consortium of NLUs has released the mock test of CLAT 2020. A simulation of the real thing, mock tests will help the candidate understand the exam ambience, learn navigation and see for themselves how the question paper will be set, including placement of questions.

Keeping healthy and a positive spirit: An optimistic outlook is a precursor to success; so embrace positivity and expel all negative thoughts. Take the positive vibes emanating from your family and friends and use them to propel forward.

Taking outside help: Despite embracing Gharpe CLAT preparation 2020, there are many avenues from where you may get help if there is a need for external intervention. For example, you can go to youtube, online forums, social media where there is enough reference material. The only thing you need when referencing these material is a little bit of discretion.

Learn the exam day guidelines: There are certain exam-day etiquettes that the candidate has to follow'; or else the candidate may not be allowed to take the exam or disqualified. For example, the candidate needs to bring their CLAT admit card and a photo id proof with them. Details regarding the allotted exam venue will be mentioned on the admit card along with date and time of the exam. The admit card will also tell the candidate as to when they need to reach the exam venue, items that are allowed inside the exam hall and not allowed.
If you follow the tips listed here, there is a good chance your Gharpe CLAT preparation 2020 will have a happy ending.
Best of luck!
Frequently Asked Question (FAQs) - Gharpe CLAT preparation 2020
Question: When will the CLAT 2020 exam be conducted?
Answer:
The CLAT 2020 exam will be conducted on May 10 in pen-and-paper mode.
Question: What are the important points one needs to remember when doing Gharpe CLAT preparation 2020?
Answer:
The candidate needs to be proactive, calm, complete syllabus in time, and solve sample papers, etc, to succeed.
Question: What are the benefits of Gharpe CLAT preparation 2020?
Answer:
It will give the candidate the flexibility to make and change study plans as per the requirements. Also, travel time is greatly reduced.
Questions related to CLAT
Showing 6970 out of 6970 Questions