How to prepare for AILET 2021 in 4 months
How to Prepare for AILET 2021 in 4 Months - The national-level AILET 2021 exam is scheduled for June 20, meaning there are around 4 months or so left for the exam. If you also plan to take the exam, this is the right time to get your exam preparation rolling if you haven't already. With 4 months to prepare for AILET 2021, you will have enough time to go through the entire syllabus, that is if you are diligent and make judicious use of your time. To make the preparation effective, the candidate also needs to know how to prepare for AILET 2021 in 4 months, like which books to refer to, how much to revise and all that. If any component of the AILET study plans goes out of line, it will most likely hinder one's chances of achieving the desired result. In this article we tell you how to prepare for AILET 2021 in four months.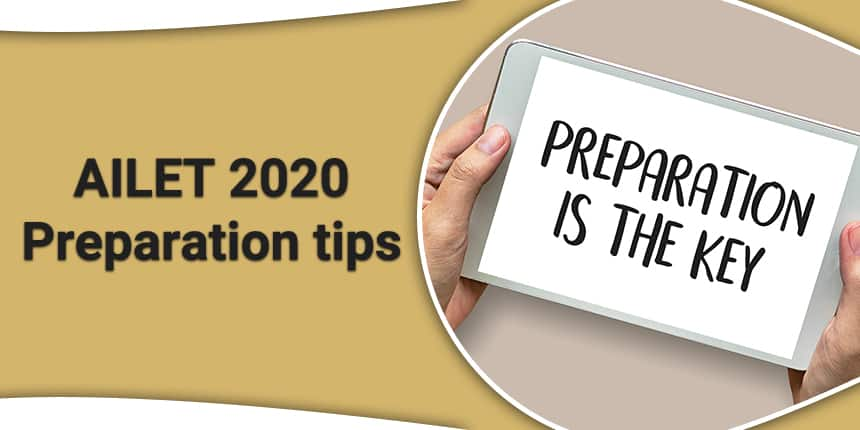 The national-level AILET 2021 exam will be conducted by NLU Delhi for admission to 5-year LLB programme, one-year LLM and PhD programme.
AILET 2021 Preparation - Dates to Remember
| | |
| --- | --- |
| Events | Dates |
| Start of online AILET 2021 application | January 2021 |
| Last date for submission of application form | To be notified |
| Issue of AILET 2021 admit card | To be notified |
| AILET 2021 exam date | June 20, 2021 |
How to Prepare for AILET 2021 in 4 Months
The candidate needs to follow the following guidelines when preparing for the AILET 2021 exam in four months.
Refer to the AILET Syllabus 2021
There are a number of reasons why one must make it a point to refer to the official AILET 2021 syllabus during exam preparation.
The syllabus will tell which topics are needed for the exam

The weightage carried by various topics; this will help the candidate decide which topics to focus more on.
AILET syllabus 2021
| | |
| --- | --- |
| Subject/topics | Number of questions |
| English | 35 |
| Current Affairs, including General Knowledge | 35 |
| Legal Reasoning | 35 |
| Logical Reasoning | 35 |
| Quantitative techniques | 10 |
AILET 2021 Important Topics
| | |
| --- | --- |
| Subject | Topics |
| English | Fill in the blanks, comprehension passages, antonyms, synonyms, idioms and phrases, jumble words and sentences, choosing the correct words |
| Mathematics | Algebra, profit and loss, time and work, average, speed and distance, permutation - combination and Venn diagrams, numerical ability |
| General knowledge | Current Affairs, General Science, History, Geography, Economics, Civics |
| Legal Reasoning | Study of law, Research aptitude, Problem-solving ability |
| Logical Reasoning | Logical and Analytical reasoning skills |
Get Familiar with the AILET Exam Pattern 2021
The exam pattern of AILET 2021 will tell the candidate the types of questions to be asked, marking scheme, test duration, and other such details which are a prerequisite for effective exam preparation. This information will help the candidate to prepare for AILET 2021 in 4 months for more robust and full proof.
AILET 2021 exam pattern
Particular

Description

Mode of exam

Online mode

Duration of exam

90 minutes

Subjects

General Knowledge

Mathematics

Legal Aptitude

Reasoning

English

Question type

Multiple Choice Questions (MCQs)

Total questions

150

Marking scheme

1 mark to be awarded for a correct answer;

-0.25 mark for an incorrect answer

Language of exam

English
Do Timely Revision
One-time reading is simply not enough, notwithstanding how easy the topic is. Remember a topic may be easy, but if you don't do enough revision or practice enough, you may forget the topic faster that it came to you. So, do sufficient revision, even for the ones you deem easy; make it a point to check whether you are able to recall those easy topics even after a couple of weeks. If you have difficulty in recalling, it means you need revision or tricks that will help you keep the concepts in mind and won't let you forget.
Analyse Previous Years' AILET Question Paper
If you practice previous years' AILET question papers, it will help you understand the dynamics of the exam, like the mindset of the examiner, what they are looking for, what types of questions to expect, and difficulty level. Note that in many instances, similar concept-based questions are asked, so if you practice enough you can easily answer them. Also make it a point to solve AILET sample papers.
Take AILET Mock Tests
You can take mock tests in the last few weeks leading up to the AILET 2021 exam as a way to give final touches to your exam preparation. The AILET 2021 mock test is a simulation of the actual exam, so the candidate will get to understand how it feels like when giving the exam and how to move between sections. Another thing is one can learn to tackle difficult situations by taking these mock tests, as keeping a cool head is paramount when taking an entrance exam like AILET.
Take Care of Your Health
In all the hullabaloo about AILET exam preparation, it is easy to ignore one's health. At times it happens because of sleep deprivation, untimely sleeping hours, too much eating of junk food. If you are also feeling all exhausted and burn out, stop. Take some time out to get your breath back, eat some light food and take some rest. Once you are properly rested, take up from where you left off.
AILET 2021 - Last Minute Preparation Tips
Don't start a new topic, as it will eat into revision time and only create doubts

Focus on revision; revise the difficult topics more but don't take too much time for any one topic. Remember, you need to cover the entire syllabus.

Stay updated on current affairs section by reading important sections of the newspaper or magazine

On the day of the exam, arrive at the AILET 2021 exam centre as per the reporting time mentioned on the admit card

Don't forget to carry the AILET admit card and a valid photo id proof

Once the exam commences, focus first on the easy topics, then move on to intermediate and finally the difficult questions.
Frequently Asked Question (FAQs) - How to prepare for AILET 2021 in 4 months
Question: Can I prepare for AILET 2021 in four months?
Answer:
Yes, one can prepare for AILET 2021 in four months provided one is ready to put in the effort, knows what and how to study.
Question: Is solving AILET sample papers important when preparing for AILET 2021?
Answer:
Yes, it is very important to solve AILET 2021 sample papers to build problem solving skills and develop understanding of key concepts.
Question: When will the AILET 2021 exam be conducted?
Answer:
The exam will be conducted on June 20.
Question: What are the various courses for which admission is offered on the basis of AILET 2021 scores?
Answer:
AILET scores will be used for admission to BA LLB, LLM and PhD programmes offered by NLU Delhi.
Question: What topics should one read when preparing for AILET 2021?
Answer:
Note that some topics carry more weightage than others in AILET; so candidates should focus more on those topics.
Questions related to AILET
Showing 324 out of 324 Questions