How to prepare for AILET 2021
How to Prepare for AILET 2021 - The All India Law Entrance Test (AILET) is the only path that goes to India's one of the most premium universities; National Law University Delhi. And clearing the AILET 2021 is not so easy. Especially, when there are more than 18000 candidates in competition for just 110 seats. Clearing AILET will require a dedicated preparation plan along with a meticulous execution of things. For example, you will have to complete the AILET syllabus well before the examination, then there are other aspects of the preparation such as making notes, revision, mock tests etc. All these elements of preparation, if put together will help you crack the AILET 2021. If you are an aspirant and trying to figure out how to prepare for AILET 2021, this article would be a big help for you in carving out an effective strategy for clearing the exam. Read below the complete article.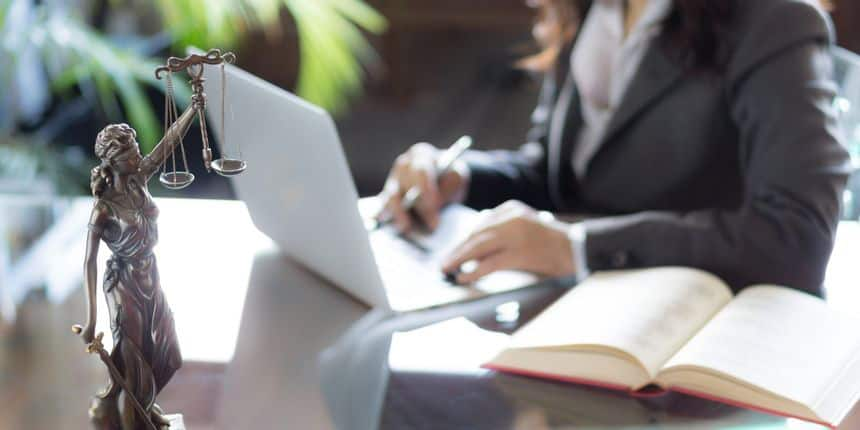 How to Prepare for AILET 2021 - Understanding the Test
The first thing AILET aspirants will require is a familiarity with the AILET. The exam pattern and syllabus of AILET 2021 will be the key in developing an understanding of the requirements for the test. The AILET pattern will inform about the test structure whereas the syllabus will help you identify the subjects you need to study. So, if you are going to start AILET preparation, you must take a closer look at the test pattern and its syllabus. The basics of the AILET test are given below.
AILET 2021 will be conducted in offline mode with a test paper consisting of objective type questions. Candidates will have to complete the test within 90 minutes.

There will be 150 questions, each carrying one mark. And, there will be a negative marking of 0.25 marks for each wrong answer.

The syllabus of AILET 2021 consists of five sections. These are - English, elementary maths, general knowledge and current affairs, legal aptitude and reasoning.
AILET Preparation Tips 2021
Here are some of the important preparation tips to help the candidates shape their preparation.
Start Early for AILET
Candidates should start their exam preparation as early as possible. Being an early bird will benefit in many ways. You can complete your syllabus well before the exam. Also, if you started early then you can take enough time for solving mock tests or revising the important topics which are crucial for clearing AILET 2021.
Refer to Best Study Material
The books and study material plays a big role in cracking AILET with a good score. Candidates should try to get their hands on the standard books which meet the requirements of the test. Reading random books may result in a misdirected AILET preparation thus hampering your chances in a big way. Some of the books and study material that you may while preparing for are given below.
Recommended books for AILET 2021 preparation
Subject

Books and study material

AILET UG 2021

English

Word Power Made Easy by Norman Lewis

High School English Grammar and Composition by Wren and Martin

Mathematics

Quantitative Aptitude for Competitive Examinations by RS Agarwal

NCERT books upto 10th

General knowledge (Static)

Lucent's General Knowledge

NCERT books of History and civics

General knowledge (Current affairs)

The Hindu Newspaper

The Indian Express Newspaper

GKToday

Protiyogita Darpan

Legal aptitude

Universal's Guide to CLAT & LLB Entrance Examination

Reasoning

Verbal and Non Verbal Reasoning by RS Agarwal

Analytical Reasoning by MK Pandey

AILET PG 2021

Constitutional law

Dr. DD Basu's - The Introduction of Constitution

Constitutional Law of India by JN Pandey & Bare Act

Tort Law: The Law of Torts by Ratanlal and Dhirajlal

Jurisprudence

Dr. VD Mahajan's Jurisprudence

Decoding the Jurisprudence
Short Notes and Revision
One of the common things among the AILET toppers is that all of them talk about the importance of notes making and revision. Making handwritten notes in particular will help the students grasp the conceptual topics. Factual topics can also be converted into short notes, flow charts, diagrams. Making short notes is also helpful when you want to revise the important topics of AILET but there isn't enough time to read the heavy books.
Revision is another important aspect of AILET preparation. The syllabus of AILET 2021 is too vast and you will need to retain whatever you are reading. Regular revision helps you in retaining the knowledge for a longer duration.
Solve AILET Previous Year Papers and Mock Tests
In any case, if you are intrigued by the questions asked in the AILET paper, then the previous year papers are there to help you. The AILET previous year papers will be the most relatable sample papers. Candidates should solve as many sample papers of AILET as they can in a stimulating atmosphere. Solving the sample paper and mock tests will help the candidates know their weaknesses, thus giving them a chance to prepare well. The AILET mock tests will also make the candidates learn time management skills which is necessary for completing the test within 90 minutes.
How to Prepare for AILET 2021 - Subject-Wise Tips
Legal Aptitude and Knowledge
Being a law entrance exam, the importance of legal aptitude cannot be overstated. Candidates will need to build conceptual understanding of legal concepts. The topics such as constitutional law, polity, judiciary, CrPC, IPC, international law etc are particularly important. The study of legal aptitude for AILET should be well supported by the study of current legal issues of national and international significance. In previous years, it has been observed that the questions in legal aptitude were asked from contemporary issues.
General Knowledge and Current Affairs
Candidates may divide this section in two parts - static GK and current affairs. While static GK can be tackled by reading and memorizing the books, the current affairs would require regular reading of newspapers. Candidates should read the English newspapers such as The Hindu or The Indian Express. The articles and editorials along with the news around legal developments are of utmost importance.
English Language
The section is designed to test the language skills along with reading ability of the candidates. Thus, one should prepare English language well. Enough focus should be given on key topics such as grammar, vocabulary, antonyms and synonyms etc. A grammar book of school level along with regular reading of newspapers will be of great help in preparing for the AILET English section.
Mathematics for AILET 2021
There will be only 10 questions from maths in the AILET paper. The less number of questions doesn't mean that candidates should ignore it. Maths section will be of a very basic level, so candidates may prepare for it in a short period. However, maths is all about practice, candidates should practice the mock tests of Maths hone their skills. Maths questions in AILET 2021 will be asked only from a given set of topics such as algebra, profit and loss, time and work, average, speed and distance, permutation-combination and venn diagrams etc.
How to prepare for AILET along with board exams
There are many candidates who would be preparing for AILET while studying in Class 12th. The AILET 2021 will be conducted after board examination and candidates will have around one month to prepare the entrance exam dedicatedly. However, it is pertinent for candidates to balance their school study and AILET preparation. To prepare for AILET along with board exams, one should divide the time between board exam preparation and entrance test preparation. One should try to give two to three hours each day for AILET preparation and the rest of the time should be given to the board exams.
According to Devansh who cleared AILET with first rank, it was a hectic job to balance AILET and school study. The 2018 AILET topper gave a lower profile to board preparation. However, from January, he gave equal time to both board exams and AILET preparation.
Frequently Asked Question (FAQs) - How to prepare for AILET 2021
Question: How many questions are asked in AILET UG?
Answer:
AILET UG paper consists of 150 objective type questions. Each carries one mark and o.25 marks are deducted for each incorrect answer.
Question: What subjects do I need to study for AILET 2021 preparation?
Answer:
For AILET preparation, you should study the subjects such as legal aptitude, English, current affairs, GK and maths.
Question: What role does the sample papers have to play in AILET preparation?
Answer:
The sample papers are a very important part of AILET preparation. They help you identify the weaknesses, let you learn time management while also making familiar with the test.
Question: Can I prepare for AILET and CLAT together?
Answer:
Yes, you can prepare for both CLAT and AILET together. In fact, most of the students are seen taking both exams together. There is a lot of similarity between AILET and CLAT, so you can prepare for both simultaneously.
Questions related to AILET
Showing 324 out of 324 Questions