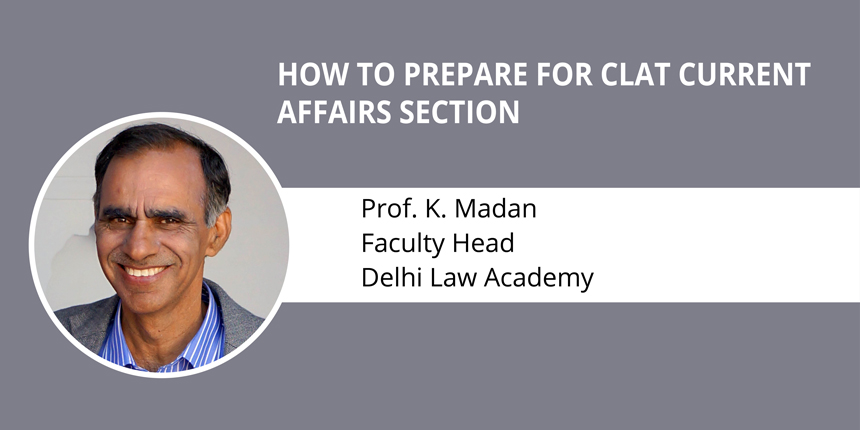 How to prepare for CLAT 2019 Current Affairs by Prof. K. Madan - The foremost challenge which candidates face while preparing for CLAT current affairs is maneuvering their way through abundant material and pinning down the key areas. Since time management is an indispensable part of one's preparation for CLAT, it becomes all the more necessary for candidates to adopt a 'smart' preparation strategy for Current Affairs section. In this advisory by Careers360 on how to prepare for CLAT Current Affairs, Prof. K. Madan, Faculty Head at the Delhi Law Academy and a seasoned law expert, shares his exclusive tips on how candidates can achieve this task along with other sureshot preparation tips and recommendations.
Revision is the key to CLAT 2019 Current Affairs Section
Candidates should understand that Current Affairs is a scoring section since it is completely factual. The key to master this section is to revise this section thoroughly during CLAT preparation for current affairs. So by just practicing and revising the facts on a regular basis, one can score marks easily. A smooth running revision will help candidates retain well & then they can effortlessly take mocks simultaneously. 
CLAT Sample Paper
Download Free Sample Paper for CLAT
Download Now
Zooming in on the key areas for CLAT 2019 Current Affairs Section
The issue with Current Affairs is that there is a massive volume of material available to students. Students tend to download and collect all available information, but this will be of no use, since all of it will lead to an overload of information.
Instead, students should seek out CLAT-oriented monthly digests from reliable sources, like the ones provided by the coaching institutes. The CLAT-oriented part is important, as most such digests available tend to err on the side of generosity and have UPSC-level content.
Important areas to focus on while preparing for CLAT 2019 Current Affairs section
CLAT Current Affairs have traditionally focused on a few key areas which can be referred to as High Frequency areas. Some of them are Sports, recent Supreme Court judgement and Literary awards. Finding and focusing on these key High Frequency areas for CLAT current affairs preparation is extremely helpful to prepare for CLAT current affairs.
Recommended material for CLAT 2019 Current Affairs section
Usually, sources of the preparation of Current Affairs are periodicals, newspapers, news channels, past year papers and other such sources. But at times it becomes difficult to collect the scattered information in such a less amount of time. In such a case, candidates can refer to monthly digests provided by coaching institutes to prepare for CLAT current affairs section. The reason for preferring these monthly digests is that these include exam oriented information, whereas other sources like newspapers, magazines and more include information which has no relation to the exam. Hence to prepare efficiently for CLAT without wasting time, online monthly exam focussed digests are the best option.
How to tackle tough areas while preparing for CLAT 2019 current affairs
Mostly, students find questions related to recent political developments the toughest. The challenge here is that students do not realize that most political developments are not important for CLAT. The exam focuses on only a few key areas. Candidates can consult a good coaching institute or mentor who can guide them on what areas to focus the most on for CLAT 2019 preparation. 
Mock Tests to prepare for CLAT 2019 Current Affairs
Following a strategy is important while practicing mock tests so that they get the best result out of rigorous practice. While giving mock tests, students can gauge their level of preparation by the speed with which they are going through the Current Affairs section. If they are not finding the section smooth, this should be indicative enough for the candidates that they need to put in more work in this section during their CLAT preparations. 
Last week strategies for CLAT 2019 Current Affairs preparation
The best last week strategy that candidates can adopt is to have a good set of notes or handy digests they can follow. While this is anyway important for learning and retention, it is absolutely crucial at the time of revision for CLAT. One can use these notes/digests to go through the entire syllabus or the entire year's developments in a manageable time.
Current Affairs is one of the most scoring sections when prepared well. A well-prepared student will find most questions quite easy since CLAT does not test implication-based questions, and mostly stick to fact-based questions in Current Affairs. 
Common Law Admission Test, commonly known as CLAT, is conducted by the the National Law University, Odisha, Cuttack, for admissions to its undergraduate and postgraduate law programmes. Upon qualifying the test, candidates get a chance to grab a seat for themselves in one of the most premier law universities of India. CLAT 2019 is set to be conducted on May 12, 2019. 
Questions related to CLAT