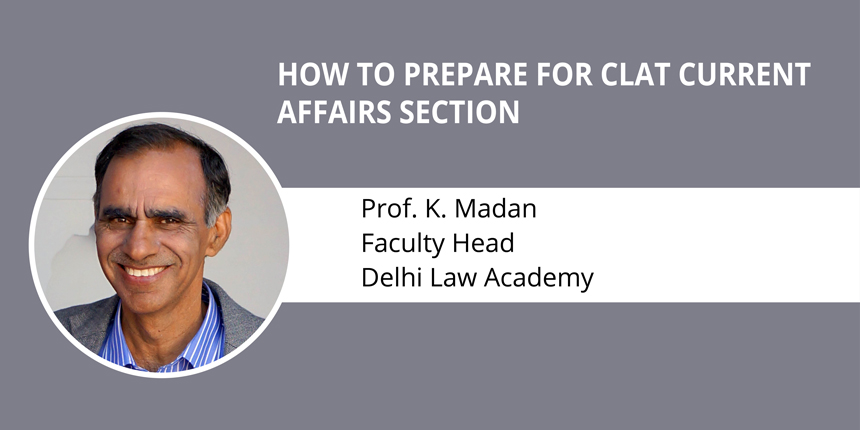 How to prepare for CLAT 2019 Current Affairs by Prof. K. Madan - The foremost challenge which candidates face while preparing for CLAT current affairs is maneuvering their way through abundant material and pinning down the key areas. Since time management is an indispensable part of one's preparation for CLAT, it becomes all the more necessary for candidates to adopt a 'smart' preparation strategy for Current Affairs section. In this advisory by Careers360 on how to prepare for CLAT Current Affairs, Prof. K. Madan, Faculty Head at the Delhi Law Academy and a seasoned law expert, shares his exclusive tips on how candidates can achieve this task along with other sureshot preparation tips and recommendations.
Latest: [Download free Question Papers and Sample Paper of CLAT, Click here]
Revision is the key to CLAT 2019 Current Affairs Section
Candidates should understand that Current Affairs is a scoring section since it is completely factual. The key to master this section is to revise this section thoroughly during CLAT preparation for current affairs. So by just practicing and revising the facts on a regular basis, one can score marks easily. A smooth running revision will help candidates retain well & then they can effortlessly take mocks simultaneously. 
CLAT Sample Paper
Download Free Sample Paper for CLAT
Download Now
Zooming in on the key areas for CLAT 2019 Current Affairs Section
The issue with Current Affairs is that there is a massive volume of material available to students. Students tend to download and collect all available information, but this will be of no use, since all of it will lead to an overload of information.