How to prepare for CLAT 2019 Legal Aptitude by Prof. K. Madan
How to prepare for CLAT 2019 Legal Aptitude by Prof. K. Madan - Mastering the CLAT legal aptitude section is indeed a mammoth task specifically for students who are just out of school. However, as Prof. K. Madan says, "This is one of the core sections of this exam so mastering this section will help you ace the exam."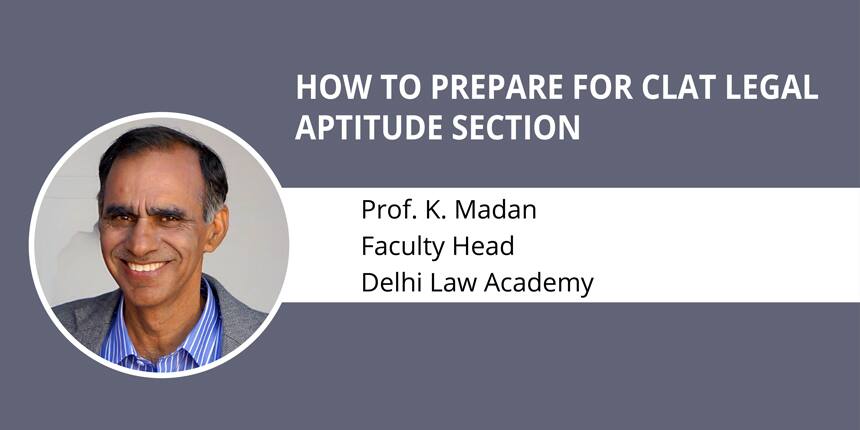 With CLAT 2019 hardly four months away, candidates may be wondering as to how to prepare for CLAT legal aptitude section in an effective manner. Conceptual clarity, rigorous practice, and ruthless analysis are the keys to cracking the CLAT legal aptitude section as per Prof. K Madan. In yet another advisory on "How to prepare for CLAT 2019 Legal Aptitude" by Careers360, Prof. K. Madan, Faculty Head of the Delhi Law Academy, shares his valuable tips on how candidates can ace the legal aptitude section and maximize their test scores. 
To know Prof. K Madan's expert tips and give their preparation for CLAT legal aptitude an extra edge, candidates can read further. 
Preparation strategy for CLAT 2019 Legal Aptitude
At this stage, candidates are advised to work on their knowledge of the laws. After the candidates have obtained a fairly thorough knowledge of the laws, they should devote at least 60 minutes daily to solve problems to prepare for CLAT legal aptitude section. The key is to understand the question thoroughly. Once a candidate achieves that, he/she can easily come to a logical question. However, attaining an expertise in that will not be easy in the beginning but rigorous practice will help them reach there. To bolster conceptual clarity, candidates should get all the doubts they come across while practicing legal aptitude questions cleared at the earliest. They should not hesitate at all to take expert advice. Candidates should take sharp mock test series for CLAT 2019 preparation.
Books for CLAT 2019 Legal Aptitude preparation
Candidates should remember that most of the books commonly available in the market suffer from quality problems. Answers are wrong, and many facts are outdated. It is better to subscribe to a better source of information like a good online course rather than any standard book to prepare for CLAT legal aptitude section. 
Mock test strategies for CLAT 2019 Legal aptitude preparation
One cannot emphasize on solving CLAT mock test for CLAT preparation enough. Solving more problems and looking at past papers gives candidates an idea of how the exam will be. While solving mock test, candidates should not get stuck on just one problem. If they are not able to solve a question, they should skip it and instead answer those questions first which they know completely. Judge the situation properly and then answer.
Some pointers to keep in mind while solving mock tests to prepare for CLAT legal aptitude are as follows. 
 1) Refer to past question papers and solve as many problems as possible.
 2) Understand the question thoroughly, judge the situation properly and come to a logical conclusion.
 3) Try to time yourself when you are attempting this section.
How can candidates with no knowledge of the legal realm tackle the section?
This section is new for students as they just have passed school and they have never been taught this subject. But since this section is at the core of the test, candidates need to work substantially hard on this section to achieve a high score. 
Candidates should be aware of the fact that questions will include legal principles that have to be applied to certain situations. The candidate will have to judge the situation and come up with an apt conclusion or solution. It is the candidate's expertise in research and ability to solve these problems plays a big role. Therefore, candidates should acquire a thorough legal knowledge and solve as many questions as they can to improve their legal reasoning abilities. 
Time management strategies to prepare for CLAT 2019 Legal Aptitude
One of the ways with the help of which candidates can execute a perfect performance in the paper is with the help of time management strategies both during preparation and on the day of the exam. 
To prepare CLAT legal aptitude efficiently, candidates should devote at least 60-90 minutes daily. They should solve the legal aptitude case studies and also time themselves to know exactly how much time is to be spent on each question. 
Last week strategies for CLAT 2019 Legal Aptitude
During their last week preparation for CLAT legal aptitude, candidates should solve as many mock tests as possible and ruthlessly analyze their performance to know their weak and strong sections. This will help them score better in each successive test. They should also brush up their concepts. During this stage of CLAT 2019 legal aptitude preparation, candidates should calmly revise the syllabus and not panic. 
*Common Law Admission Test, popularly known as CLAT, is conducted by NLU, Odisha, Cuttack for candidates who seek admissions into its undergraduate and postgraduate law programmes. Upon qualifying the test, candidates will get a chance to grab a seat for themselves amongst 2600 offered by 21 participating institutes. CLAT 2019 is set to be conducted on May 26, 2019. 
Questions related to CLAT
Showing 6771 out of 6771 Questions