How to prepare for CLAT 2019 Legal Aptitude by Rajneesh Singh
How to prepare for CLAT 2019 Legal Aptitude by Rajneesh Singh - "Legal Aptitude can be a sticky puddle if you don't know the proper ways to steer out clean and score well in this section," says the seasoned law expert and director of Do-Zen, Rajneesh Singh, in a discussion with Careers360 about CLAT legal aptitude section. This particularly happens because students being fresh out of school have a limited aptitude for legal reasoning and inadequate knowledge about legal affairs. Therefore, one needs to prepare for CLAT legal aptitude in a strategic manner; candidates should be able to eliminate superfluous information and focus on what is important to avoid confusion. In yet another advisory by Careers360 on 'How to prepare for CLAT 2019 Legal Aptitude,' Rajneesh Singh provides a detailed strategy to ace CLAT legal aptitude and breaks myths surrounding the section.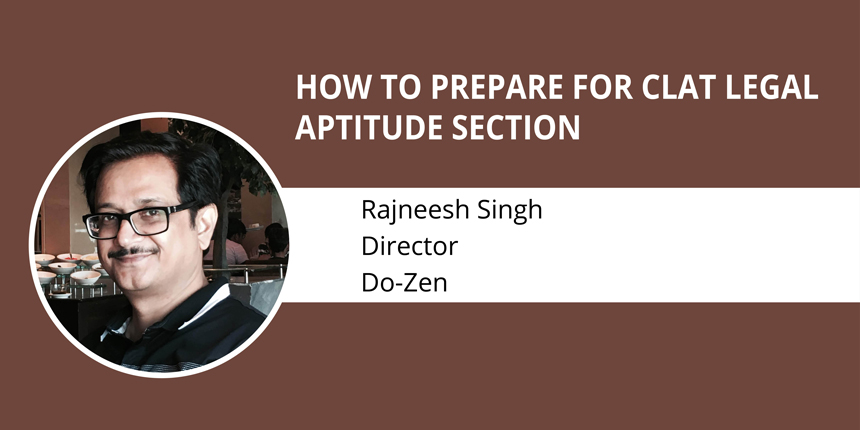 To know how to prepare for CLAT legal aptitude by the law expert himself and maximize your chances of cracking the test, read further. 
Tips to follow in four months for CLAT 2019 Legal Aptitude section
Candidates who have yet not started with their preparation for CLAT should read basic books on legal concepts of subjects like tort, contract, etc., but with lots of examples. They should particularly avoid those books which are meant for law students and explain the concepts in detail.
Candidates should understand the principles well with examples while preparing for CLAT legal aptitude section. This helps in accelerating speed as these are usually written in a clumsy language and it kills lots of time if being read for the first time. 
To prepare for legal GK, candidates should first read good books on the section and then devise ways to revise and retain the information. 
Along with these mock tests and rigorous practice will seal the candidate's preparation for CLAT legal aptitude. 
Conceptual clarity is a must for candidates to crack this tricky section. One does not necessarily need to have intricate knowledge in the field of law, rather having an understanding of the reasoning and logic is important to crack the legal aptitude section of CLAT 2019. 
Those who are already prepared should now practice and also complete the aforementioned tasks if not done.
Rigorous Practice is the key to CLAT 2019 Legal Aptitude section
Candidates should solve as many past years papers as they can of CLAT, AILET, and mainly NLSIU. Also, they should make it a point that they practice a lot of sectional tests under time constraints and then analyse their performance for CLAT legal aptitude preparation. These tactics will help candidates to reduce the mistakes and enhance their comprehending speed. However, they should see to it that they practice good quality questions, as solving such questions will play an instrumental role in enhancing their logical ability. 
CLAT mock test is indispensable for one's CLAT preparations, but candidates are advised to take the time constraint aspect seriously and finish off the paper within the stipulated time. Additionally, they should substantially analyse their performance in these tests. 
Recommended books for CLAT 2019 Legal Aptitude preparation
Following are the study material which should suffice for CLAT preparation. 
Study material provided by Career Launcher 

Legal Edge Books 

CLAT Essentials by Rajneesh Singh (available in a month) 

CLAT Essentials (Static GK) for Legal GK (Static) 
Is a thorough knowledge of legal matters important for CLAT 2019 Legal Aptitude section 
The legal aptitude section of CLAT is structured keeping in mind candidates who are just out of school or those who are not acquainted with the nitty gritties of legal realm. Therefore, only a basic knowledge of some common laws helps in solving Legal Reasoning questions with speed and accuracy. To prepare for CLAT Legal GK (Static and Current), only those matters which a common person should know. 
Time management strategies for CLAT 2019 Legal Aptitude section
"Stick to the principle but don't get sticky" - Though the golden rule is to just stick to principle, some questions just require candidates to not violate the principle. Often principles have no role and it is all about reasoning, common sense and rational assumptions. 
The question setter often tries to trick candidates by making a redundant principle which is catchy enough to deviate them. But while solving CLAT legal aptitude section, candidates need to remember that a principle is like a circular boundary which restricts one to be within the boundary. One has to remain inside that to get the answer. But test takers end up being so STICKY to the principle that they keep trying to find the answer by sticking on the line (principle). Whereas answer can be anywhere within the circle. Correct answers are often a result of applying correct reasoning, common sense and rational assumption (being within the principle/rule).
Quality discussion - The only way to improve one's reasoning gradually is to make one's mind more rational and unbiased. Candidates should refrain from irrelevant discussions mainly of a social forum on a question which does not have a distinct answer. While preparing for CLAT legal aptitude, candidates will come across many materials which have wrong answers, complex explanations, and poor quality questions. This can make one diffident and adulterate one's mind that reasons correctly. Therefore, instead of wasting time on superfluous explanations and study material, candidates should only focus on quality study material and discussions for CLAT preparation. 

Practice to tackle tough sections - Legal reasoning questions become tough or time consuming when there are multiple principles or the text is huge. Candidates can leave these questions in case other sections/questions are easier. But sometimes in a tough paper, one will be forced to attempt such questions. Candidates will need to practice them, and for this, they can resort to CLAT Essentials book has these kind of questions. CLAT 2011 had such questions. Therefore, candidates should read with patience and caution in such cases. 
Last week strategies for CLAT 2019 Legal Aptitude section
During the last week preparation for CLAT legal aptitude section, candidates should revise the legal GK well. There are quite a few questions from this topic, particularly in the LA and GK sections. 
CLAT 2019 Legal Aptitude Section - Tiebreaker myth
This is an important point which candidates should make a note of while preparing for CLAT 2019 legal aptitude section. It is true that CLAT uses Legal Reasoning marks for breaking tie between students with the same total score. But it would be a big blunder if one focuses only on maximizing one's scores in Legal Reasoning because this section is tough and the questions are lengthy as well. 
Candidates should focus on increasing their scores by doing the easier questions from English and GK sections. A higher score is more important to secure a higher rank, rather than breaking tie with a lower rank.
*Common Law Admission Test is conducted by the National Law University, Odisha, Cuttack for candidates seeking admissions into its undergraduate and postgraduate programmes. To grab a seat for themselves amongst 2600 offered by 21 participating institutes, candidates are required to qualify the entrance test. CLAT 2019 is set to be conducted in the offline mode on May 26, 2019. 
Questions related to CLAT
Showing 6762 out of 6762 Questions