Igniting passion to solve India's unsolved problems
Dr. Harsh Vardhan, Union Minister for Science & Technology & Earth Sciences, speaks to Careers360's Editor-in-Chief Mahesh Sarma on the innovative schemes undertaken by his ministry to foster passion for science…
Q. Department of Science & Technology (DST) has one of the finest scholarships, Innovation in Science Pursuit for Inspired Research (INSPIRE), which starts from the sixth standard. What has been its success rate, given that you have got amazing numbers there?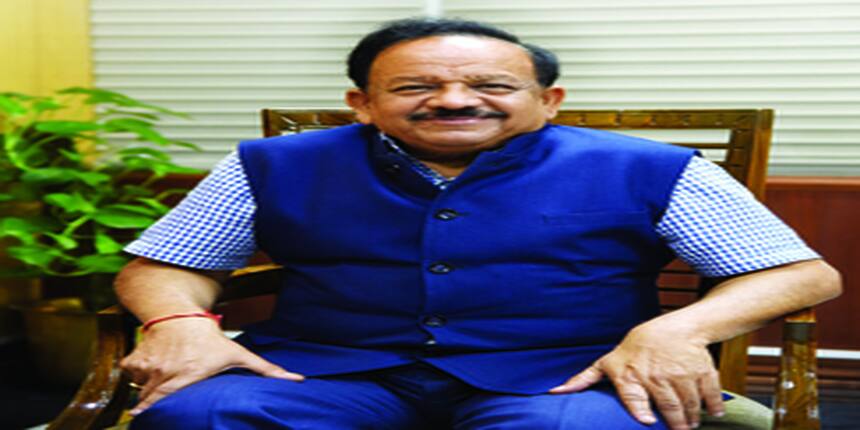 A. Yes, the programme has been very successful. Lakhs of students have been helped through it. If we take a look at some decades back, the thrust on science stream among the students was diminishing as there was not enough push for the subject. However, we are seeing a renewed passion for science and I am proud to say that we have significantly contributed to this by supporting science as a subject, facilitating infrastructural improvements, including teaching, laboratories and state-of-the-art equipment, and supporting students through financial aids, at not only school level but also at graduation, post-graduation, doctoral and postdoctoral levels. Over the last couple of years, more than 10 lakh students have been helped and over 50,000 scholarships at post-doctoral level have been provided under INSPIRE.
Q. Could you share information about other programmes being run by DST to further the cause of science among students... 
A. We are helping students through many other programmes, like 'Jigyasa'. By moving away from chalk and board method, through Jigyasa we are taking almost one lakh students to the state-of-the-art CSIR laboratories where they witness science from very close quarters. They see an atomic clock in the National Physical Laboratory, where they can see real atom and other principles of physics and chemistry coming to life. When I was a young student, I had access to these concepts only through books or teachers' narratives. I believe that if I had access to all these laboratories and saw things from up-close, I probably would have preferred to become a scientist than a doctor.  
Q. What about instilling a spirit of innovation in students?
A. To encourage the spirit of innovation in schools, we shortlist about five best ideas generated from lakhs of schools, then filter it at different levels to take it to Rashtrapati Bhawan in the Festival of Innovation (FOIN). Under this, students pick up a real-time problem and work towards its solution. In another programme, we take children who have not been able to get formal education to CSIR labs. Suppose it is a Central Leather Research Institute that a student is taken to, there he or she would learn about leather technology such as waterless cleaning of leather, among others. In this manner, he or she sees science, learns it and develops skills which later become a part of his or her life. This way they can get employment in the laboratory or in a field demanding that skill. 
What we did after coming to power was to increase the emoluments of research fellows to 50%. We did this in first three-four months itself. Then, there is the startup programme wherein over 5,000 startups have been supported with more than 10,000 crores of rupees. Also, there are technology development boards which will disburse huge loans for pursuing science.
Q. Are there any special programmes for Indian scientists working abroad?
A. There are many programmes for that. We are keen to bring scientific minds born and nurtured in the country back to India. Facilities have been made to enable young researchers from abroad to share their experiences and for our scientists working abroad to come here and spend 3-6 months or more and receive equivalent or even more emoluments as given to them abroad. Then there are fellowships like Ramalingaswami Fellowships focused on reversing brain drain. In the last 3-4 years, over 600 scientists have come back to India. In fact, we received a large number of applications for fellowship and had to select them very minutely. This is why, instead of old brain drain, we now call it brain gain because scientists have started to feel that now there is state-of-the-art facility, equipment and passion in government towards science and capabilities of scientists.
Q. What about improving the state of laboratories?
A. Within a year or so, I visited every laboratory of India, even the ISRO lab, which is not my domain but that of the Prime Minister. I personally went to all those laboratories where great scientists of India of the likes of Nobel prize winner Sir C. V. Raman, Acharya Jagadish Chandra Bose, P.C. Ray, Birbal Sahni and S.N Bose worked. We don't compromise on the quality of our laboratories at all. These great scientists of India worked with very minimal facilities in their times, but young scientists of today are fortunate. In every institution there was a microscope and other equipment, costing two to ten crores. When I saw the table on which Birbal Sahni worked, the table on which Acharya Jagadish Chandra Bose discovered wireless, I see they had very basic things but they had 'Jazba', the passion. I tell these young scientists to have all the equipment and get that 'Jazba' and bring the Nobel prize. The bottom line being, develop that 'Jazba' to solve the unsolved problems of this country. 
Q. What is your vision for the growth of science in India?
A. As the Minister of Science and Technology (S&T) and observing science from very close quarters and after seeing what is happening in our labs, I really appreciate the potential of science and believe that every problem of this country which is not being solved, whether it is malnutrition or something else, can be solved with the help of science. That's why I talk about scientific social responsibility to our scientists' community. In the CV, not only the number of papers and patents should be glorified, but the impact factor of your research on society. I am propagating for a change in the definition of impact factor at all the international platforms. What we understand by impact factor right now is how many times your published paper has been read and referenced.  For me the definition of impact factor should be how much your invention or discovery has been able to positively impact the life of a common man in solving his problems or making things better for him.
Q. How are S&T innovations changing the face of primary sector activities in India?
A. Our scientists are doing some great jobs in that arena and DST is giving its full support to it. Consider our Earth Sciences ministry, it provides single text message to 40 million farmers and in that text message it tells what will be the weather forecast for the next three days and on the basis of that farmers plan their activities, when they are going to sow seeds or save water, etc. In 2015, National Council of Applied Economic Research did a survey and projected that this small input from the ministry to the farmers of India has produced a difference of Rs. 50,000 crores in the GDP of India. Similarly, we are providing information to our fishermen about the safe fishing zone, strength of fish population in an area, etc. and the benefits again are contributing hugely to the GDP. As per FICCI, 70 percent of the milk is adulterated here. There is now shield scanner which can help in detecting milk adulteration. A small chemical engineering lab in Durgapur has produced small mini tractors for small farmers as they have small lands and they can't afford big tractors. 
The human genome sequencing, which used to take millions of dollars ten years back, today we are doing that for a thousand rupees. Not only human genome sequencing, but plant genomics too. We have produced plants which will be stress resistant, drought resistant and disease resistant variety. Through the use of genomics, thousands of acres of land are cultivated in Andhra Pradesh and now we can grow even in arid conditions. 
Q. Any other research activities that are in process which you would like to highlight...
A. We are undertaking some high-end researches, like creating the biggest telescope of the world, working on LIGO- the gravitational waves detector, etc. We have a lab in Karaikudi wherein we are in the process of producing the first ever lithium battery. We have collaborated with countries around the world for artificial intelligence. For desalination of ocean water, in Lakshadweep, you can see huge desalination plants setup. Our science labs are on the verge of bringing down the cost of drinking water to 2-3 paise per litre. Many other such innovations and research in S&T are helping the people of India.