Indian Army JAG recruitment through CLAT 2023 - Indian Army has released the application form for JAG entry scheme 31st on January 18, 2023. The last date to fill out the application form is February 16, 2023. Indian army will conduct Indian Army JAG recruitment through CLAT examination. The CLAT 2023 PG scores will be applicable for SSC (NT) JAG entry scheme 31st course. Candidates should note that the previous year's CLAT score will be considered for recruitment in October 2023 which means CLAT 2023 scores will be considered in October 2023 recruitment,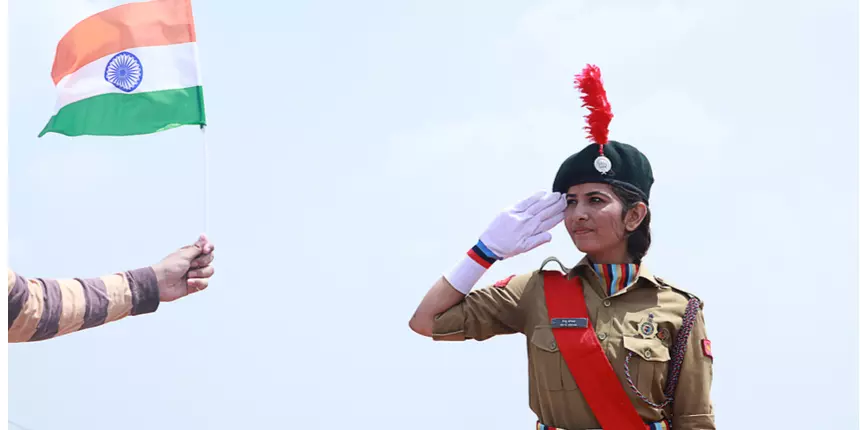 Indian Army JAG Entry 31st Course Recruitment 2023 - Application Form (Open), Eligibility, Vacancies, Salary
The Indian Army conducts recruitment for Judge Advocate General (JAG) every year. Unmarried male and female law graduates who meet the eligibility criteria can appear in the recruitment process.
What is the Indian Army JAG?
The position of Judge Advocate General (JAG) in the Indian Army is held by a Major General who is the legal and judicial chief of the army. The Judge Advocate General is assisted by a separate JAG branch which consists of legally qualified army officers. The recruitment is done for a period of 14 years which can be extended.
Eligibility of candidates applying for Indian Army JAG
Candidates need to fulfill the eligibility criteria for the Indian Army to appear for the exam. The eligibility criteria have four components:
Other Popular Law Entrance Exam:
Educational Qualifications
The aspiring candidate should be a graduate of the law degree either 3 years or 5 years with a minimum 55% aggregate marks. In addition, CLAT PG Score of the preceding year is mandatory for all candidates (including LLM qualified and LLM appearing candidates) who apply for courses starting in a particular year. Candidate must also be registered with the Bar Council of State or Bar Council of India.
Age Limit
To apply for the Indian Army Recruitment of JAG in the Short Service Commission, the aspirants should be a minimum of 21 years and a maximum of 27 years.
Nationality Criteria
As per the official notification, the candidate must be from:
A citizen of India

A citizen of Nepal

A person of Indian origin migrated from Pakistan, Burma, Sri Lanka, and East African countries of Kenya, Uganda, United Republic of Tanzania, Zambia, Malawi, Zaire and Ethiopia, and Vietnam intending to permanently settle in India, provided that a candidate belonging to categories (ii) and (iii) above shall be a person in whose favor a certificate of eligibility has been issued by the Government of India. A certificate of eligibility will, however, not be necessary in the case of candidates who are Gorkha subjects of Nepal.
NLUs Fee Structure 2023
Aspirants interested in taking admission to the national law universities through CLAT or AILET Score, can download this Ebook to know fees of NLUs.
Check Now
CLAT Exam Qualified
The candidate should qualify the CLAT 2023 (PG) exam to get through the recruitment process in 2023. For this they need to understand the CLAT exam pattern and CLAT syllabus 2023. The Consortium of NLUs conducts the CLAT examination for admission to National Law Universities and various other recruitments.
Bar Council Registration
Candidates should get themselves registered in the Bar Council of India to apply for Indian Army JAG position.
Indian Army JAG entry CLAT application process 2023
Candidates who wish to participate in Indian Army JAF (31) course should have a valid CLAT 2023 LLM score. Candidates who possess a valid CLAT LLM score will then need to apply for the Indian Army JAG (31) course separately. The Indian army has released the JAG (31) course application form at joinindianarmy.nic.in, on January 18, 2023. Candidates must register and fill the application form before February 16, 2023.
Browse Law Colleges by Location:
Vacancies for Indian Army JAG Recruitment
All unmarried male and female graduates can apply for JAG positions in the Indian Army. The number of vacancies are specified below:
Selection Process for Indian Army JAG Entry Scheme 2023
Integrated HQ of MoD (Army) will shortlist the candidates on the basis of CLAT scores.

All candidates applying for SSC (JAG) entry (men & women) need to register and appear for CLAT (PG) exam of the preceding year.

CLAT 2023 exam was held on December 18, 2022.

Only shortlisted eligible candidates will undergo SSB training at Selection Centres, Allahabad(UP), Bhopal(MP), Bangalore (Karnataka) and Kapurthala (PB)

Call up letter for SSB interview will be issued by respective selection centre on candidate's registered email id and SMS only

Candidates will be put through two stage selection procedures. Those who clear Stage I will go to Stage II. Those who fail on stage I will be returned on the same day. Duration of the SSB interview is five days.
Top Law University in India:
Training and Period of Probation for JAG
Duration of training is 49 weeks at OTA, Chennai.

Selected candidates will be detailed for Pre-Commission training at OTA, Chennai according to their position in the final order of merit and number of available vacancies.