LSAT-India is a standardized law school entrance designed by the Law School Admission Council (LSAC) and conducted by Pearson VUE. It is conducted for 5-year LLB integrated, 3-year LLB and LLM programmes. The score of LSAT-India is valid for one year and is accepted by several law schools in India. The LSAT-India syllabus 2023 includes subjects like: analytical reasoning, logical reasoning and reading comprehension. Law aspirants looking to appear for LSAT- India exam have the option to take the test from within India or one of the following countries: Bangladesh, Nepal, Bhutan, Pakistan, Maldives, Sri Lanka, Saudi Arabia, United Arab Emirates, Kuwait, Oman, Singapore, Indonesia, Malaysia, Tanzania, Qatar, or Bahrain. Careers360 brings you an interview with Yusuf Abdul-Kareem, VP - Global Business Development LSAC. Yusuf Abdul-Kareem holds a bachelor's degree in hospitality and tourism from North Carolina Central University and an MBA from Drexel University's LeBow College of Business. In his interview, Yusuf shared various details about the LSAT-India test, score validity, colleges which accept it, preparation tips, etc. To know more about LSAT-India test go through the complete interview of Yusuf Abdul-Kareem with Careers360.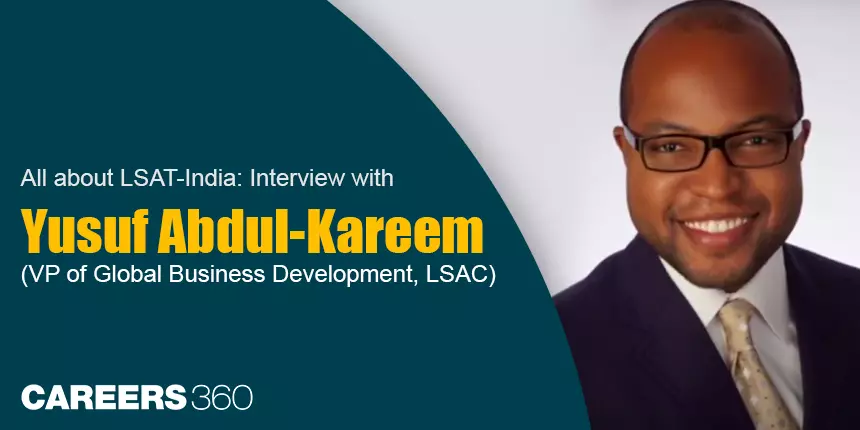 Know all about LSAT-India: Interview with Yusuf Abdul-Kareem (VP - Global Business Development, LSAC)
Careers360: What is the LSAT-India test about? Please give details.
Answer: LSAT-India is essentially an exam created to help students identify the skill sets that are going to help them excel both as a law student and as a practicing attorney after graduating from the law school.
LSAT-India is a derivative of the regular LSAT that is administered globally. LSAT-India is designed to help students in India jot their path to getting into law school.
Careers360: How is LSAT-India the exam different from the regular LSAT?
Answer: LSAT-India is a derivative of the regular LSAT exam. The regular LSAT exam is designed for PG students, whereas LSAT-India is for high school students. So the difficulty of the exams is not the same. But the measurement criteria in terms of skill sets and fundamentals is the same.
Careers360: This year LSAT-India is being administered by Pearson VUE. What is unique and different about it?
Answer: There is nothing fundamentally different about the LSAT-India exam. The test questions are the same.
Something different that Pearson VUE is bringing to the forefront is how they are marking the LSAT-India exam.
Careers360: If a student has no access to a good system, can the exam be taken from a cybercafé or some other place? If not, what is the solution in such a case?
Answer: The goal of LSAC under Pearson VUE's leadership has not changed, which is to make the test accessible to everyone. Whenever a student has barriers that might prevent them from being able to sit for the exam, they need to contact the Pearson VUE about it and their decision will vary case by case. But for security purposes no one in the history of testing has ever been able to sit in a crowded cafe and take a high stakes test.
To maintain the integrity of the test it is administered in a quiet environment and alo so that the students can perform at their highest level.
Careers360: LSAT-India is held twice a year. Which scores will be considered by the institutes?
Answer: Traditionally schools have looked at both the scores, but have accepted the highest score. The whole point of offering the exam twice is to give students the opportunity to put their best foot forward.
Offering an exam once a year historically disadvantages the students because they are investing a tremendous amount of time to sit for one entrance exam. And there is a lot of pressure to perform on that day. So for that we felt the need to provide flexibility, more options and to also elevate some pressure and stress that students experience across India.
Careers360: Which institutes will take LSAT-India scores for their admissions?
Answer: For this information students can visit the LSAT-India official web page. As new schools are being added on a regular basis.
Careers360: Will the scores be known immediately after the test is completed?
Answer: To maintain the integrity of the exam LSAT-India test score is not released immediately. It is released after doing the analysis to make sure that everything is as it should be for declaring the result without error.
Careers360: What is the validity in terms of duration for the LSAT-India scores?
Answer: The validity varies from institution to institution. So at LSAC the validity of the regular LSAT test is 5 years, whereas the validity of LSAT-India scores is for 1 year only.
Careers360: Will LSAT-India scores be accepted abroad? Or should one need to appear for LSAT-global?
Answer: No, LSAT-India scores are not accepted abroad. But some Indian law schools which accept LSAT-India scores collaborate with other schools around the world through which students can study abroad if their programme and school allows for it.
Careers360: How should one prepare for LSAT-India? Are there any mock tests and sample papers available for students to check?
Answer: LSAC has a robust platform called LSAC Law Prep, which students can find on the LSAT-India website. It is an online training tool to help students prepare for the test.
Another such tool is Super Prep which not only helps students by giving them the correct answers but also by explaining why the answer is right or wrong. It is more an in depth analysis of the question.
The LSAT-India test is different from the other law entrance exams in India. For this reason students are advised to do a lot of practice before they actually come for the exam. Because in some cases the type of questions asked are a bit different from what they are usually accustomed to.
Disclaimer: This content was distributed by LSAC LSAT-India and has been published as part of Careers360's marketing initiative.