Know all about LSAT—India 2021 by Dr Jason Dickenson, Director, India Testing - LSAC
Law School Admission Council, USA (LSAC), has started the registrations for LSAT—India 2021 from November 9. The test will be conducted on multiple days and slots starting from May 10. Considering the pandemic situation due to COVID-19, LSAC officials have decided to conduct LSAT—India in online remote proctored mode. Similar to the previous session, this year too, students will be allowed to take the test from the safety of their homes. Being a common admission test for many private law colleges and universities, LSAT—India is a popular choice among the students.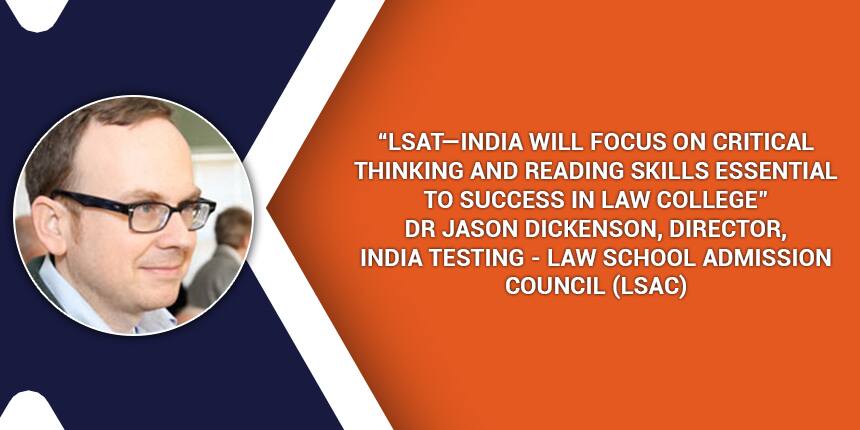 What makes LSAT—India an attractive option is that it is considered as a test of critical thinking and critical reading. To clear the exam, you need not be an expert in general knowledge, current affairs or mathematics.
Besides, LSAT—India 2021 has many things to offer. These include a special bird offer, scholarships, reservation of seats in member institutes of LSAC Global Law Alliance and much more.
Dr Jason Dickenson, Director, India Testing - Law School Admission Council (LSAC) explains the details of the new LSAT—India 2021 and its test delivery system. Read the complete interview below.
LATEST UPDATE: To fill LSAT—India application form - Click here
Also read - LSAT—India: The deep dive
Q. This year, LSAT—India will be an online remote proctored test. Tell us about the current test delivery system.
A. For the next test administration in 2021, the test will be delivered using the same online test application used for the 2020 administration. It allows test takers to take the test in the safety and comfort of their own homes. The software locks down the test taker's computer so that no other application can be accessed. A live proctor admits the test taker to the testing session and thereafter the test taker's session is recorded via their webcam for analysis and review.
If the automated review of the test taker's session detects any suspicious movements, the session is flagged and reviewed by our Test Security team. The automated review is quite sensitive and flags anything that could potentially be a violation of the test rules.
Q. How was the response last year when LSAT—India was conducted in RPT mode for the first time? How many students registered and how many appeared? What were the problem areas if any?
A. We had to change every aspect of our testing operations in about two months, shifting from our traditional paper-and-pencil delivery mode to the RPT mode. Despite this quick pivot, the test was quite successful with 6651 candidates registering and 5700 appearing for the test.
There were the expected cases of technical difficulties, but we worked in real-time with the technical support team at Pearson VUE to resolve these problems.
If we were not able to resolve the problem in a short time, we worked with the candidate to reschedule them to take the test on a later day in the testing period. Most candidates had a smooth experience.
The biggest issue we encountered was that many test-takers did not appear for the test prepared to show a valid photo ID, as they were instructed to do, and were hence not permitted to take their scheduled test. In the end, we were able to reschedule anyone who was disqualified for this reason.
We are implementing some new procedures in 2021 to make sure this doesn't happen again.
Q. Most of the students would be appearing in LSAT—India from their home. How will LSAC ensure the transparency and integrity of the test?
A. Test security is something that we treat with the utmost seriousness. Valid test scores require a secure test.
Test takers are not permitted to appear for the test from a public place like a library or cyber café. They must take the test in a private space as their own home. This does understandably raise concerns in peoples' minds about the potential for cheating. People fixate on the possibility of cheaters using second devices, trying to connect to the Internet, etc. But remember that the test taker's entire session is recorded, and it is much, much more difficult than is generally appreciated to pull off these technical feats without having the test taker's file flagged.
Even slightly aberrant head movements will cause the file to be flagged for review. And, we have other means to detect or confirm cheating involving our post-test statistical analyses of the test results. So parents and students can be assured of the integrity of the test and the validity of the scores.
Q. With regards to online RPT mode of LSAT—India, there may be power and connectivity issues with many students who want to appear for the test. How does LSAC plan to address the concerns of such students?
A. Any test taker who experiences technical difficulties of any kind that prevents them from being able to complete their test may request a retest opportunity.
Q. The technical requirements of the test such as a computer, internet connection with good speed may force many students to drop their plans of appearing in LSAT—India. How will you ensure the inclusiveness of such students for the test?
A. Candidates who don't have the necessary equipment and candidates with extremely unreliable power or Internet connectivity may contact us for assistance. We will help make arrangements for them to acquire the necessary equipment and will endeavour to provide other advice and assistance. So, no student should let concerns about these issues stop them from registering and appearing for the LSAT—India.
Q. Tell us about the early bird offer? Who is eligible to grab this offer? Please explain this offer in detail.
A. Under the early bird offer which is applicable till 15 Jan 2021, registrants will only be required to pay Rs 3499/- (exclusive of GST) as the registration fee. The early bird price for a bundle which includes the registration fee and official study material - The Official LSAT—India Handbook, and The Official LSAT—India SuperPrep is Rs 4499/- (exclusive of GST).
Also, early-bird registrants will not be charged with any courier charges for the official study material that they request during this period. Any LSAT—India aspirant can avail the early bird offer.
Q. Many students may find it difficult to identify the right study material for LSAT—India as it is quite different from most of the law admission tests conducted in India. What books or study material would you recommend for LSAT—India preparation?
A. In some ways the LSAT—India is different from other law admissions tests—it does not assess mathematics, general knowledge, current affairs, or legal knowledge. It is solely focused on the critical thinking and critical reading skills that LSAC's decades of experience and study have established are most essential to success in law college. But the other major law admissions tests also test these skills to some extent, so some of the preparation for those tests will be applicable to the LSAT—India.
In any case, we do have study material for the LSAT—India available on our website at discoverlaw.in. Two great books for studying are The Official LSAT—India Handbook, which gives a deep dive into the test pattern and question types, and The Official LSAT—India SuperPrep, which contains one complete practise test with thorough and complete explanations of every question.
Both of these books are available for purchase from our website. They are available at a discount when bundled with a test application fee. We also publish test prep tips and practice questions on our Telegram Channel (t.me/lsatindia).
Also Download - LSAT India sample papers
Q. How should one start the preparation for LSAT—India? What are the key skills that students should develop while studying?
A. Preparation for the LSAT—India should begin with a look at The Official LSAT—India Introductory Guide, which is available free for download on our website (discoverlaw.in). This booklet introduces the test pattern and provides sample questions with complete explanations. The books mentioned above are also a great place to learn about the test and practise the skills it assesses.
A student's years of education should have already provided them with the building blocks of these skills—the kind of critical thinking and critical reading mentioned earlier.
Critical thinking is a matter of being able to recognize arguments and their conclusions, what makes an argument flawed, what would make an argument stronger or weaker, what assumptions an argument requires, and so on.
Critical reading is a matter of being able to understand dense, complex argumentative texts—understanding the structure of the passage, the main point, the key inferences the author is making, and so on. Preparing for the LSAT—India is not a matter of memorizing a bunch of facts, but rather practising those skills as extensively as possible.
Q. There are two Logical reasoning sections in LSAT—India (LR 1 & LR 2). What differentiates them from each other? How should one prepare for these sections?
A. There are no differences between the two Logical Reasoning sections that will matter to a test taker (except maybe that one section is likely to have one more question than the other). They each contain the same kinds of questions, in the same format, and with roughly the same range of difficulty.
Logical Reasoning comprises half of the test because of the importance of the range of skills it assesses. We can't fairly administer a 70-minute long section of Logical Reasoning questions, however, so we break it into two parts.
Q. Tell us about the LSAC Global Law Alliance. How many law colleges are expected to participate in LSAT—India this year?
A. The LSAC Global Law Alliance is a consortium of private Indian law colleges and universities that accept LSAT—India scores for admission into various law courses in their institutions. They also set aside seats specifically for LSAT─India applicants and offer scholarships to them. This national alliance aims to provide the framework and opportunities for members of the Alliance to cooperate and collaborate amongst themselves and with LSAC's global network of law schools. More than 30 colleges are expected to participate in LSAT—India this year.
Q. Is prior knowledge of legal aptitude, general knowledge and other subjects necessary for LSAT—India, a test which is widely regarded as one of reading and analytical skills?
A. The LSAT—India does not assess general knowledge, current affairs, mathematics, or legal knowledge. LSAC's decades of research has shown that a student's possession of those kinds of knowledge provides no useful information for predicting how well they will do in law school. The best predictor of that is how well they can exercise the skills of critical thinking and critical reading.
The LSAT—India does assess "legal aptitude" in the sense that it assesses critical thinking and critical reading, and these are the skills that are necessary for success in studying and practising law. But no test question on the LSAT—India presupposes that the test taker has knowledge of the law, law cases, or even principles of the law. These are the things that the candidate will learn once they get into law college.
Q. What are the scholarships being offered by LSAC this year?
A. LSAC has been offering scholarships since 2019 to LSAT—India aspirants to provide the future lawyers of India an opportunity to study at some of the best law schools in India. The LSAT—India Topper Scholarship is awarded to the student with the overall highest reported score on the LSAT—India.
In 2019, a new diversity-focused scholarship— the LSAT—India Diversity Scholarship named after Prof. Shamnad Basheer, an extraordinary lawyer and educationist was also introduced. This scholarship is aimed at allowing better access to legal education for talented students across all of India's socioeconomic groups and will be awarded to the winner of an essay competition conducted by LSAC.
In addition to these scholarships offered by LSAC, the LSAC Global Law Alliance institutions also offer a varied amount of scholarships to meritorious LSAT—India candidates who join under-graduate and postgraduate programs in their institutions.
Know more about LSAT India 2021
Questions related to LSAT
Showing 111 out of 111 Questions