Know Everything about Legal Education
Know everything about legal education – Law is one of the popular options for students after their 10+2. Students have many questions like which course, which college, what is the admission process, what is the career path like and more. What better than to know all about legal education from experts of the field? Careers360's live session with Dr. Nachiketa Mittal (Founder & Director of India's 1st Virtual Law School), Mr. Apar Gupta (Executive Director, Internet Freedom Foundation (IFF) ), Mr. Vikrant Panchnanda (Advocate, Specialization- Dispute Resolution and Aviation practices) held on May 2, 2020 dealt with all of this and more. Read on to clear your doubts to know everything about legal education.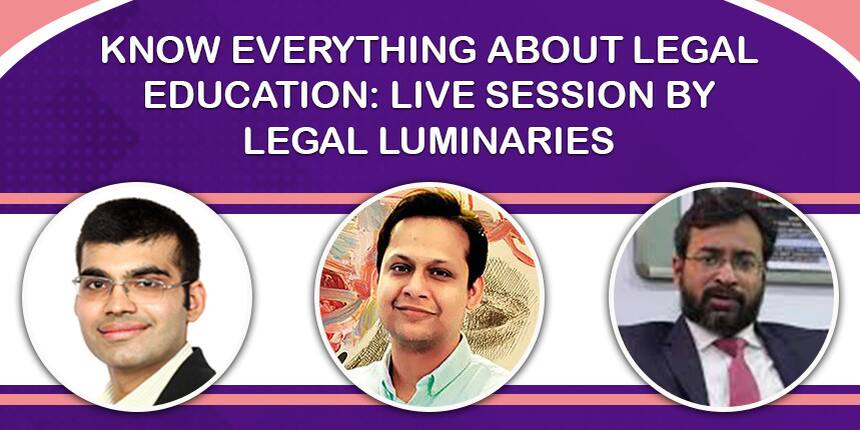 Q. What is the entry path to a legal career and which exams should one take?
A. You will have to take the entrance exams first before you can even start on a legal path as these are the entry points to admissions. Common Law Admission Test also called as CLAT is the exam to write to get into 22 NLUs. Of course, many state and private universities also use CLAT scores for admission purposes. Students need to prepare for General Knowledge, English language, Reasoning (legal and logical) and quantitative techniques. This is one option.
The second option is the Law School Admission Test, which is the entry to some of the good state, private law schools in the country like Jagran Lake University, IFIM, Vijayabhumi, Hindustan law school, MIT Pune to name a few. LSAT also evaluates on analytical reasoning, logical reason and reading comprehension.
The SLAT (Symbiosis Law Admission Test) is another option. Then NLU Delhi has its own test called AILET which is completely different from all other law entrance exams. There are the state exams like the Maharashtra one besides the university conducted ones like BHU, Allahabad etc.
Q. How to choose a law specialization?
A. Students must know that specializations come only after studying law for some time. Day 1 at the law school will not teach about specializations. In fact, under graduation is based on just learning common law which is the primary thing to know. You can only build on that. Very few students come to study law with a set specialization in mind. It is during their course of study, the internships they do, the papers they research etc. that they may be inclined to pursue a particular specialization. Now there are many to choose from and this may also influence their seminar paper but it is very important to get exposure in the first three and a half years and then build interest in a particular area. Students who wish to move further in a chosen specialization then can plan on pursuing LLM in that field
Q. How should one decide which law schools, law exams and course?
A. You must first choose the law school because that will determine your preparation. So, if you want to land up in an NLU, you need to prepare for CLAT. However, everyone should have a backup, so preparation should include LSAT, SLAT or MH CET law or AILET to name a few.
Some factors to consider while choosing a law school is the cost. For eg. studying at an NLU may cost you anything from Rs.1,50,00 to 2,00,000 or maybe more. It somewhat goes the same for the state leading universities. If finance is a constraint, there are options like the Delhi Faculty of Law and some of the older universities like Allahabad University, Madras University, Pune University, Mumbai University which have a lower fee.
Specialization is again dependent on you and this can be best decided once you are in the system, studying and exposed to various facets, specializations to make a good choice.
Q. Does it matter where you do your law from? Is it better for your career to pursue law from an international law university?
A. Finance is the important factor here. Undergraduate studies abroad will cost you close to a crore so that is a deterrent. One should consider the financial factor as it will determine your career path to a substantial degree. Many lawyers work in law firms to pay off loans and are forced to leave off their interests. Having said that, it doesn't really matter as we have the NLUS which are good and we also have good private law schools.
Q. A variety of integrated law degrees are offered like BA LLB, B. Com LLB, BBA LLB to name a few. So, the big question is how to choose the degree?
A. The combination of BA LLB, B.Com LLB, B.Tech LLB, BSc LLB have been coined academically to suit candidates coming from different backgrounds. While they all are equal, the degree to some extent helps to decide the career too. For instance IPR law would ideally be the next step for someone with a B.Tech LLB or BSc LLB on account of the need to understand the scientific reasoning behind the products and such. Patent Attorneys are another set of people who generally are seen to belong to a technical background.
So, a B.Com LLB may have more acceptance to the law firms who have more chartered accountants and secretaries working with them and have work in that direction. BBA LLB for instance may be more suitable to a managerial role. The choice is based on what your interests are in addition to law of course.
Q. Which is a better prospect – a five-year integrated course or a bachelors and an LLB later?
A. This is a personal choice best taken after discussions with parents, siblings or friends who may be able to advise better. The thing with an integrated five-year course is that you get both the bachelors and LLB in 5 years while doing a graduation and then LLB would take 6 years in the normal course of time. That is one of the reasons why many students opt for it. The problem comes when you may decide in the middle of the course that it is not your choice at all. However, some universities are offering a way out after a basic period of time say three years where you could just be conferred with the graduation degree like BA, BBA or B.Com if you wish to opt out. You could also look up such universities if you are not sure and take admissions there. The only thing to consider before opting for any course is that you are intending to make a career out of it and may be dealing with it for the rest of your life so it is imperative that you like it.
Q. I have just appeared for my ISC in commerce. Should I take BBA LLB or B.Com LLB?
A. Taking into consideration your commerce background, a B.Com LLB would be the better choice. The reason is you will get leverage in some subjects like Economics, Accountancy etc which you would have covered in your ISC. That would be handy for you to establish your base in the initial first or second years of your graduation.
Q. What is the difference between BA LLB and BBA LLB. What should I take up if I am a humanities student?
A. BA LLB or BBA LLB are equivalent. At the end you will receive a law degree. You should choose what you feel comfortable enough to study. You can check the subjects taught in the courses. Say for instance, if you were a commerce student in class 12, then B.Com LLB would make more sense as some subjects would be the same like accountancy etc. So ideally, its better you check the subjects that you would be studying in BBA LLB and BA LLB and then make your choice. At the end, remember, you will be a lawyer irrespective of BA, B.Com or BBA in the integrated course.
Q. I want to pursue law and my brother wants me to appear for UPSC. How should I manage both?
A. It is very common to see LLB students also preparing for the UPSC exam. While UPSC is not a sure shot thing, the law degree will definitely be the backup saviour. Its fine to prepare for UPSC while pursuing LLB. Just keep in mind that LLB is the primary target as you need a degree to be considered for UPSC. You have to chalk out a plan to study for both. Choose subjects that are common and appear for those in UPSC such that your common preparation bears fruit for both the exams.
Q. It's my dream to become an aviation lawyer. Can you please guide me about which college to choose in India and how to go abroad?
A. While several law schools have set up aviation law centres, NALSAR's aviation law centre is one good one under Prof. Bal Krishna Reddy who is a very well-known aviation academician. GNLU has an air law centre while NLU Delhi also offers aviation law. The good part is that GNLU and NALSAR allow students from other law schools to come and participate. Another suggestion would be to start reading on your own, write articles, take part in the moot court competitions and such to strengthen your knowledge. Also, try getting internships in the legal departments like Indigo, United Nation International Civil Aviation Organisation during your course. After graduation, you can apply to good universities like Leiden University for the one-year specialization in aviation law.
Q. When is the correct time to decide your specialization? In the first year or later?
A. Actually, law specializations don't come up until you complete the basic law course, be it the 3 year or 5 year course. That is the basic minimum requirement before you are asked to choose a specialization. While students can pursue their interests independently by reading, researching, there's no escaping the basic law structure which will still teach you constitution law, criminal law and several laws that you need to know as a lawyer. There's no way that specialization has to be taken in the first year.
Q. Is it good to have work experience before pursuing a specialization or can one directly do it? Which is the better route to follow?
A. If you are someone who is absolutely sure of what to take, then a specialization can be done immediately after graduation. However, the better way may be to gain some work experience, know how the field is, what the challenges are, how the environment is like etc before choosing a specialization. This allows a broader insight and gives a better meaning to the next step in your career.
Q. Can one switch in midway? Will there be any repercussions?
A. One can. That's the good part of it. Law is a flexible subject and even after you start practicing is a particular area, you can always switch. Many do that. So, you can work for a year in corporate law, then move on to litigation and so on. There's no restriction. That's why some work experience allows one to gain an insight into the direction one has to move in.
Q. Should you do an LLM or work for a couple of years and then do LLM?
A. Ideally, you should work for one-two years before LLM for various reasons. One is the financial factor. Then the second is that work experience will give you an insight as to what you should do. This will help you choose the course carefully as well as the universities and plan your career path better.
However, do your masters within five to six years. Because if you don't do a masters within five to six years, you get into a personal situation where you may have your obligations etc.
Q. BBA LLB and then an MBA – Is this beneficial?
A. Absolutely not unless you are actually looking at a job profile of a very different kind where an MBA is a necessity. For a lawyer role, BBA LLB will be sufficient but if you wish to further to a managerial role then maybe an MBA would be useful but not mandatory.
Q. What is the scope of LLB(Hons.)?
A. LLB (Hons.) is a new kind of course. Unlike other LLB courses, in this, you may pick up a specialization in the initial year itself like IPR, constitutional law or even criminal law for example. The degree comes with the specialization and the advantage is that there are many specializations to choose from.
Q. If I go to the USA after a 5-year LLB from India and then return after a period of 2-3 years to set up a legal practice, will there be any benefits?
A. First, there are not many scholarships out there as law schools are like MBA ones where it is assumed that the end result is a high paying job. The advantage of going abroad is that you have good exposure to world-class professors, you imbibe good skills and understand how very competent lawyers work, how they deal with situations professionally rather than inter personally. Because in India, the work environment especially in law has people responding to things with emotions rather than a professional manner. So, you pick those things up and apply them here.
Q. Is it true that if you come back to India after your studies and want to practice in an Indian court, it is very important to go through the Indian system?
A. No, its not mandatory but studying and then practicing in India does have its advantages. You may come now and then from abroad but will not be able to connect or intern as there may be time constraints and other such factors. Moreover, you may not relate easily once you are back after the course completion because of the cultural differences and the methodologies.
In India, we have courses like the 5-year integrated law course with its variations of BA LLB even BSc LLB. In these, you have the opportunity to intern while studying and make your own connections, develop your network. The best part is the learning you pick up from the mentors during the internships in addition to the etiquette you pick up from the social environment on how to dress, talk, interact which are important aspects one needs to learn in a social profession like law.
Q. Can I pursue LLB and become a lawyer at the age of 50?
A. The matter is subjudice and the judgement is not yet out but this is not just for law but also medical and engineering courses. The BCI had mandated an age limit earlier.
Q. I am interested to practice social part of litigation? What are the specializations to take and any other tips?
A. The start is conventional as you need to build a solid base and this means you have to be a very good lawyer to start off with. Lawyers who are activists are more under scrutiny that others. You also need to cover your financial bases as effective activism may not pay the normal bills. The book 'Rules and Radicals', explains this better. To change a system, you need to first understand it well to know where it lacks and what should be the change. This means that you need to check all the avenues and gather the knowledge including working in a law firm where you may not like the work but the experience and the learning is worth it.
Q. Any scholarships for law students that are worthy of mention?
A. LSAT has come with a scholarship in honour of late Prof. Shamnad Basheer. This is a very good scholarship. In addition to this, there are many scholarships offered by the universities and such that you may need to look at while applying.
Q. What are the career paths after LLB?
A. There are plenty of options to choose from. You could go work for a law firm, break your teeth in law and get to know how the legal world functions. You could otherwise go work for senior legal practitioners who may teach you the modalities of the actual courts and procedures. Litigation, Corporate, IPR are some other choices to opt for.