LLB Admission - If you want to pursue legal studies in the country, one common route is to take admission to a 3-year LLB course. The introduction of 5-year integrated law programs has knocked some of the shine off the LLB program, which until a decade or so earlier was the default option. But there are still fans who vouch for the program. One argument in favor is that given the course is allowed only after completion of a graduate degree, the student matures enough to understand the subtleties of various legal processes, many involving sensitive human angles. Today the course is offered by leading law institutes like Delhi University, ILS Law School, Pune, and Symbiosis Law School, Pune. The admission process to LLB programs may vary from college to college, with some admitting candidates based on merit of entrance exams, while others may offer direct admission based on qualifying marks.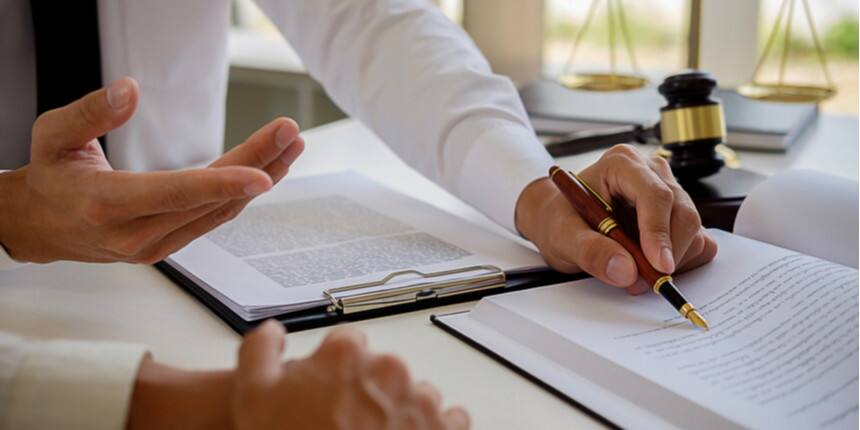 Eligibility criteria for LLB course admission:
While most colleges draft their own LLB eligibility criteria for admission, some of the basic tenants, which are mentioned below, remain the same:
Qualifying exam: The applicant should have passed a graduate exam in any discipline from a recognized university

Minimum marks: Some colleges require 50% marks in aggregate, while others may demand 45% marks. So, the candidate needs to confirm with the college or exam they are appearing in. Please note that public colleges also extend relaxation in aggregate marks for reserved categories.

Age limit: There is usually no upper age limit.

Others: Candidates in their final year of their academic course can also apply, but have to fulfill all eligibility conditions at the time of admission.
LLB Admission process
Most of the top colleges conduct LLB admission based on specific entrance exams. For example, admission to LLB course in Delhi University is through DU LLB entrance exam conducted by NTA. Meanwhile admission to Symbiosis Law School Pune and Punjab University are respectively based on SLAT and PU LLB exams.
Please note that many lower ranked colleges offer direct admission to LLB courses simply based on qualifying exam scores.
Colleges offering 3-year LLB courses
LLB syllabus

| | | |
| --- | --- | --- |
| Semester - 1 | Semester - 3 | Semester - 5 |
| Jurisprudence - 1 (Legal Method, Indian Legal System, Basic Theory of Law) | Constitutional Law - 1 | Company Law |
| Law of Contract | Code of Civil Procedure and Limitation Act | Drafting Pleading and Conveyance |
| Law of Torts including Motor Vehicles Act and Consumer Protection Act | Special Contract | Industrial Law |
| Law of Crimes - 1 : Indian Penal Code | Moot Court, Mock Trial and Internship | Elective Subjects - 1 |
| Family Law | Elective Subjects - 1 | Elective Subjects - 2 |
| Semester - 2 | Semester - 4 | Semester - 6 |
| Law of Evidence | Constitutional Law - 2 | Professional ethics and Accounting system |
| Family Law - 2 | Administrative Law | Environmental Law |
| Law of Crimes - 2: Code of Criminal Procedure | Alternative Dispute Resolution | Principles of Taxation Law |
| Property Law | Labour Law | Elective Subjects - 1 |
| Public International Law | Elective Subjects - 1 | Elective Subjects - 2 |
Source - DU LLB syllabus
Job profiles for 3-year LLB passout
One of the key questions when selecting a course is job prospects it offers. Also, the kind of job and corresponding responsibilities the job profile entais is other details that may cross the mind of the student. So, here we bring job options for a LLB graduate.
Lawyer - A lawyer may start work in a lower court, slowly moving up the ladder to high and even the Supreme Court.

Legal Advisor - Many corporations and other entities today take the services of legal eagles, who may help them stay away or get out of legal tangles.

Public Prosecutor - The job role is to take up cases on behalf of the government or in the public interest.

District and Sessions Judge - These are public offices and jobs that are offered only after the person has gained sufficient experience in the field and spent some solid number of years.
5-year integrated law programs
Some students may confuse a 5-year law program, say BA LLB, for a traditional LLB program, which as explained above is a three-year course. The BA LLB however is an integrated, 5-year course which can be pursued after 10+2. Interestingly all the NLUs offer integrated law courses, but not the LLB program. If you want to get admission to a 5-year BA, you may appear in entrance exams listed in the table below.
Popular entrance exams for admission to 5-year integrated law program
Exam

Type of exam

Admission to

National-level

Participating NLUs

Affiliate colleges

National-level

NLU Delhi

AILET scores accepting colleges

National-level

LSAT India participating colleges

National-level

SLS Pune

SLS Noida

SLS Hyderabad

SLS Nagpur

MH CET law (5-year)

State-level

MH CET law participating colleges

State-level

TS LAWCET law participating colleges

State-level

AP LAWCET law participating colleges

State-level

KLEE participating colleges