LLB Full Form - The full form of LLB is Legum Baccalaureus popularly known as Bachelor of Law. LLB is a three-year law degree course pursued after completion of graduation. LLB course is offered by many prominent law colleges as per the guidelines prescribed by the Bar Council of India (BCI). The BCI is the apex law body that regulates the legal education and legal profession in India. Entry-level LLB programs are available in both 3-year and 5-year formats.
Don't Miss - CLAT Admit Card 2023 to be released on December 6.
Related | BA LLB Full Form
Latest: Know your admission chances in NLUs by using CLAT 2023 College Predictor. Use Now
Don't Miss: CLAT Cut-offs. Download EBook | NLUs Fee Structure 2023. Download EBook
Colleges Accepting Applications: To check the list of Institutions accepting BA/B.Com LLB Applications Click Here
Applications Open for 5 year Int LLB @UPES. Ranked #9 in India by QS University Rankings 2023. Ranked #21 in Law category by NIRF. 200+ Recruiters. Apply Now
Pursue 5 year int LLB @MAHE, Bengaluru. Internship Opportunities in leading Law Firms, Industry, Governmental Departments and NGOs. Register Now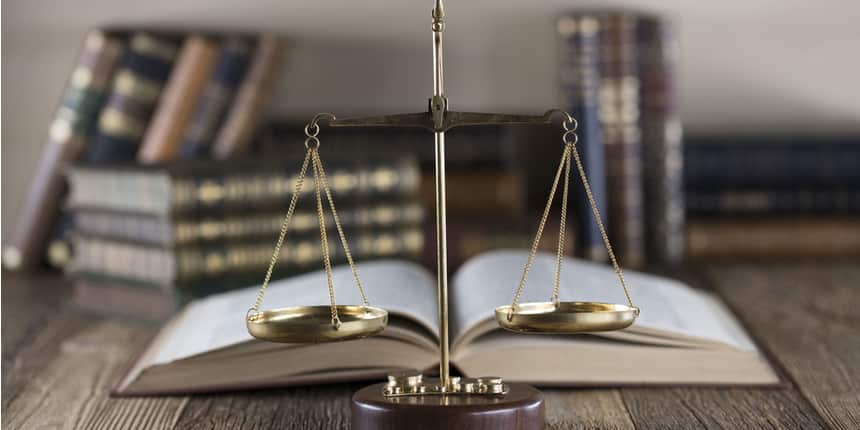 LLB Full Form - Meaning, Admission, Fees, Eligibility, Syllabus, Colleges, Career
Until the advent of the 5-year integrated law course, it was the most popular entry-level law course. LLB degree is also one of the oldest law disciplines.
Also read | LLM Full Form
Where to study 5-year LLB degree?
The NLUs are obviously the first choice of candidates to study a 5-year integrated LLB program. As per NIRF rankings 2020, seven of the top ten ranked colleges are NLUs.
Currently, there are 23 NLUs in India, of which 22 are CLAT participating institutes. NLU Delhi, however, is not a member of the NLU consortium. Admission to CLAT participating NLUs is through the Common Law Admission Test (CLAT). CLAT 2022 is scheduled to be held on June 19, in pen-and-paper format. Meanwhile, admissions to NLU Delhi are offered through All India Law Entrance Test, popularly known as AILET.
Top colleges to study 5-year LLB
Where to study 3-year LLB degree?
In recent times, the 5-year degree is getting in vogue and taking over the mantle from 3-year LLB as the most popular entry-level law degree. For instance, other than NLSIU Bengaluru, none of the remaining NLUs offers a 3-year course, but all of them offer 5-year integrated courses. That being said there are still a handful of top-ranked law colleges that offer the 3-year course.
Popular colleges offering 3-year LLB courses
Eligibility criteria for admission to LLB course:
Qualifying exam: The candidate must pass a graduate exam in any discipline from a recognized university

Minimum marks: Most colleges demand that candidates score a certain minimum percentage of marks in the qualifying exam. For example, Delhi University prescribes a minimum of 50% marks in aggregate.
Note: Public colleges will also have relaxation in the aggregate marks for SC/ST, which is not the case with private colleges which implement fairly uniform eligibility criteria.
Browse Law Colleges by Locations:
LLB Entrance Exams Syllabus
Most of the LLB entrance exams have a common syllabus with legal aptitude and knowledge as the most important part of the test. Unlike many other law entrance exams, three-year LLB entrance exams are conducted at graduation level so they are a bit difficult in comparison to 5-year LLB admission tests. Generally, the LLB syllabus is comprised of the following subjects.
LLB syllabus for entrance exams
| | |
| --- | --- |
| Legal aptitude and legal reasoning | Logical and analytical reasoning |
| General knowledge | English language and comprehension |
| Current affairs | Basic maths |
Syllabus of top LLB entrance exam conducted in India
Top Law University In India
How to Prepare for LLB Entrance Exams?
Get familiar with the syllabus of the exam you are appearing in.

Make a study plan and stick to it.

Take notes during the study of important points, or items that you think are difficult and would need a second look

Do timely revision. Note that difficult topics would need more of your time than less difficult ones.

Solve sample papers to understand types of questions asked, test exam readiness, improve problem-solving skills etc.

Mock test to put final touches on your preparation.
CLAT 2023 College Predictor
Know your admission chances in NLUs by using CLAT 2023 College Predictor.
Use Now
What skills are required to pursue LLB course?
| | |
| --- | --- |
| Intellect | Research and analytical bent of mind |
| Verbal and written communication skills | Patience and perseverance |
| Ability to debate cogently and powerfully | Articulate |
| Interest in detail | Clarity of thought |
| Good presentation skills | Persuasiveness |
Popular Online Law Courses and Certifications:
LLB Subjects
After clearing the LLB entrance exams, students will be required to study various types of law, legal aspects of government, corporate and social sector under a given syllabus. In most cases, the syllabus of LLB remains the same in different colleges. So, if you are a law aspirant and want to know what is taught in the LLB course, you should check the subject list given below in a table.
Subjects taught during 3-year LLB course
| | | |
| --- | --- | --- |
| Semester - 1 | Semester - 3 | Semester - 5 |
| Jurisprudence - 1 (Legal Method, Indian Legal System, Basic Theory of Law) | Constitutional Law - 1 | Company Law |
| Law of Contract | Code of Civil Procedure and Limitation Act | Drafting Pleading and Conveyance |
| Law of Torts including Motor Vehicles Act and Consumer Protection Act | Special Contract | Industrial Law |
| Law of Crimes - 1 : Indian Penal Code | Moot Court, Mock Trial and Internship | Elective Subjects - 1 |
| Family Law | Elective Subjects - 1 | Elective Subjects - 2 |
| Semester - 2 | Semester - 4 | Semester - 6 |
| Law of Evidence | Constitutional Law - 2 | Professional ethics and Accounting system |
| Family Law - 2 | Administrative Law | Environmental Law |
| Law of Crimes - 2: Code of Criminal Procedure | Alternative Dispute Resolution | Principles of Taxation Law |
| Property Law | Labour Law | Elective Subjects - 1 |
| Public International Law | Elective Subjects - 1 | Elective Subjects - 2 |
Source - Syllabus of Delhi University Law programme
Jobs and Career opportunities after Three-year LLB course
Law is a popular career choice for many students. It is full of opportunities. With the increasing role of law in our society, law graduates are in great demand. Many colleges offer campus placement facilities to law graduates. Some of the most popular jobs and career options after LLB are listed below.
Lawyer - One of the most common professions for law graduates is practising law in any court of India. Lawyers are always in great demand and hod a repute in society. Now, there are various types of lawyers such as civil lawyers, criminal lawyers, corporate lawyers, social activist lawyers etc. To practice law in India, the law graduates must pass the All India Bar Examination after completing their graduation.
Judge - Who don't want to become a judge? It is the most reputed profession in our society. Judges are considered as the protector of the constitution. They are the representatives of the Indian courts and in this capacity, the final arbitrators in various disputes. To become a judge in a district court, the LLB graduates are required to clear the Judicial Service Examination which is conducted at the state level.
Policy researcher - Due to their familiarity with various aspects of law, political science and research work, the LLB graduates are suitable to work as a policy researcher. Even in campus placements, many civil society organisation recruit law graduates as a policy researcher.
law officers - Every popular organisation keeps a team of LLB graduates as their legal representatives. These are called law officers. Private companies like Google, Facebook, Twitter, automobile companies and other big corporates look for law officers. In the public sector, there are RBI, ICICI, SBI and other PSUs who recruit law officers.
Important - Check the Complete List of Full Forms
Read more about Career in Law
To recruiters for LLB graduates
The top law firms that recruit LLB graduates are mentioned below.
Amarchand & Mangaldas & Suresh A Shroff & Co.
Khaitan & CO
AZB & Partners
Luthra & Luthra Law Offices
J Sagar Associates
Trilegal
Economic Laws Practice
Desai & Diwanji
S&R Associates
Talwar Thakore & Associates
To know about NLUs placement - Click here
Student Also Liked: